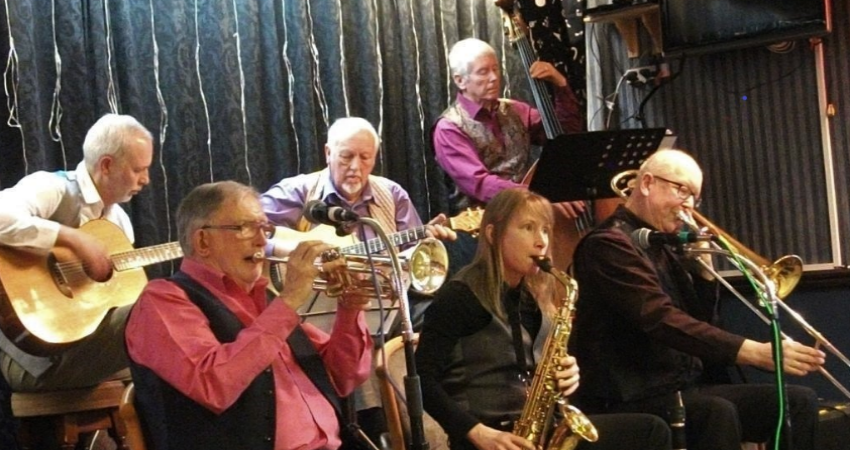 Date/Time
Sunday 5 December 2021
1:00 pm - 3:00 pm
Categories Jazz
This is a swinging sextet whose "Le jazz hot", prior to the Covid lockdown, had been attracting a lot of attention, and many favourable comments, from audiences and dancers throughout the South-West and beyond. Now they're re-emerging and playing at Ashburton Arts Centre on the first Sunday afternoon of every month.

The Riviera is the English Riviera, of course, Torbay and the South Devon coastal region. Veteran band leader and trumpeter, John Shillito is a former Ashburton resident who now lives in Totnes, and all the other members are locals, too, from Ashburton, Buckfastleigh, Newton Abbot and Teignmouth. All are seasoned professional musicians with successful long careers, and who retain enthusiasm and affection for their music.
The band has a very accessible and musical repertoire, much of it originating from the sounds of the Swing era of the 1930s and 40s. The front line brass and reeds blend with empathy and energy, buoyed by a pulsating rhythm section that adds echoes of Parisian "manouche / gypsy" jazz of the Hot Club of France.

The band has a "free and easy" ensemble sound, but it's created with care and warmth as the musicians listen, relate and share fun with each other, and with their audiences. The tunes you'll hear are melodic, memorable and foot-tapping, with occasional engaging vocals from John and Zoe. You'll find it a very listenable and danceable ensemble, whose music originates out of New Orleans and comes via Harlem, via Paris and, of course, via Torbay. Rhythmic or romantic, sentimental or swinging, bluesey or bright and breezy, the Riviera Ramblers are happy to make their music for your pleasure."
Doors and bar open at 12.30pm. Music starts 1pm
"From the very first number I was quickly aware that I was listening to an exceptional band."
Pandemic policies. This information will be updated as things change.
Thu 14 October: some minor changes below to make clearer, and adding a request to take a Lateral Flow Test before coming to an event at the Arts Centre
Mon 19 July: We will continue with everything listed below, which have been in place since 17 May. We have added a new protocol for sitting in the balcony, making face masks compulsory there:
As levels of Covid infections are increasing again in this area (on 14 October), we request that everyone take a Lateral Flow test before coming to the Arts Centre, and that you don't come if this is positive. In this case, a refund or transfer of your ticket to another event can be arranged, if you let us know before the end of the event, by emailing boxoffice@ashburtonarts.org.uk.
The windows and doors of the venue will be open, allowing fresh air to be constantly moving through. This may mean that the ambient temperature is similar to outdoors, and audience members should dress accordingly. From October, when necessary, we are switching on the electric heaters in the main hall, even though the windows are open. This makes the central part of the hall warmer. The seats at the sides under the balcony don't get as much benefit from this.
We recommend wearing face masks whenever inside the building. We particularly ask everyone to wear a mask when in the bar area, unless medically exempt; and…
Anyone who sits in the balcony MUST wear a face mask – with no exceptions. This is: (a) to provide a place for people who want to be as distanced as possible from others, and with anyone nearby wearing a mask – the seats in the balcony are naturally separated; and (b) as virus particles when airborne are generally heavier than air, this helps to mitigate the risk of transmission from people sitting in the balcony to audience members below.
Hand sanitiser will be available as well as soap and water in the toilets; please use these frequently.
Bar service at the Arts Centre is carried out by volunteers. If enough are available, they will take orders at your seat, and bring drinks to you. Otherwise, you can order drinks at the bar, one person at each end of the bar at a time, and take them immediately to your seat.
All members of the audience should wear a facemask while indoors, except if medically exempt, or when eating or drinking. Our experience is that this is one of the things most important for making some (perhaps more vulnerable) members of the audience feel safe to attend concerts. Whatever your opinion of the efficacy of facemasks in preventing the spread of the virus, please help to reassure others, and showing that you're thinking of them, by complying with this.
There are posters inside the building showing the QR code that's connected to the NHS Track and Trace app – please use this. We will also keep a record of all ticket buyers for the required period, and pass this on to the NHS or Devon Public Health if requested.