What a year!
2018 was our first full year as Ashburton's new arts centre. Here are some of the things that happened during an eventful year…
May 2018
4-13 May. Tinner's Moon Festival. Full details about the festival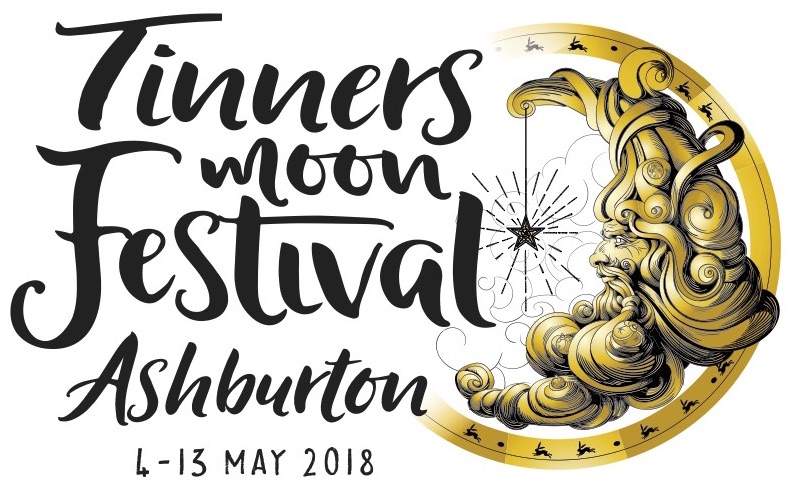 Monday 28 May. Italian Jazz quartet DuGong. 8pm.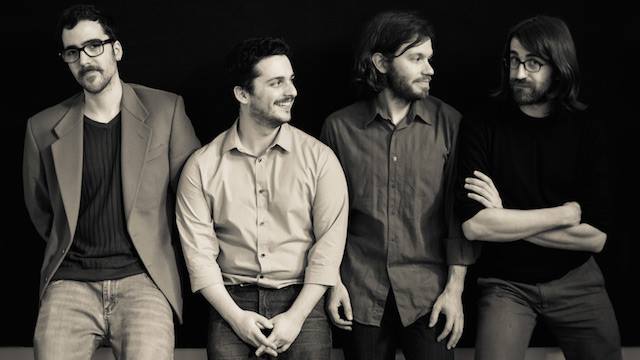 Saturday 26 May. Dragons & Orangutans with Clive Pig. Tall tales and true from recent adventures in China and Malaysia. Admission FREE. 11am – 12noon. Suitable for ages 5 – 5555.
Friday 25 May. Platform Cinema presents the all-time classic movie, Withnail & I, on the big screen in the main hall. Doors 7pm. Film 7.30. Bar & snacks.
Friday 18 – Sunday 20 May. N-E-W…Ideas 2018. The whole building transformed into Art. FREE ADMISSION. Full details about the event
June 2018
Sunday 3 June. Jazz with Misbehavin', a great quartet featuring singer Helen Porter. 8pm.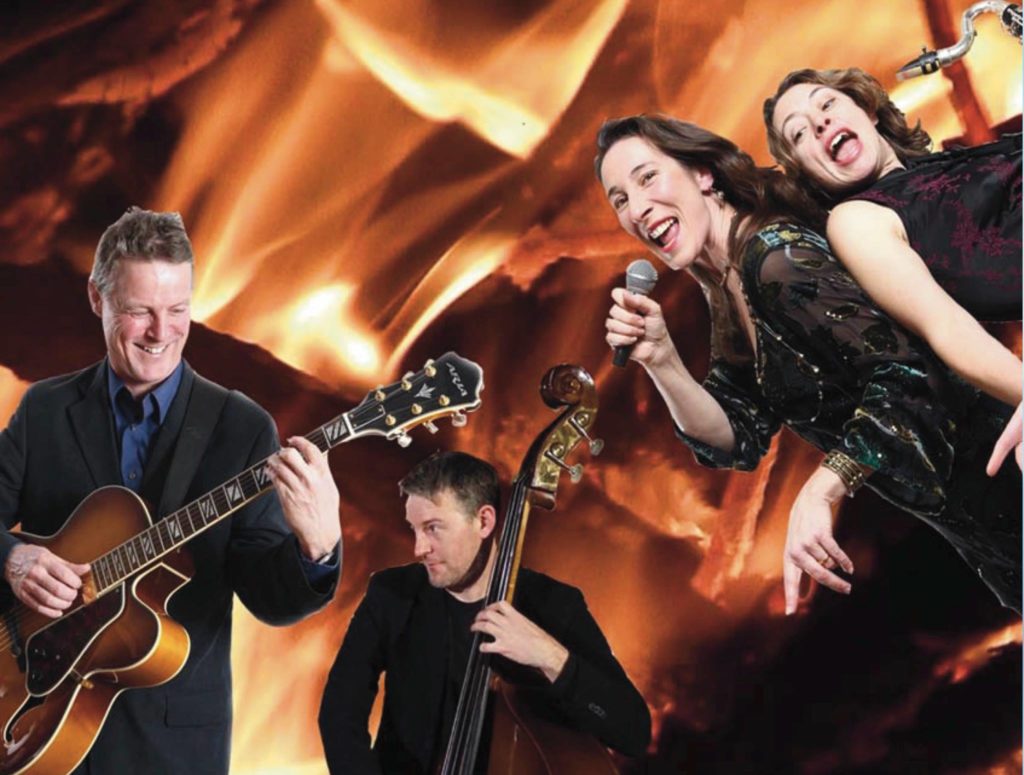 Saturday 16 June. JIM Journeys in Music. An evening for people who simply love to move to music. 6pm – 8pm.
Thursday 21 June. Jazz from Mike & Kate Westbrook's GRANITE. This is part of the Dartmoor Resonance Music Festival.
Friday 29 June. James Frost Band and Jubilation! Choir, 7pm.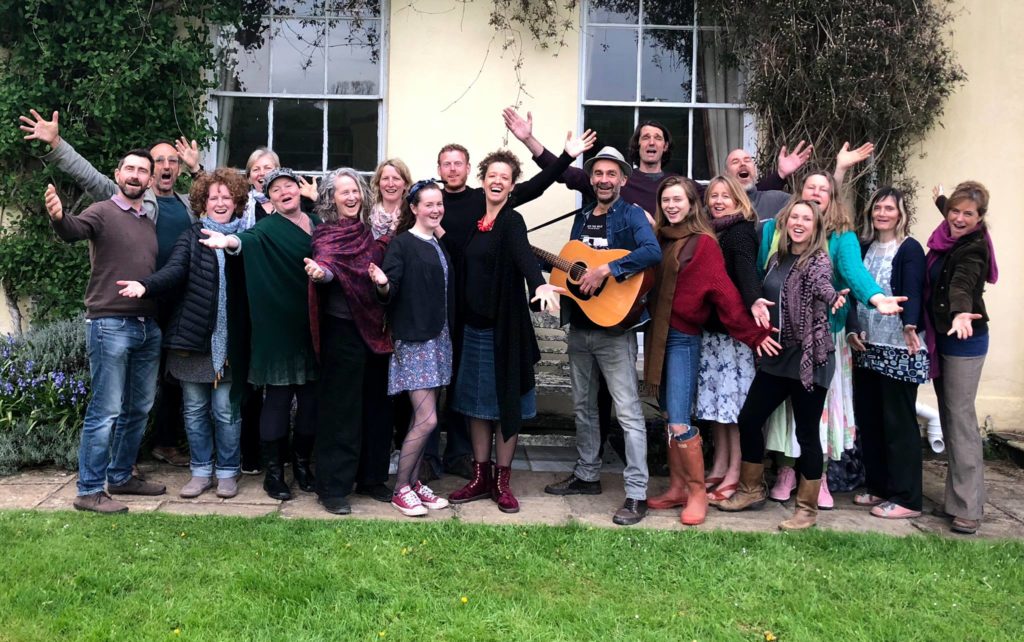 July 2018
Tuesday 10 July. Glorious Chorus. 7.30pm
This fabulous Devon-based performance choir has gone from strength to strength under the expert leadership of award-winning songwriter/ director Helen Yeomans. With prestigious festival shows behind them – including an appearance at the Voices Now Festival at London's Roundhouse in 2017 – this choir is as exciting to watch as to hear.
Sunday 15 July. Three Cane Whale. Acoustic improvised music from Bristol, with films (including one of Dartmoor).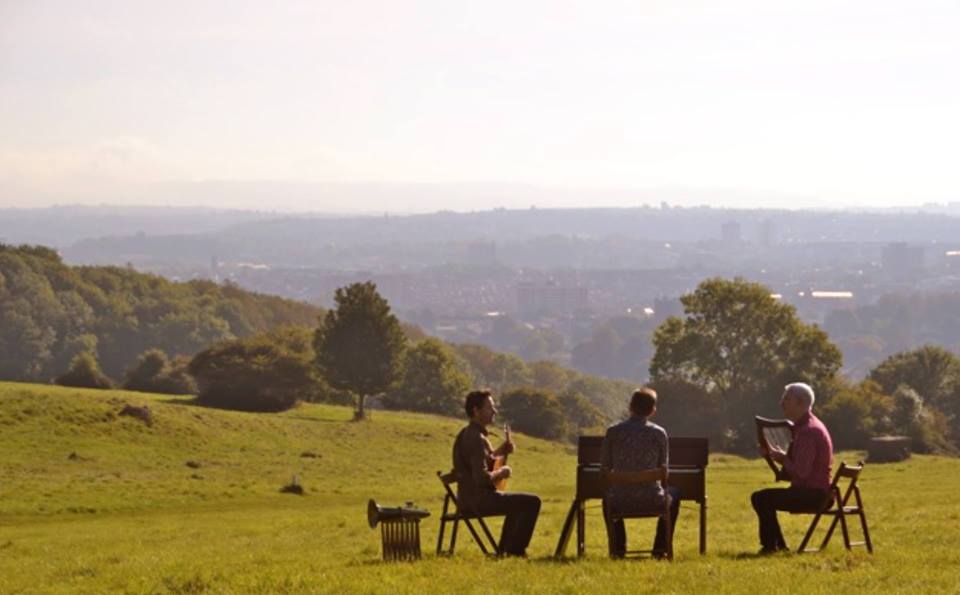 Tuesday 17 July. Terry Seabrook (British Jazz keyboard legend) & Peter Fraize (visiting US saxophonist), plus band.
Wednesday 18 July. Ashburton Arts AGM.
Saturday 21 July. 7pm. Newton Abbot Orchestra Summer Prom Concert
Overture to Nabucco – Verdi
Serenade No.1 in D for Orch (slow movement only) – Brahms
Our Town – Copland
Lucy Long (featuring Bassoon soloist – Chris Edworthy) – arr. John Key
Typewriter (featuring Typewriter soloist – Steve Bentley) – Leroy Anderson
— Interval —
1812 Overture – Tchaikovsky (with audience 'canon-fire' participation)
Fantasies of British Sea Songs – Wood
WWI Songs – arr. J Key
Jerusalem – Parry
Pomp & Circumstance March No.1 (Land of Hope of Glory) – Elgar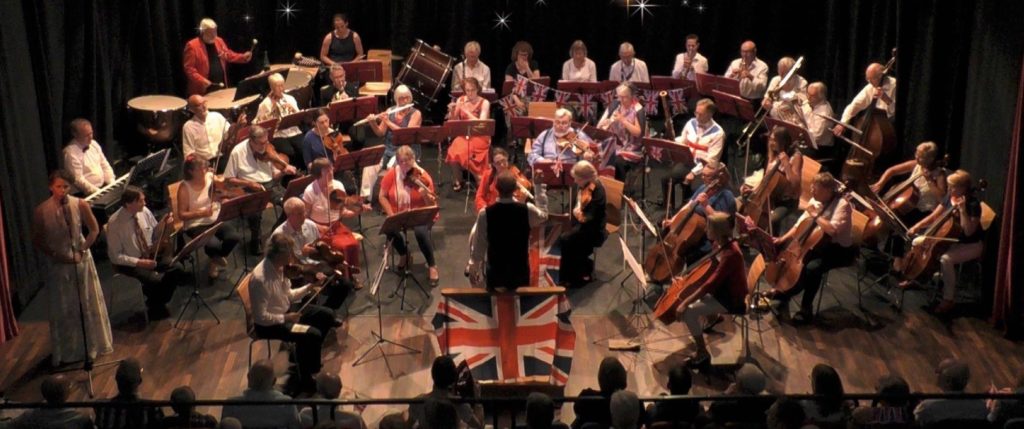 August 2018
Friday 24 August. Corn Potato String Band. Traditional American music, keeping old time fiddle and banjo music alive.
September 2018
Tuesday 4 September. Amnesty International Letter Writing Group (monthly), 6.30pm
Thursday 6 September. Majidah Belly Dancing with Pat Langman (weekly). 6.30pm.
Saturday 8 September. Makers Market. 10am – 2pm. Plus The Gathering: music session, all welcome to play, sing, listen. 10am – noon. (2nd and 4th Saturdays of the month).
Sunday 9 September. Hiroki Okano and Nigel Shaw plus guests from Japan bringing music, dance and fashion. 7pm – 11pm
More details: seventhwavemusic.co.uk/events/temple-and-tor-concert

Monday 10 September. Yoga with Chris Willis starts. Various times on Mondays, Wednesdays and Fridays (Weekly).
Tuesday 11 September. Ashburton Arts Community Choir. All welcome – no experience necessary. Drop in any week. More info from Andy Williamson: andy@ashburtonarts.org.uk
Thursday 13 September. Jacob & Drinkwater "Standout New Folk" (BBC 6Music) "Standout New Folk" (Radio 2 magazine). 7.30pm.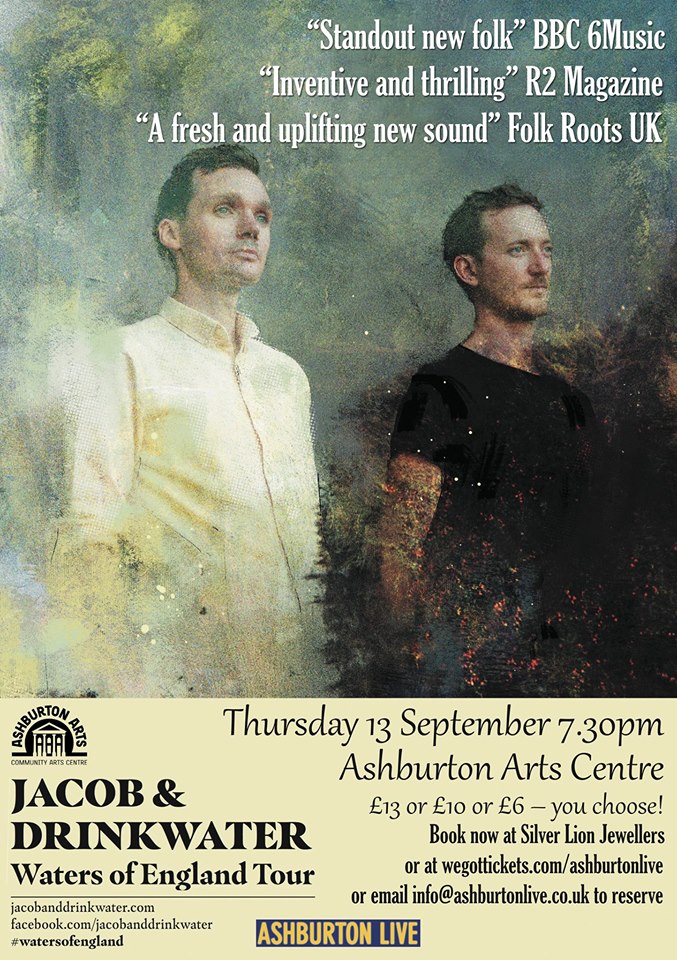 Sunday 16 September. Songs for the Unsung. 100,000 Poets for Change – Susan Taylor, Elisabeth Rowe, Rose Cook and Jennie Osborne will be presenting the Devon launch of the Grey Hen anthology. Free event with refreshments and music from Raising the Roof (barbershop quartet) alongside a wide range of poems about forgotten and overlooked lives. 7.30pm
Friday 21 September. Geoff Lakeman with Em Marshall (support). 7:30pm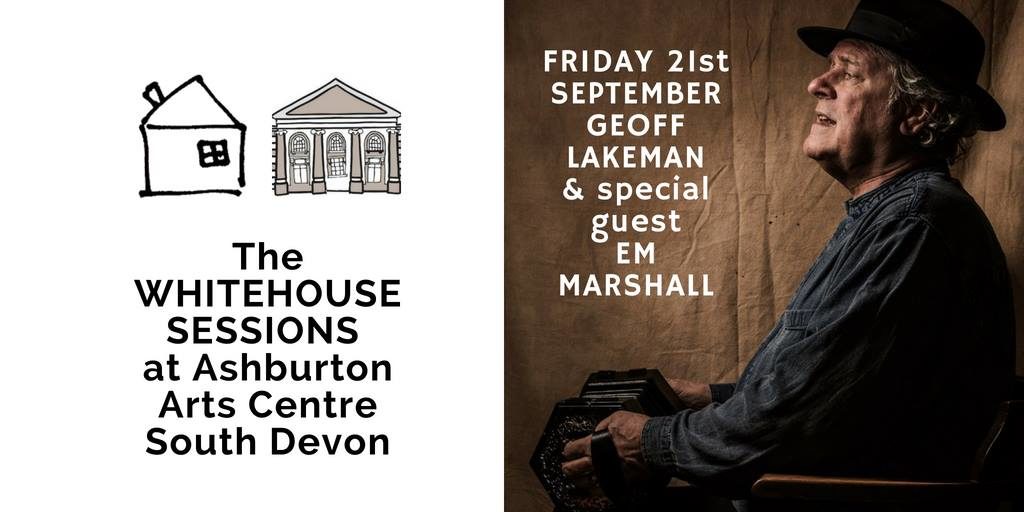 Saturday 22 September. Tea Dance, 2pm – 4pm. Hosted by Portreeve Jenny Giles. All welcome.
Saturday 22 September. JIM – Journeys In Music. 6 – 8pm. Jackie Lake runs these events. She says, "A monthly movement and dance workshop with no guidance, targets, expectations or judgements." More information available here.
Sunday 23 September. Jonathan Storey, Solo Violin Recital. Works by Bach and Simon Wills. 4pm.
Sunday 23 September. Babelfish. Contemporary jazz of the highest quality, with Brigitte Beraha on vocals, Barry Green on piano, Paul Clarvis on drums and Chris Laurence on bass.
Thursday 27 September. North Korea: Talk and Film Screening with Ulicke Burke, who's worked in North Korea doing research into treating TB patients. Looks like being a fascinating insight into this secretive country that's getting much more attention recently. 7.30pm
Friday 28 Septmeber. Platform Cinema: Amelie (15)
On the last Friday of each month, this group screens a feature film. Often with food and drink to go with the theme of the film.
Sunday 30 September. Natural Causes, Twitcher and Larksong 4pm. This contemporary quartet is releasing settings of poems by Peter Oswald. Not really jazz, or folk, or classical – but lovely music.
October 2018
Saturday 6 October. The Arts Centre becomes a Fun Palace thanks to Ashburton Library. It's all about skill sharing – yours and other people's, so we can learn from each other in a fun way. More info about this event here and more about this national project on the Fun Palaces website. From 10am.
Saturday 6 October: Megavissey Male Choir performing a benefit concert for Ashburton Arts.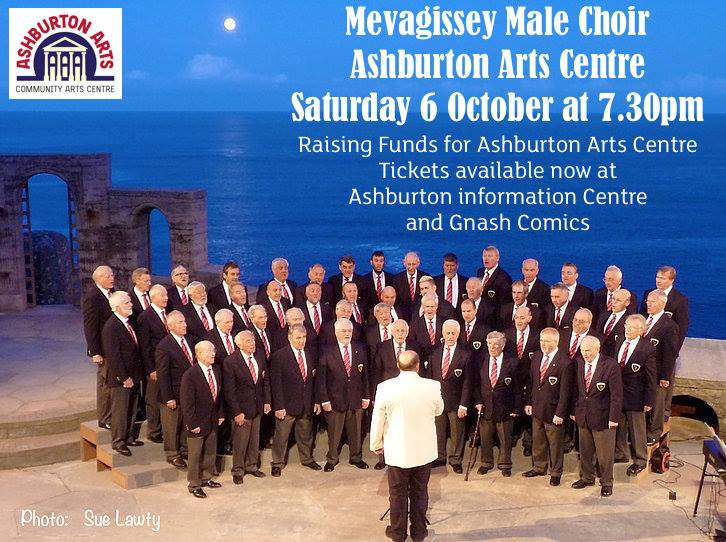 Sunday 7 October. East Dartmoor Literary Day. Two of the key speakers are Professor Kent Fedorowich (National Advisor for the BBC's World War 1 at Home Series) & Debbey Clitheroe (Finalist SOE Selection Series BBC 2 2018). A Short Story Competition will be held for 4 age groups 8 to 11, 12to 15, 16 to 18, and over 18. Book fair and an author's forum. New books from local authors will be launched including Devon War Heroes from WW2 which features the remarkable wartime experiences of Doctor Sandy Mills who was a GP in Ashburton for 27 years from 1947.
Sunday 7 October. The very wonderful Liane Carroll in concert. 7.30pm.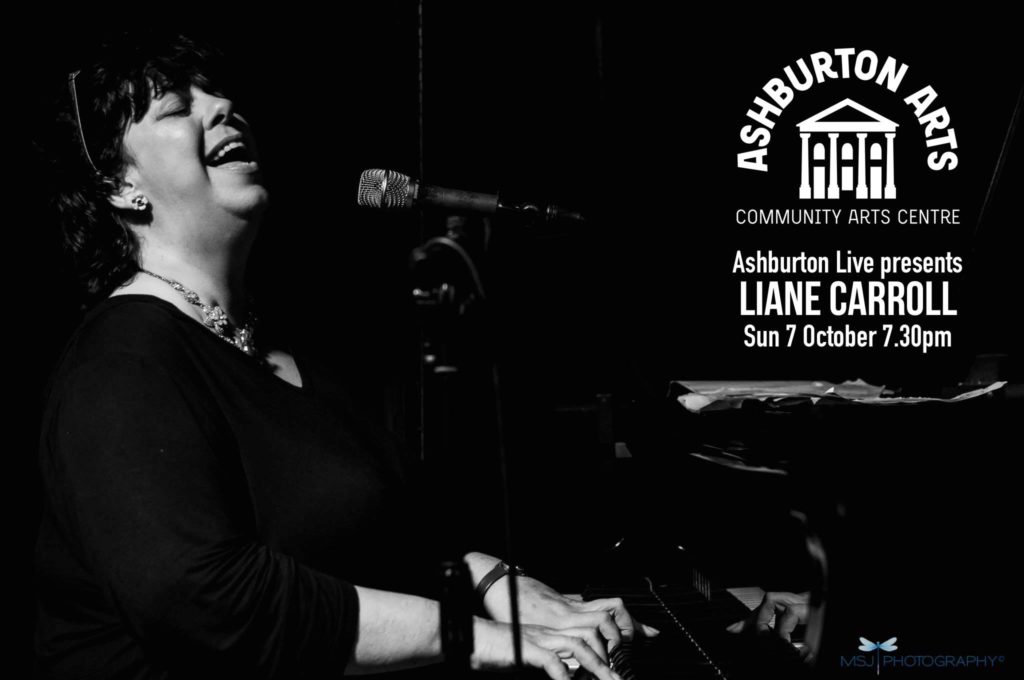 Friday 12 October. Rambunctious Social Club presents Bristol's Dockside Orchestra. Superb 12 piece latin orchestra – salsa, rhumba, cha-cha-cha with room to dance. Here's a taste:
Sunday 14 October. Pete Canter & Peter Tamblyn. Fine jazz saxophonist doubling on upright bass and excellent pianist doubling on cello playing swing, bebop & latin jazz. Pete Canter – saxophone & double bass, Peter Tamblyn – piano. 4pm.
Wednesday 17 October. Beth Rowley, with Peter J McCauley (support). Of Beth's recent album, Mojo wrote:

Rowley returns with a deeper sound…A haze of slide guitar and her blue velvet voice build rich, soundtracky textures ****

Mojo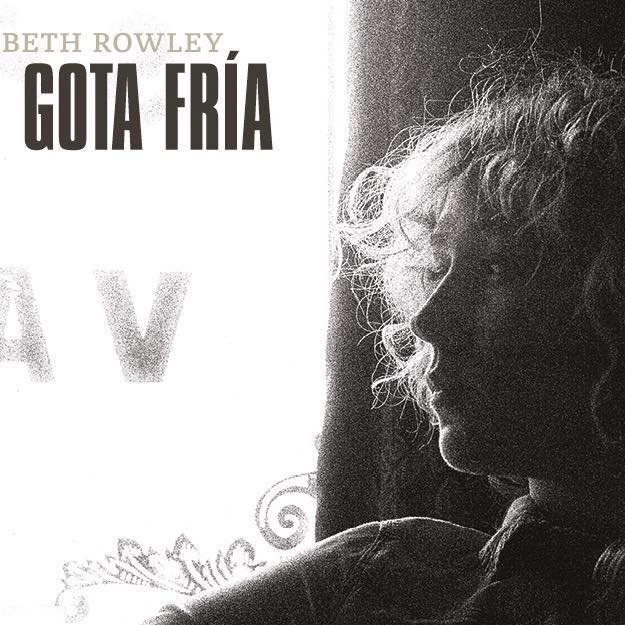 Friday 19 October. Robert Mitchell Trio. One of the UK's top jazz pianists on a return visit to Ashburton after a stunning performance last year at St Lawrence Chapel. Here's some video of the Robert Mitchell Trio in action:
Saturday 20 October. Moscow Drug Club. Fantastic musicians who know how to put on a show. See moscowdrugclub.com for more about this great band.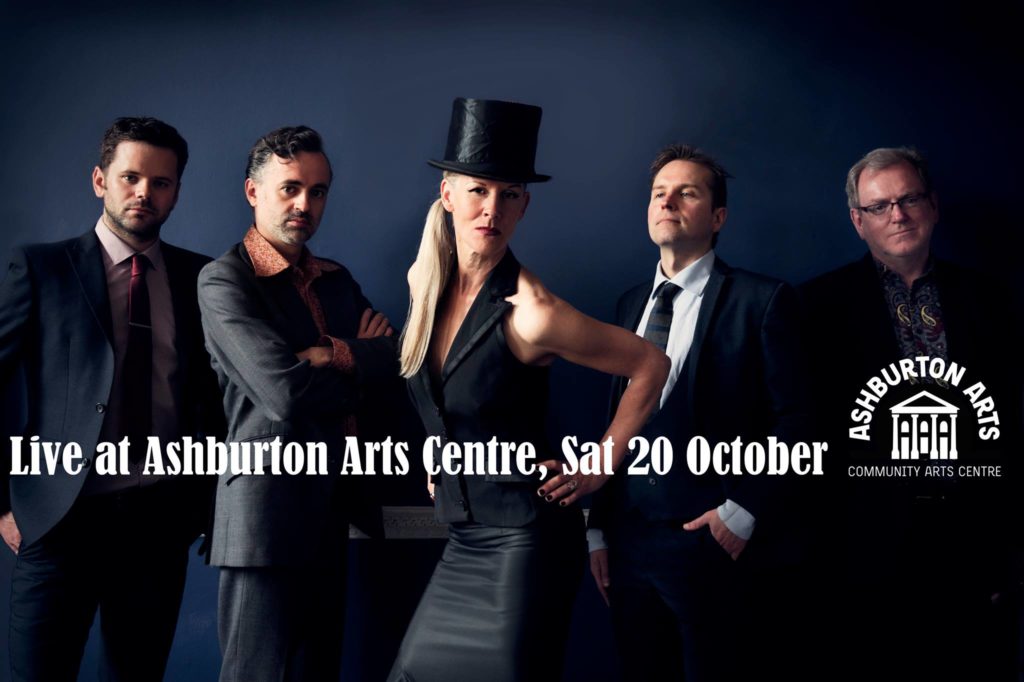 November 2018
Friday 2 November. The Vinyl Countdown: Local author Philip Reeve is interviewed by local journalist Sophie Pierce about his favourite music. This is a fundraising event for the SUDEP Action Charity, in memory of Sophie's son Felix, who died from this condition last year.
Saturday 3 November. Ashburton's inaugural REPAIR CAFE. Don't throw away that lamp/radio/printer/saw/plane – it might be able to be repaired or sharpened. This is all part of the movement to reduce waste by repairing things rather than sending them to landfill, and using up valuable natural resources in making an unnecessary new thing. More about this here.
Friday 9 November. MA BESSIE AND HER BLUES TROUPE – a narrated show about Bessie Smith "Empress of the Blues and Jazz" with support from The Rag and Moan Men. More info soon. Here's a taste of Ma Bessie on YouTube:
Sunday 11 November. A Concert for Remembrance. Newton Abbot Orchestra and Plymouth Military Wives Choir. 3.30pm. All proceeds to the Royal British Legion Ashburton.
Sunday 11 November. "Dwarka, A Journey" featuring music from folk trio Gingang (Tony Bayliss & Pete Bingham of Jiggerypipery, plus Louis Bingham). The music accompanies Virgina Pope's story Hooves in the Heather of Dwarka, born in the Arabian desert, taken by the British army to India, thence to Dartmoor and finally to the Prince of Wales's stud at Tor Royal. His bones rest in the Natural History Museum in London, but his spirit is free. 7.30pm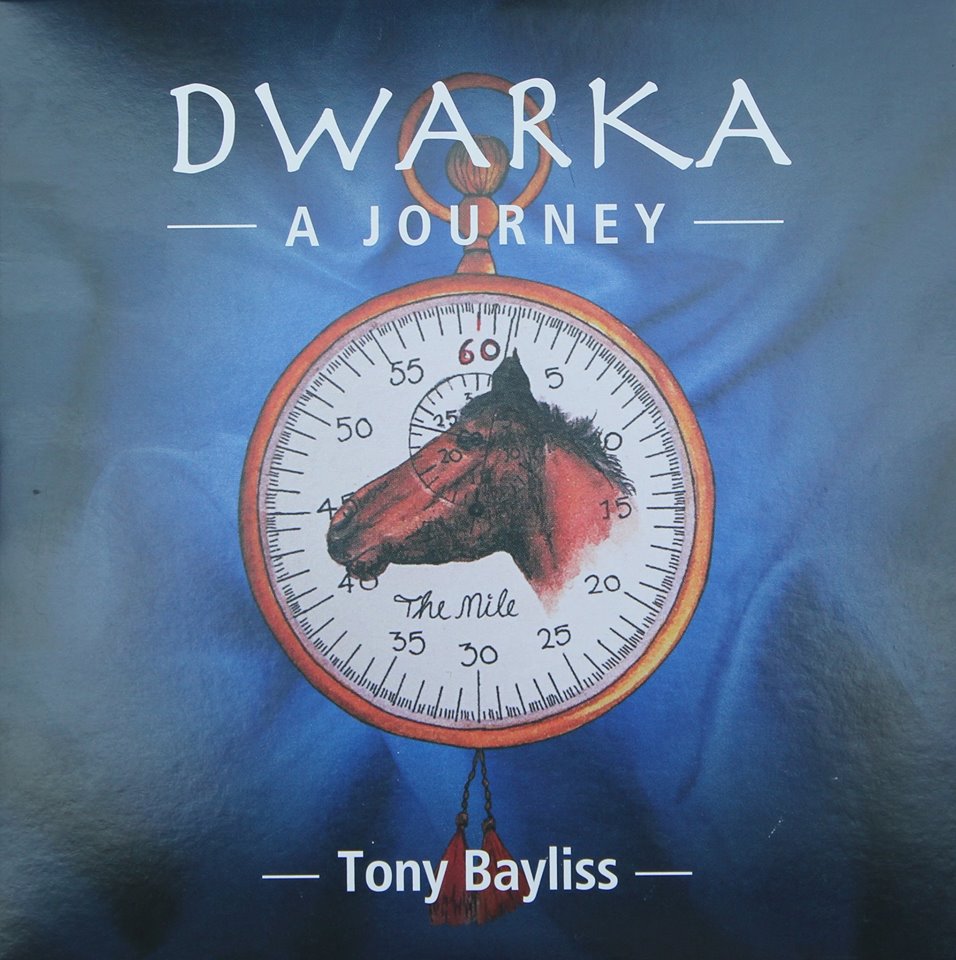 Wednesday 14 November. Double Bill: Scottish singer Adam Beattie and Sonny Johns (The Rail Abandon). 7.30pm
Friday 16 November. Whitehouse Sessions presents: Reg Meuross with Harbottle & Jonas.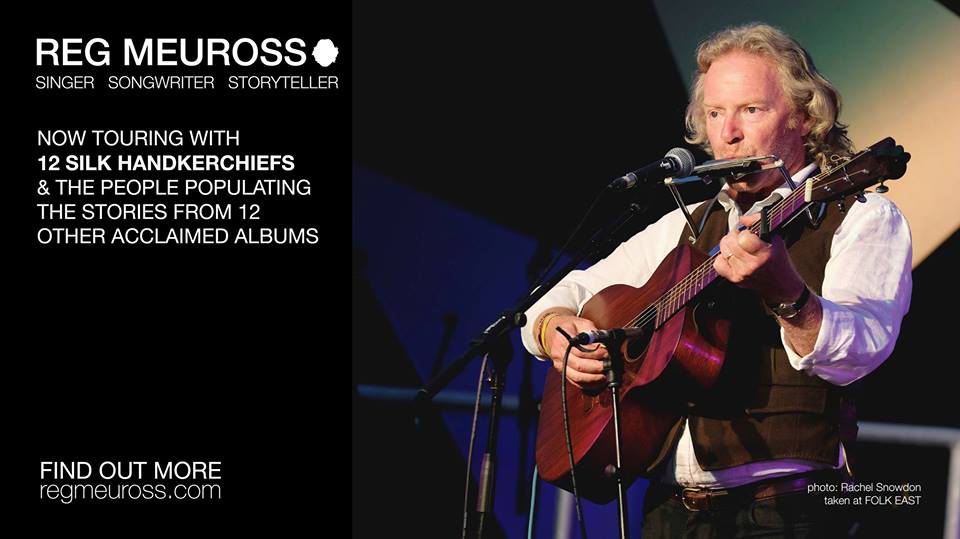 Sunday 18 November. Haldon String Quartet. 4pm.
Friday 23 November. Malavita! 7.30pm This band's genre-defying sound fuses funky latin beats, heaps of percussion, soaring guitars, skanktastic bass lines, punchy horns and soulful female vocals to create a heady mixture of original, infectious feel good tunes. Eight eclectic, fun-seeking musical misfits originating from Italy, France and the Deep South (West country) come together to inspire you to dance, sing along and lose your inhibitions: they're collectively on a mission to start the party and keep the dance floor jumping with their festival-strength tropical sounds.
Saturday 24 November. Simon Mayor & Hilary James. 7.30pm

A witty and captivating mix of folk, blues, swing and classical showstoppers, spiced with a unique brand of off-beat humour.

Guardian
And on BBC Radio 4 they were described as "Britain's leading hot-fingered mandolin virtuoso" and "one of Britain's finest voices"
More at mayorandjames.com.
Sunday 25 November. Krapp's Last Tape – Samuel Becket. The director will give a short talk before the performance. 8pm
Thursday 29 November. An Artist In The Arctic – Jumping In At The Deep End. A talk by artist Naomi Hart. 7.30pm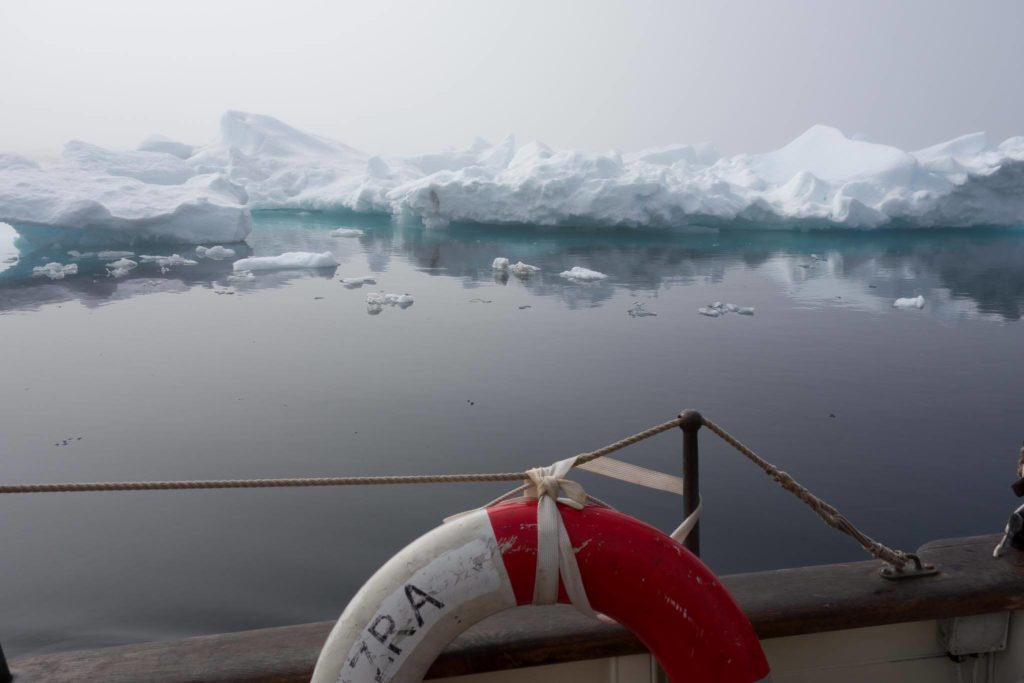 Friday 30 November. Film: Warhorse (12/12a).
December 2018
Sunday 2 December. Winter Light Nigel Shaw Carolyn Hillier. 7.30pm. More details here.
Monday 3 December. Jean Toussaint Quintet. Top UK saxophonist with a superb band on a national tour.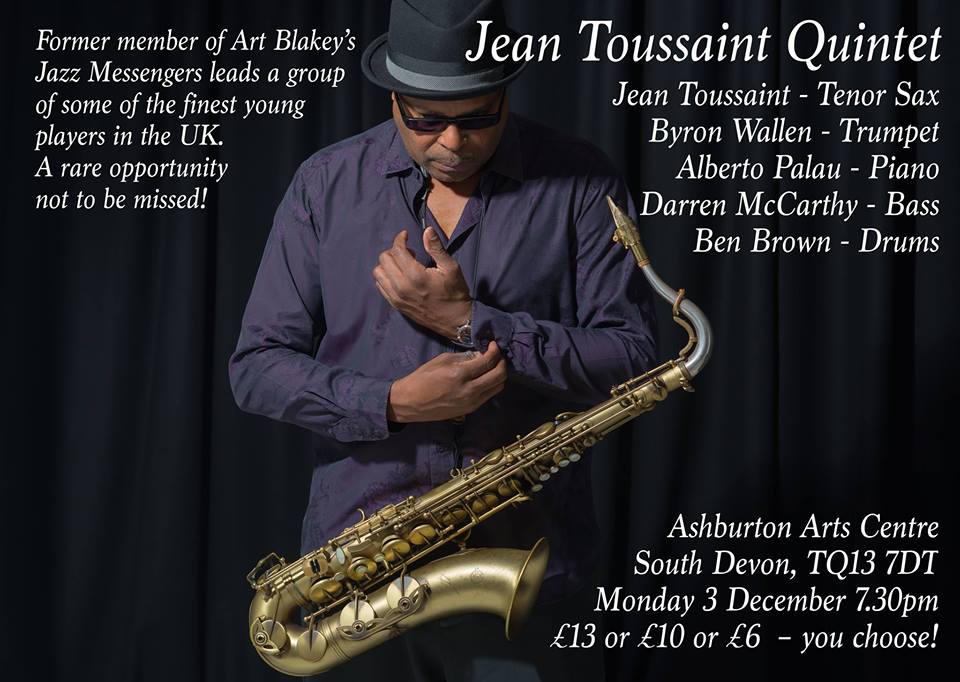 Sunday 9 December. Meridianum Ensemble – this large world music group features musicians from the UK (inc Griselda Sanderson and Louis Bingham) and Portugal. Fascinating sounds. See the Meridianum Ensemble website for more about the band.
Saturday 15 December: Glorious Chorus. One of the South West's best-loved choirs led by award-winning Choir Director Helen Yeomans for an evening full of festive favourites & original music. Support is from Kindred Spirit, an interesting young band. This fundraising Concert is in aid of Totnes Homeless Drop-In Shelter and the Bank Youth Project, Ashburton.
Sunday 16 December: Newton Abbot Orchestra – Christmas Concert. 3.30pm
Sunday 16 December. Helena Kay's KIM Trio. 7.30pm
Friday 21 December. Soulstice! Ashburton Arts Centre's Christmas Party! Soulful and Funky grooves from some of the top local musical talent, with Ashburton Community Choir!
This Ain't JaZz – three talented Ashburton lads: Ben Quinn on guitar (now studying music in London), Zak Woodfield on sax and Archie Tweedle on bass. Their music mixes jazz with hip hop and loads of other influences.
The Joint Chiefs – Rick Worthy (vocals and guitar), Phil Rossiter (vocals and guitar), Emily Veise Smith (vocals) and Joe Gass on bass. A new band, but with years of experience in this bunch of fine musicians.
Soulstice Band – with Preston Prince at the core, on drums (he also instigated this whole night); Pete Bingham on bass and Andy Williamson on sax and piano.
Ashburton Arts Community Choir, singing some pop and soul classics including: September, We Are Family, Wichita Lineman, and more…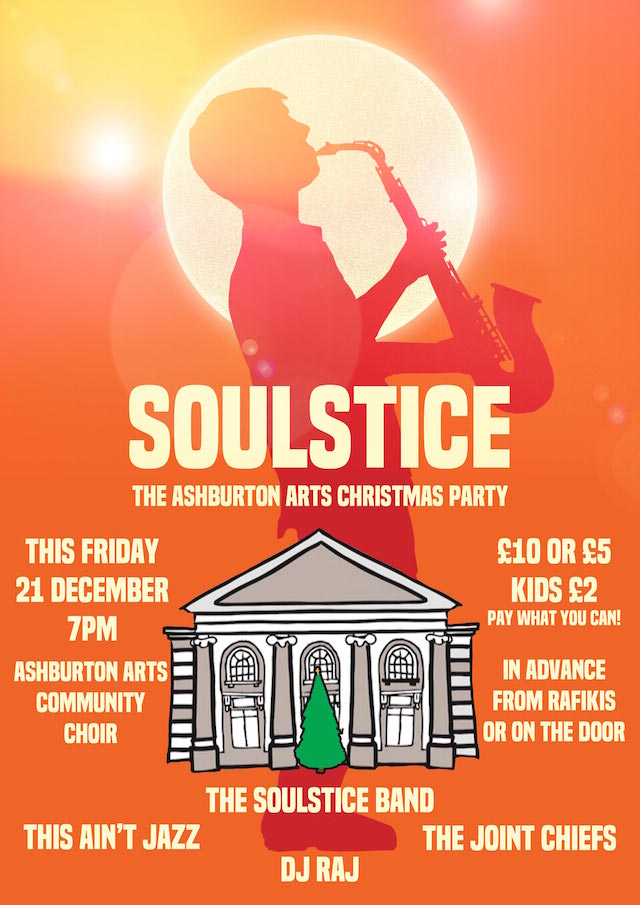 Saturday 22 December: The Lost Sound, Dartmoor Folk Choir – STORMY WEATHER – Winter 2018
Sandra Smith, Director of the Lost Sound writes:
Our finale concert of the year and our 10th anniversary! Let us kick start your festive holidays with some fantastic Winter songs from around the world and from around the ages! From Medieval to Blues, from Folk to Gospel – a programme packed with atmosphere, character and stunning original arrangements of old songs. Hear those chilly winter winds a blowing, celebrate the howling stormy weather and let us warm you up for a wonderful Yule!

We supported Show Of Hands at The Theatre Royal on Nov 11th, for a very special show and have plenty in store for 2019. We sold out last May, so get your tickets early and we will sing our hearts out for you!