On this page: Finding us : Parking : Access(ibility) : Booking Tickets
Finding and getting to Ashburton Arts Centre
We're at: 15 West Street, Ashburton, Devon, TQ13 7DT – this is on the main road through town, parallel to the A38. We're on the left if you are coming from the Exeter direction, or on the right if coming into town from the Plymouth direction, very close to the Bullring (main junction in the centre of town). We're the old Methodist Church, with four big pillars out front and a forecourt full of tables and awnings. Here's a map on Google Maps.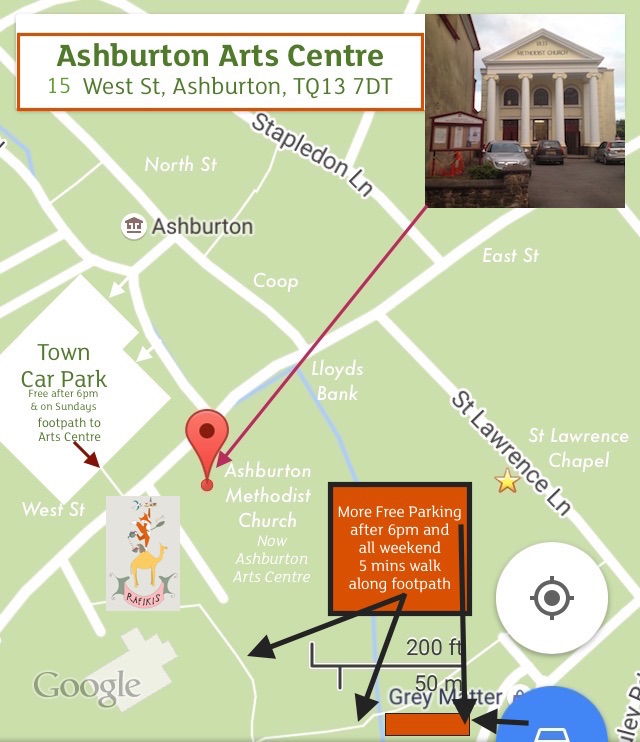 Parking
If absolutely essential, it may be possible to provide one or two disabled parking spaces for events. If this is needed please email boxoffice@ashburtonarts.org.uk.
The public car park behind Ashburton Town Hall is cheap during the day, and free after 6pm. A footpath through a tunnel from the Long Stay side of the car park comes out just across the road, next to Shahnaz Tandoori almost opposite the Arts Centre.
Free parking also available in the Greymatter compound on Chuley Road outside office hours (i.e. weekday evenings after 6pm and at weekends). There's a footpath from there to West St, which goes around St Andrews Church cemetery and emerges between Rafikis Cafe (No 17) and the Vet (No 19).
Access & Accessibility
There is flat access from the street to the ground floor of the building via a shallow ramp to the right of the columns in front of the building. It is usually possible in the evening to drive into our forecourt from the street to unload (goods or people), before parking elsewhere (see below). Since the pandemic, during the day, from 9am – 4pm (except Wednesday and Thursday) Rafikis Cafe next door uses our forecourt for outdoor service.
Once inside, access to the Main Hall is step-free. There's a shallow ramp inside each of the doors to the main hall (rises 6cm over 1m).
There are 4 toilets in the building: Gents (WC and urinals); Ladies (two WCs), and a fairly accessible unisex toilet on the right in the east corridor. The doorway is 78.5cm wide, which is enough  for a common wheelchair to get through. Once inside there is space to maneuver.
There is an accessible toilet in the nearby Coljan Restaurant, a few doors down the street, whose proprietor has agreed that anyone in the Arts Centre is welcome to use this when they are open. Across the street from this is a public disabled toilet accessible with a Radar key.
The main hall where most performances happen has various areas where people in wheelchairs can sit, with good visibility of the stage/screen. Please let us know in advance if possible by emailing boxoffice@ashburtonarts.org.uk if you're coming and need a space to be reserved.
Where Ashburton Arts is organising a performance, a free ticket is available for a personal assistant if required. Please email boxoffice@ashburtonarts.org.uk in advance if this is required.
The Studio upstairs is reached by a carpeted staircase, 1m wide with 20 steps (18cm high each). There are two of these staircases – one on each side of the building. They are mirror images of each other,  and they both have  a decent handrail on one side (so if someone has one good arm, they can ascend one staircase, and descend the other one, using the same arm to steady themselves). There is currently no lift to the first floor.
Tickets
Tickets for most shows are available in advance at wegottickets.com/ashburtonarts. A 10% non-refundable booking fee is added. WeGotTickets provides us with an extremely good and helpful service, so we think the 10% charge is very good value. After booking there, you will be sent a confirmation email. If this doesn't arrive, please check your spam folder as they sometimes get caught by these filters.
Rather than "full price (concession)" we usually offer a choice of three ticket prices, eg "£13 or £10 or £6 – You Choose!" All the tickets are for the same,  unreserved, seats. You choose the price you can afford. If you want to come to something, but can't afford the full price, then please STILL COME, but pay for a cheaper one. Everything helps towards making things work. Or if you fancy coming to more than one show, but paying the top price for all feels like too much, then pay a little less, and see them all!
If it's not clear where to book in advance, email boxoffice@ashburtonarts.org.uk to find out. State how many tickets you want, and if possible, we'll reserve them for you to pay with cash or card on the door.