The first place that events usually get listed is at wegottickets.com/ashburtonarts. Sometimes they get listed there before they appear below. You can also book tickets there (+10% booking fee) or email boxoffice@ashburtonarts.org.uk to reserve and pay on the door (cash or card). See Access, Tickets & Finding Us for more about why there are three ticket prices, plus other useful info about coming to events at Ashburton Arts Centre. To be kept up to date with everything going on at Ashburton Arts Centre, join our mailing list.
Dec 2023
Kimwei: Anthems for Change
Thursday 7 December 2023 at 7:30 PM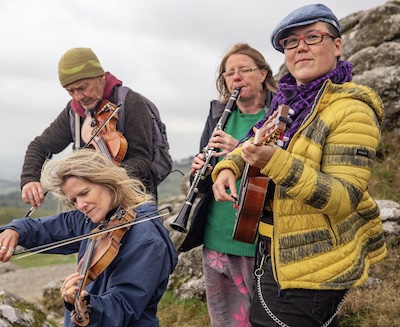 More info and tickets
Kimwei writes: "Where is the soundtrack for the climate revolution? I believe it is down to us all to make it. I've teamed up with folk musicians Chris Dance, Lisa Rowe & Anita Clarinet to make the songs of tomorrow's history: music that births change – a lush landscape of vocal harmonies, guitar, strings & woodwind to surround and transform you."
Macbeth by William Shakespeare, performed by the South Devon Players
Friday 8 December 2023 at 7:00 PM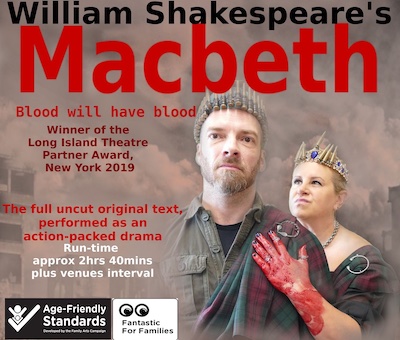 More info and tickets
Shakespeare's classic drama of ambition, power and fate, first thought to be performed in 1606, is now brought to life in a dramatic new adaptation performing the original text, set in a post-World War 3, near-future wasteland.
The Occasional Quintet: #1 of 3: Breakfast Concert - an improvisation: freeform and exciting!
Saturday 9 December 2023 at 11:00 AM
More info and tickets
Not quite so Occasional this month! This is the first of a series of three concerts this month by this home-grown group of excellent improvisers. They'll be serving up up a pair of spontaneous compositions for breakfast this morning. We'll be serving some excellent coffee, from our new machine. Give your weekend a creative start!
Ian Shaw and Andy Williamson
Saturday 9 December 2023 at 7:30 PM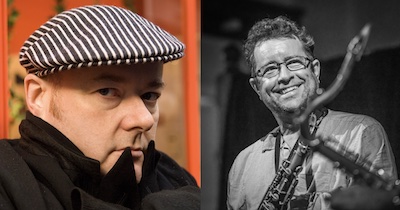 More info and tickets
One of the most distinctive, original and creative jazz singers that the UK has produced, Ian Shaw is also a talented pianist, songwriter, actor, presenter and record producer. Twice voted "Best Jazz Vocalist" at the prestigious BBC Jazz Awards. He's invited saxophonist Andy Williamson to join him for this show.
Ambrosian Strings playing quintets by Mozart, Onslow and Bottesini
Sunday 10 December 2023 at 4:00 PM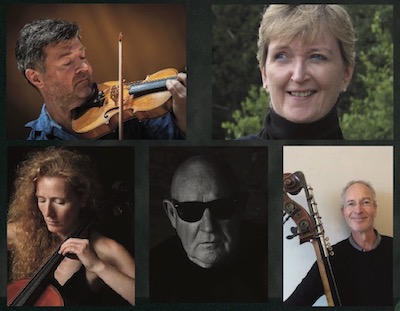 More info and tickets
Mozart Adagio and Fugue in C minor K.546
Georges Onslow Quintet No.21 in G minor Op.51
Bottesini Grand Quintet in C Op. 90
Join the Ambrosian strings for an afternoon of some of the best classical and romantic music you've never heard of! Ambrosian Strings is:
Jonathan Storer, violin; Patricia Calnan, violin; George Robertson, viola; Jane Pirie, cello and Michael Allnatt, double bass.,
Menstrual Psychos: Lilian Belli
Thursday 14 December 2023 at 7:30 PM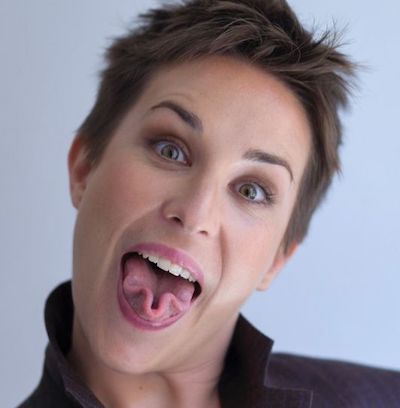 More info and tickets
Menstrual Psychos is a one-of-a-kind live comedy show. Join Lilian as she transforms herself into a diverse cast of characters, each representing the different quirks, thoughts, feelings and absurdities that arise throughout the monthly cycle. The show playfully breaks down stereotypes, challenges menstrual taboos, and celebrates the complexity of the female experience. With wit, charm, and a touch of irreverence, Lilian Belli delivers a night of uncontrollable laughter and learning. Whether you've experienced the menstrual cycle firsthand or not, this show promises to entertain and enlighten in equal measure. It's time for everyone to embrace the comedy within the chaos and have a bloody good time!
Claude Bourbon: singer and virtuoso blues, jazz, classical and Spanish guitarist
Friday 15 December 2023 at 7:30 PM
More info and tickets
"Claude Bourbon is a unique figure today… his playing is almost indescribable" The Hook, Charlottesville, USA
"A breathtaking acoustic fusion of blues, jazz, folk, classical and Spanish guitar from a stunning guitar virtuoso…" Altadena News, Los Angeles, USA
The Occasional Quintet: #2 of 3: Lunch Concert - compositions explored
Saturday 16 December 2023 at 2:00 PM
More info and tickets
The second in this three-concerts series this month by this home-grown group of excellent improvisers. This features pre-written material produced by members of The Occasional Quintet, drawing on elements of work by Chopin, Stockhausen, Bowie, Waits, Cage…
Ashburton Community Folk Orchestra: Fundraiser for the Bank Youth Project
Sunday 17 December 2023 at 2:30 PM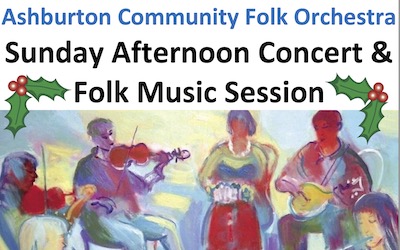 More info and tickets
Beautiful intriguing airs, old English hornpipes and toe tapping dances. This will be followed by an open folk session where all who want will be invited to lead a tune, sing a party piece, join in and have some general music fun! + Raffle! Proceeds to The Bank Youth Project.
DDK Trio: Contemporary music from Switzerland, touring Europe and Canada
Tuesday 19 December 2023 at 7:30 PM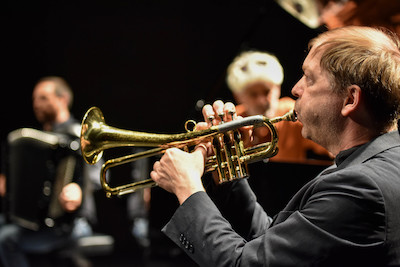 More info and tickets
Touring Canada and Europe from their base in Switzerland, DDK's music follows in the tradition of 'instant composition' – going back to Lennie Tristano and including the legendary Jimmy Giuffre trio, It "deploys an expressive palette ranging from silence to massive acoustic eruptions, while paying particular attention to the precise articulation of the musical discourse."
Jacques Demierre, piano
Axel Dörner, trumpet
Jonas Kocher, accordion
The Occasional Quintet: #3 of 3: Dinner – Christmas on Saturn: an inter-galactical seasonal celebration of Sun Ra's music
Saturday 23 December 2023 at 7:30 PM
More info and tickets
The final of this three-concerts series is a Christmas party with a difference: We're heading to Saturn for an inter-galactical seasonal celebration of Sun Ra. This concert is the Occasional Quintet plus Andy Williamson (saxes) with audience participation, both appropriate & inappropriate. The music will draw on Sun Ra's catalogue of Christmas music • (Un)usual rules apply.
Barbie (12A)
Friday 29 December 2023 at 7:30 PM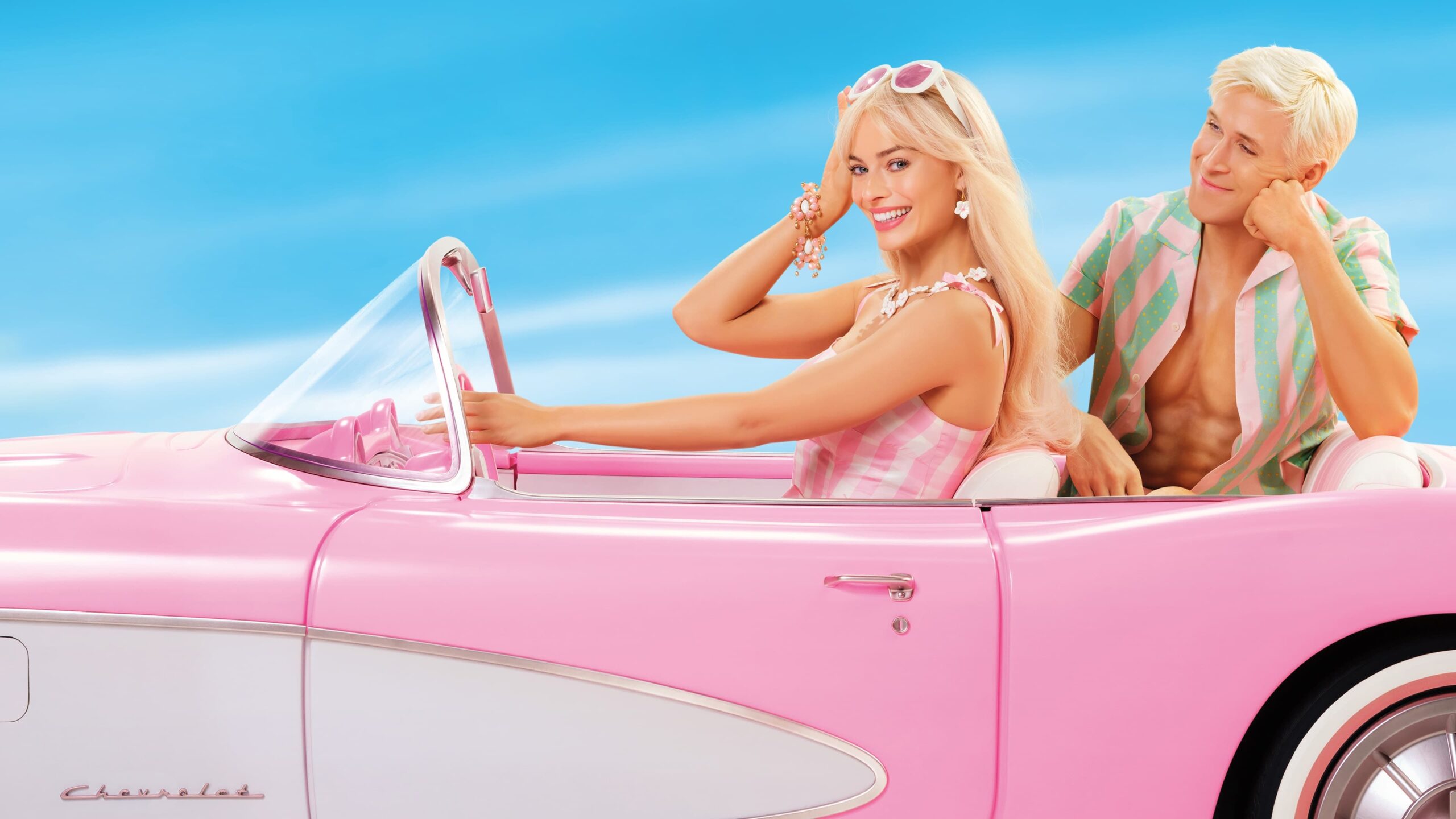 More info and tickets
Barbie is living her best life in her perfect Barbie world, partying of an evening with Barbies who are political leaders, supreme court judges and Nobel laureates,  a castrato chorus of beach-bunny Ken clones and Ken's gloomy beta-male mate Allan  when suddenly she is assailed with the terrible thought of dying…..
Not Only But Also The Blues Christmas Bonanza Special: Vince Lee and the Big Combo with special guest Russell Sinclair
Sunday 31 December 2023 at 7:30 PM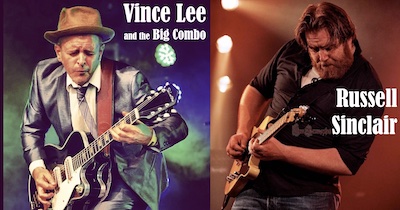 More info and tickets
Put Russell Sinclair and Vince Lee together and shoot for the moon! Don't miss this. You will hear some of the best and most creative interpretation and blues musicianship. It'll be followed by our big jam organised by Mary Caffrey who writes, " this could be a blues moment in history!"
New Year's Eve Party with Global Collective, Bethan Lloyd, Prehuman and DJs
Sunday 31 December 2023 - Monday 1 January 2024 at 8:00 PM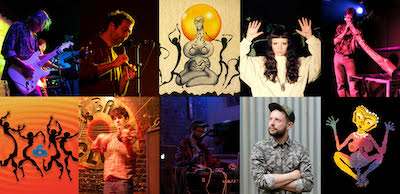 More info and tickets
The band Global has been a festival favourite since 1992 with its powerful dance music, live instruments and wildly energetic vocals. Their shamanic-trance-techno has been at Glastonbury Festival, WOMAD and Cirque Du Soleil. See in the New Year and bring your dancing feral feet!
Jan 2024
Hedera
Saturday 20 January 2024 at 7:30 PM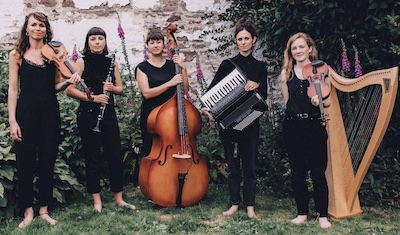 More info and tickets
Hedera is a new Bristol-based quintet of instrumentalists brought together by a desire to lean into the slower and more delicate side of European folk traditions.
The group's growing repertoire draws on French, English, Eastern European and Scandinavian music, with playful and inventive arrangements that reflect the diverse array of experience brought by members of the band: violinists Maisie Brett and Lulu Ruby Rose, clarinettist Isis Wolf-Light, Bethany M. Roberts on double bass, and Tamsin Elliott on accordion and harp.
Event Calendar
Click on an event to see more information about each event, including prices and details of how to get tickets. Use the Monthly/Weekly/Daily option at the top right to change how you view the calendar.
What we've been up to so far…