22 February 2021: From the information being released by the government today, it appears that we won't be able to open for a live indoor audience until sometime after Easter, though exactly when is not yet possible to say. In the meantime, we have some live online events coming up.
When Devon was in Tier 2 we were putting on live events for a reduced physical audience, present in the Arts Centre. These were also usually simultaneously being live-streamed on Zoom and YouTube to an audience anywhere in the world. For those present we operate in as Covid-safe a way as possible, with at-seat service from the bar to an audience in bubbles separated by 1.5-2m, with the windows open for good ventilation (and some heating to help compensate for the colder air) and plenty of hand-washing/sanitising facilities.
Join our Facebook Group (where any member can post) and our Mailing List.
Andy Williamson
Arts Director, Ashburton Arts Centre
Mar 2021
Ronnie Jones Trio with Andy Williamson (sax) – online
Sunday 7 March 2021 at 7:30 PM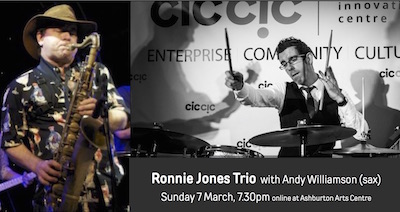 More info and tickets
Ronnie Jones: drums
Jesse Molins: guitar
Ron Phelan: double bass
Andy Williamson: saxophones
To be kept up to date with everything going on at Ashburton Arts, join our mailing list. There's info about getting tickets, accessibility, how to find us and parking here.
Event Calendar
Click on an event to see more information about each event, including prices and details of how to get tickets. Use the Monthly/Weekly/Daily option at the top right to change how you view the calendar.
What we've been up to so far…