Here is what's coming up in the next two months at Ashburton Arts. You can also view a calendar of events further down this page. To get all this to your inbox, join our mailing list. (The latest and past emails are here.)
Nov 2019
The Ranch
Wednesday 13 November 2019 at 7:30 PM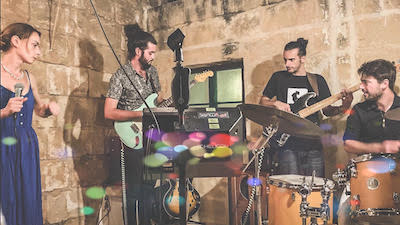 More info and tickets
Trying to describe the Maltese band "The Ranch" isn't easy. The music moves from prog-rock to jazz improvisation, from beautifully-sung ballads to vocalises in odd time signatures, from dance numbers to folk-inspired melodies, while the whole is served with an infectious energy and surreal humour. One thing is certain: to witness one of their performances is a real pleasure no matter your age or musical taste.
Julu Irvine & Heg Brignall | Holly Ebony
Friday 15 November 2019 at 7:30 PM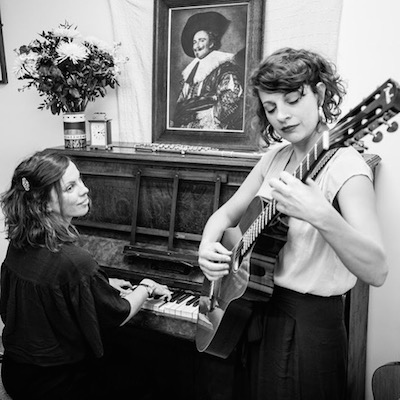 More info and tickets
Julu Irvine & Heg Brignall's songs and music are a mix of traditional and original, following themes of love and loss; dreams and reflections and struggle and triumph against all odds. The duo bring powerful songwriting, weaving stories and crisp vocal harmonies to create a beautiful, distinctive sound.
TwoMan Ting
Saturday 16 November 2019 at 7:30 PM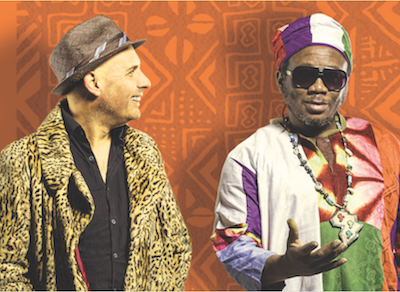 More info and tickets
TwoManTing was formed in 2004 when Sierra Leonean drummer Jah-man Aggrey, and guitarist Jon Lewis were playing together as part of dance band, Le Cod Afrique, at places like Montreux Jazz Festival and WOMAD.
"Brilliant – if you want a bit of early summer, then get this into your ear-holes!" (Lauren Laverne, BBC 6Music)
Joy Ellis Quartet
Sunday 17 November 2019 at 7:30 PM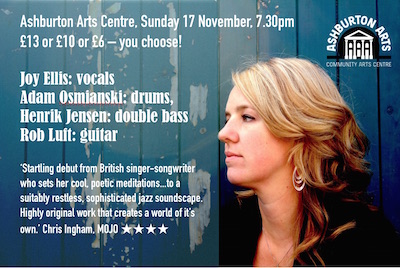 More info and tickets
£13 or £10 or £6 — you choose! (All the same unreserved seats) Book Here
Joy Ellis: vocals and piano
Adam Osmianski: drums
Henrik Jensen: double bass
Rob Luft: guitar.
with special guests, Ashburton Arts Centre Community Choir
Joy writes, "My original music reflects my passion for jazz and improvisation, my love of groove and dance music, my classical roots as a pianist and the soulful, poetic aspects of being a singer-songwriter."
Here is a video: https://www.youtube.com/watch?v=3SnqjE8Pups
'Startling debut from British singer-songwriter who sets her cool, poetic meditations…to a suitably restless, sophisticated jazz soundscape. Highly original work that creates a world of it's own.' Chris Ingham, MOJO ★★★★
'Fiery improvisations from Ellis who provides well-structured hard-bop solos on piano and Fender Rhodes.' John Lewis, The Guardian ★★★★
'Joy Ellis has a distinctive voice of her own. A very gifted player indeed. A triple threat with those pipes of hers, those fingers and her song-writing assets.' Simon Redley, Music Republic Magazine ★★★★
There'll be a backing choir for this performance made of of singers based around Ashburton. If you'd like to be part of it, send a message here or contact boxoffice@ashburtonarts.org.uk
Doors and bar open at 7pm, music starts just after 7.30pm
Ashburton Arts Centre, 15 West St, Ashburton, Devon, TQ13 7DT
£13 or £10 or £6 — you choose! (All the same unreserved seats)
Tickets in advance from wegottickets.com/ashburtonarts (10% booking fee added) or in person from Rafikis (next door to the Arts Centre), Ashburton Information Centre and on the door.
To reserve a ticket, email boxoffice@ashburtonarts.org.uk
Accessibility: Venue has flat access from street. PA tickets available on request. Wheelchair users, please get in touch with the box office in advance if possible.
ashburtonarts.org.uk @ashburtonarts facebook.com/ashburtonarts
"One of the best small UK music venues" The Guardian
Free parking after 6pm and all day Sunday in the Town Car Park behind the Town Hall, and in the Grey Matter compound on Chuley Road.
Miss Marple in "Adventure on a Train" Patched Fools
Saturday 23 November 2019 - Sunday 24 November 2019 at 3:00 PM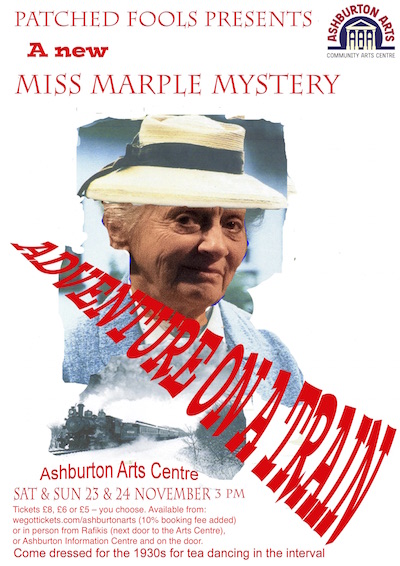 More info and tickets
Patched Fools presents this brand new, dramatic and exciting (but also quite funny) mystery for Miss Marple.
The Little Unsaid
Wednesday 27 November 2019 at 7:30 PM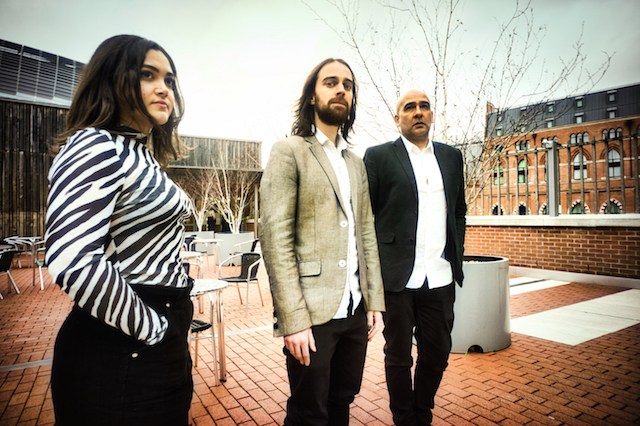 More info and tickets
Led by Yorkshire-born songwriter and multi-instrumentalist John Elliott, The Little Unsaid has a genre-spanning approach to song-writing that embraces elements of electronica, folk, jazz and alt-rock. Their live shows are highly emotive unique experiences, a world-class band not to be missed.
Dec 2019
Terry Oldfield and Soraya with special guest Elise Yuill Cohen
Sunday 1 December 2019 at 2:30 PM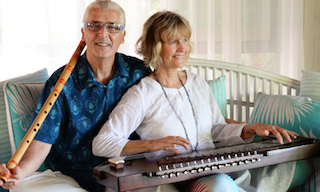 More info and tickets
Join Terry Oldfield and his wife Soraya Saraswati as they share their magical flute music with songs and mantras for peace. They're joined by Elise Yuill Cohen a Devon based singer/songwriter (last seen at the Arts Centre supporting James Frost).
Bitesize Bhangra Folk Dance at Ashburton
Saturday 7 December 2019 at 11:00 AM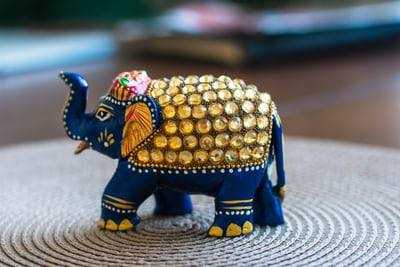 More info and tickets
Have you ever wanted to try dances of India? Now is your chance, join us for a taster Bhangra session. Inclusive dance-a-longs with fun dance steps, to happy and expressive beats from India. Suitable for beginners from all walks of life.
To be kept up to date with everything going on at Ashburton Arts, join our mailing list. There's info about getting tickets, accessibility, how to find us and parking here.
Event Calendar
Click on an event to see more information about each event, including prices and details of how to get tickets. Use the Monthly/Weekly/Daily option at the top right to change how you view the calendar.
What we've been up to so far…