Hello! Ashburton Arts Centre is gradually emerging, as is this website. There's a bit of information here, though not yet as much as we'd like. There's an active Facebook group here,  and a FB page here. The Arts Centre is open every Saturday morning from 10am – 12ish, often with something  happening (workshop, performance, acoustic music, life drawing, etc); there's always tea, coffee, biscuits and someone to have a chat with. There are things happening all the time – the best way to find out is to join our mailing list using the form below.
This week is the first anniversary of the auction where we bought the old Methodist Church last year. More by accident than design, there's a pretty amazing programme of events happening. There'll be tickets for all available on the door. See the What's On page here for links to online ticket sales where possible. More about all these also at facebook.com/ashburtonarts/events.  Click here or on the image below for a larger version (jpg, 944kb).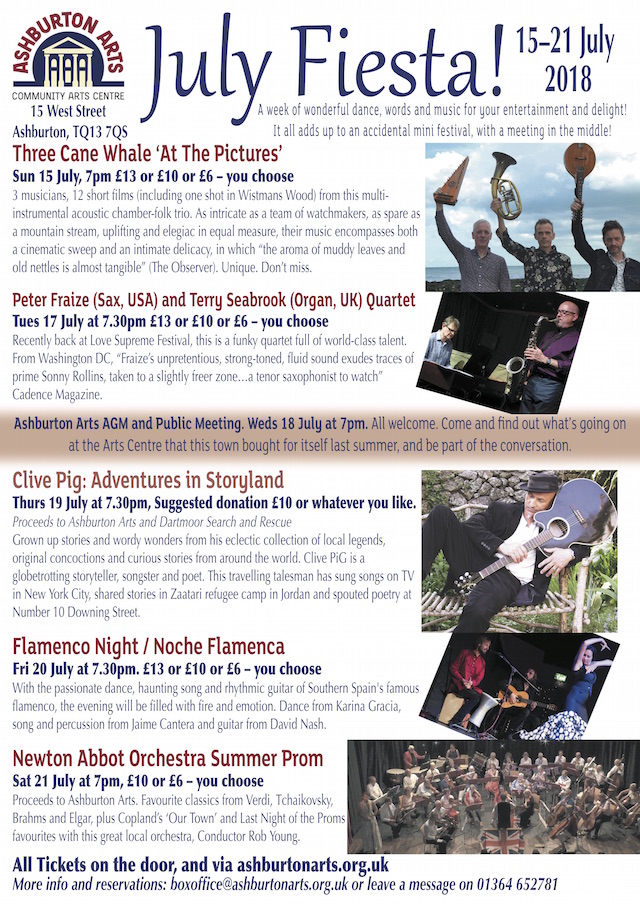 Tickets for all events should appear once available on one or both of these pages:
WeGotTickets.com/ashburtonarts
WeGotTickets.com/ashburtonlive
Tickets are also available on the door. At the time of writing we've never had to turn anyone away because the event was sold out, so come on down.
GDPR info: signing up here adds your email address to our mailing list, stored securely on the Tinyletter servers. We will send you emails from time to time (current average about 5 per month). We won't intentionally give or sell your email to anyone else. Every mail has an unsubscribe link at the bottom.