Welcome to Ashburton Arts, entertaining Ashburton and the wider area since 2018! The best way to know what's happening is to join our mailing list. The latest newsletter is always available in the newsletter archive.

The next event at Ashburton Arts will be Sunsplash Township Jazz on Wednesday 16 October 2019 at 7:30 PM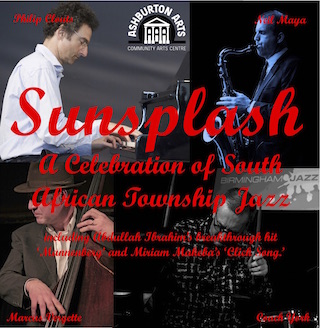 Tickets for most events are also available from Rafikis Cafe (next door to the Arts Centre). Find out more about tickets (and how to find us) right here.


The Arts Centre is open every Saturday morning from 10am – 12ish, often with something happening (workshop, performance, acoustic music, life drawing).
There's always tea, coffee, biscuits and someone to have a chat with.
We are working on adding more pictures to this site – for now, you can see some fabulous ones on Mark Burley's site.