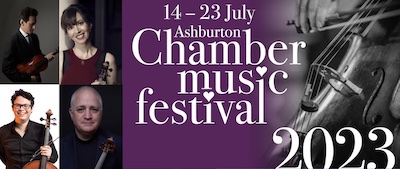 Date/Time
Sunday 16 July 2023
4:00 pm - 5:30 pm
Categories Chamber Music Festival 2023
Book here now: Free tickets or optional donation
Host: Richard Gonski, conductor of Torbay Symphony Orchestra
We'll meet all of the musicians involved in this year's festival, plus composer Mike Greenway, whose piece is being premiered. They'll talk about their own approaches to music, and how they got to where they are now, answering questions from Richard and the audience.
We'll also discuss this year's programme and hear extracts from some of the pieces.
Admission free. Donations welcome.
Drinks and snacks available.
This is part of Ashburton Chamber Music Festival (ACMF) 2023 – a series of concerts, Hausmusiks, a Family concert and other events in and around Ashburton from 14 – 23 July 2023. To see everything that's happening, and more about the music and the musicians go to ashburtonarts.org.uk/acmf.
* See Access, Tickets & Finding Us for more about why there are three ticket prices, plus other useful info about coming to events at Ashburton Arts Centre.