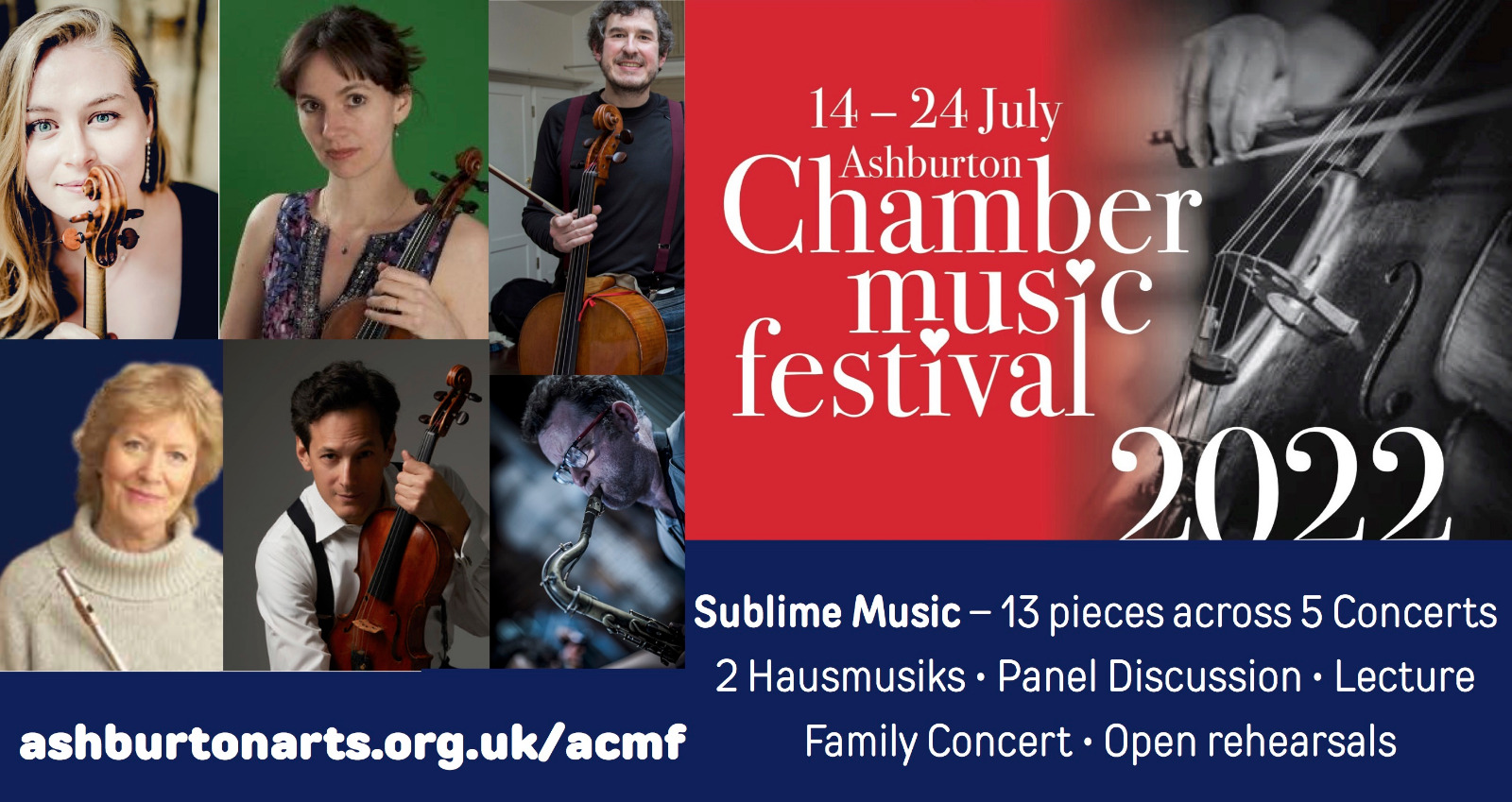 Date/Time
Wednesday 20 July 2022
6:00 pm - 7:15 pm
Categories Chamber Music Festival 2022
Book here now: £10, £5 Donation or Free Entry*
Tom Vignieri will give us a composer's perspective about the special music being featured in this summer's festival and why it's a rare treat to hear these pieces being performed live. From Mozart to Shostakovich; Johannes Brahms to Arvo Pärt.
The musicians involved in the whole festival are:
Amarins Wierdsma, violin (Holland)
Sara Trickey, violin (UK)
David Yang, viola (USA)
Bertrand Raynaud, cello (France)
Judith Hall, flute (UK)
Andy Williamson, Saxophone (UK)
Tom Vignieri, Composer-in-Residence (USA)
(though not all are in every performance)
This is part of Ashburton Chamber Music Festival (ACMF) 2022 – a series of 5 concerts, 1 family concert, 2 hausmusiks, a panel discussion introducing the musicians and a lecture, in and around Ashburton from 14 – 24 July 2022. For full details see ashburtonarts.org.uk/acmf
There's a choice of three ticket prices for each event – please pay what you can. If you'd like to buy a Festival Pass for some or all of the events in the festival these are £75 full price; or £50 or £40 if you need a cheaper one. Please email boxoffice@ashburtonarts.org.uk to arrange this.
* See Access, Tickets & Finding Us for more about why there are three ticket prices, plus other useful info about coming to events at Ashburton Arts Centre.