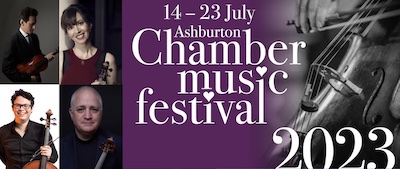 Date/Time
Sunday 23 July 2023
5:00 pm - 6:30 pm
Categories Chamber Music Festival 2023
Book here now: £16 full price • £12 or £8 if you prefer – please pay what you can*
HIGHLIGHTS CONCERT
Favourite movements and pieces from all of the festival. Let us know yours and they'll all go into the mix. Email boxoffice@ashburtonarts.org.uk with your requests.
==
The festival musicians are:
Sara Trickey, violin (UK)
Stefan Hersh, violin (USA
David Yang, viola (USA)
Sébastien van Kuijk, cello (France)
Andy Williamson, saxophones (UK)
This is part of Ashburton Chamber Music Festival (ACMF) 2023 – a series of concerts, Hausmusiks, a Family concert and other events in and around Ashburton from 14 – 23 July 2023. To see everything that's happening, and more about the music and the musicians go to ashburtonarts.org.uk/acmf.
* See Access, Tickets & Finding Us for more about why there are three ticket prices, plus other useful info about coming to events at Ashburton Arts Centre.