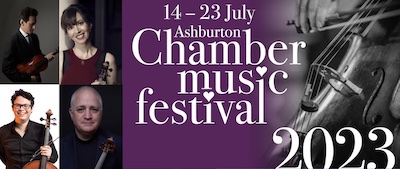 Date/Time
Saturday 15 July 2023
7:00 pm - 9:30 pm
Categories Chamber Music Festival 2023
Book here now: £16 full price • £12 or £8 if you prefer, please pay what you can: https://www.wegottickets.com/event/585680
Saturday 15 July, 7pm (come and picnic from 4pm)
Hausmusik #2 Bigadon Cottage, near Buckfastleigh
This lovely old house with it's gorgeous views along the Dart valley has become a firm favourite festival venue. Thanks again to Mike and Barbara for allowing us to share it with them. There's a huge garden with lawns, woods and a stone circle, which makes it the perfect place to come early and bring a picnic. The music will happen, weather permitting, in the walled garden, which is like a room without a roof. It's unusually perfect for string quartets – enough walls to give a great acoustic, but still being outside on a summer evening.
Hausmusik
These are informal gatherings where David Yang brings a wide range of music – from Haydn and Mozart to Britten, Debussy and Bartok – chats with the audience and a consensus emerges about what the musicians will play, and then they do, sight-reading the pieces together without any rehearsal! It's fun, but they do
 take the music seriously, and it's extraordinary to witness. This is the sort of thing that professional musicians do all the time, but it's rare to be able to watch it happen, especially in such beautiful, intimate settings. In these first events of the festival we'll watch the musicians getting to know each other – these will be the first time they play together with an audience as a quartet.
To get to Bigadon cottage (don't put the postcode below in your satnav!), drive along the A38 from Ashburton towards Plymouth. Take the exit signed Dean Prior and Pennywell Farm. Then turn left and left again, past the Dean Prior Farm shop, following signs for Pennywell Farm. After about a mile you'll see a stone gateway on the left with a sign for Bigadon Cottages – there will be a chamber music festival sign there too. This is Bigadon Lane. Take this for about a mile, ignoring the turnings on the left, and you'll reach Bigadon cottage where there's parking in the field beyond (see notices).
This is part of Ashburton Chamber Music Festival (ACMF) 2023 – a series of concerts, Hausmusiks, a Family concert and other events in and around Ashburton from 14 – 23 July 2023. To see everything that's happening, and more about the music and the musicians go to ashburtonarts.org.uk/acmf.