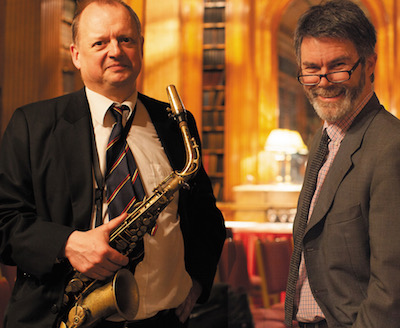 Date/Time
Friday 9 September 2022
7:30 pm - 10:00 pm
Categories Jazz
Book here now: £14 full price • £10 or £7 if you prefer (please pay what you can)*
9 Sept: Tonight's gig is definitely happening. See you later.
These two are British jazz royalty, world-class musicians and consummate entertainers – a rare combination! This will be a beautiful night! Special guest, Jennifer Jones on vocals.
Alan Barnes and David Newton have been playing duets for 45 years now, covering a vast repertoire from Louis Armstrong to Chick Corea. Unfailingly swinging and inventive playing by this partnership of virtuoso reed player Barnes and superb pianist Newton. Swerving from blistering bebop to elegant melodies, flawlessly performed by two multi award-winning masters of jazz.
Alan Barnes and David Newton met at Leeds School of Music 45 years ago. They shared rooms at the college, and have played together ever since.
Alan Barnes's unique musicianship, indefatigable touring, and warm rapport with audiences have made him hugely popular in British jazz. He has received over 25 British Jazz Awards, most recently in 2014 for clarinet, and has twice been made BBC Jazz Musician of the Year.
"I was relishing the prospect of Barnes's casually consummate musicianship, deadpan humour (he could be a comedian, if jazz ever fails him), and indomitable belief in a respected place for the music's rich history in this eclectic and often forgetful world."
John Fordham – The Guardian.
David Newton's reputation as an exquisite accompanist for singers is legendary, and there are many with whom he has worked, including Stacey Kent, with whom he spent ten years recording and travelling all over the world. He was made a Fellow of Leeds College of Music in 2003 and in 2019, was voted 'Best Jazz Pianist for the sixteenth time by the Jazz audience of the UK in the British Jazz Awards.
"There is always more to Newton's playing than first meets the ear. The surface may be smooth, but there are all kinds of clever, subtle things going on beneath. The variety he manages to dig out of Cole Porter's 'So in Love' is astounding."  Dave Gelly, The Observer
* See Access, Tickets & Finding Us for more about why there are three ticket prices, plus other useful info about coming to events at Ashburton Arts Centre.