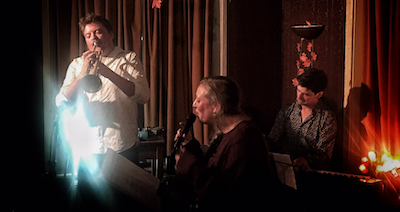 Date/Time
Thursday 15 September 2022
7:30 pm - 10:30 pm
Categories Jazz
Book here now: £14 full price • £10 or £7 if you prefer*
Brigitte Beraha (vocals)
Chris Dowding (trumpet & flugelhorn)
Dave O' Brien (piano)
ALATI is a trio led by Chris Dowding, that explores settings of various poets, including Alice Oswald, Colin Simms and Andrew McMillan. This gig launches 'Ascending the Morning' – a booklet and CD published by Singular Publishing, which includes notation, artwork and a CD of settings of poems by Alice Oswald. The CD is released on the Luton-based 33Jazz label.
Brigitte Beraha has appeared here before and is fab. She's becoming a bit of a star in the jazz vocals world. Last week, Jazz FM chose her as one of the top three vocalists, all in contention for their best of 2022 awards. She was also chosen as the top UK vocalist in the 2021 Parliamentary jazz awards.
Chris Dowding has also played here many times, often with Hugh Nankivell involved in some way. His last appearance was with the big band, Holding Hands who delivered a wonderfully eclectic performance. All in all this looks like being an exotic, evocative, beautiful evening.
* See Access, Tickets & Finding Us for more about why there are three ticket prices, plus other useful info about coming to events at Ashburton Arts Centre.