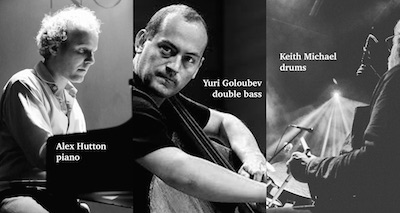 Date/Time
Thursday 19 December 2019
7:30 pm - 10:00 pm
Categories Jazz
£13 or £10 or £6 – you choose! Book now.
Alex Hutton – piano
Yuri Goloubev – bass
Keith Michael – drums
Alex Hutton, described by the great Ronnie Scott as 'great British talent and a wonderfully natural pianist' is a beautifully  creative composer and player. With four original and uniquely atmospheric albums to his name, and with a fifth on its way, it's a delight to welcome these wonderful musicians to the Arts Centre.
"A Happy Hybrid [of jazz and classical] …the mixture seems quite natural. Alex Hutton's suite is a distinguished example. The form of each brief movement reveals itself as it unfolds, in the classical manner, with much attention to tone and texture. But at the same time there's an impetus and looseness to the performance that is pure jazz"  Dave Gelly, Observer 4/5 stars
Alex Hutton's albums:
'Cross That Bridge'(2006);
'Songs From The Seven Hills' (2008);
Legentis (2012);
'Magna Carta Suite' (2015)