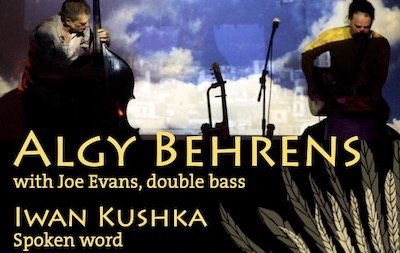 Date/Time
Friday 19 May 2023
7:30 pm - 10:00 pm
Categories Jazz
Book here now: £14 full price • £10 or £7 if you prefer – please pay what you can*
Algy Behrens (with Joe Evans, double bass )
Intro by Iwan Kushka – Spoken word
Bristol-based Algy Behrens is one of those well-travelled musicians with a diversity of influences: from flamenco guitar to Egyptian Oud, West African guitar, banjo and many others. He weaves his sonic tapestry to create soundscapes with pulsing rhythmic grooves and tender songs that speak to the depths of what it is to be human in these challenging times.
He is joined  virtuoso double bass player Joe Evans.
The two musicians perform in front of the haunting visual projections created by Algy, who is also a talented painter and visual artist: a rich overlay of moving pictures and animations collected from his travels all over the world, the result is a highly poetic audio-visual immersion into one man's journey through many countries and states of mind.
"A hypnotizing concept-concert full of colours, faces and places, psychedelic soundscapes, heartfelt songs and musical virtuosity.  A rambling man's stunning memoirs. "
* See Access, Tickets & Finding Us for more about why there are three ticket prices, plus other useful info about coming to events at Ashburton Arts Centre.