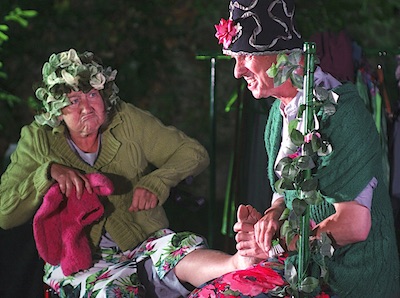 Date/Time
Thursday 9 December 2021
7:30 pm - 8:30 pm
Categories Performances, shows, and events
Book here now for the play  Tickets £13 or £10 or £6  (Please pay what you can more info) For live stream details email boxoffice@ashburtonarts.org.uk
The All Is Mended play ifs a comedy with a serious side. A re-purposing of Shakespeare's "A Midsummer Night's Dream", ingeniously crafted together with lines from some of his most famous works telling a new story of life in a care home. It's about magic and remembering, resilience and forgetting, old age and young hopes and of course love.
A shape-shifting drama, hilarious and poignant, down to earth and dreamlike, interwoven with recorded extracts from our collected conversations with elders from local care homes.
Performers Gillie Stoneham and Philip Robinson play all the parts — come and lift your spirits and be away with the fairies for an hour.
NB: There will also be a shorter performance, around half an hour, in the afternoon aimed at an older audience. If you'd like more information about this, please email boxoffice@ashburtonarts.org.uk
Here's a preview video:

==
As well as the play, there is an exhibition of art created as part of this project – details below. The third element is a book, A Little Bit of Magic – care home voices in the time of Covid, which will be available at the exhibtion and the play performance.
Old Hands @ Art: This exhibition will be on view in the East Gallery at Ashburton Arts Centre  during other events and by appointment from 10am – 5pm from Tuesday 2 November until Wednesday 10 November.  Email boxoffice@ashburtonarts.org.uk if you'd like to come and look at it, and we'll make sure it's open.

"Devon artist Bridget Cordory has been working this year with elders in Devon's care homes for the All Is Mended project. Together they have created artworks, helping people express their thoughts and feelings about being cared for and caring, connecting themes and memories of love, magic, and of lives well lived. Old Hands @ Art is that touring exhibition.
This exhibition is a testament to the undimmed imagination of the very old.
Everyone we spoke to about this project had a story to tell of getting old – don't we all? This is us, now, or to come."
Philip Robinson
All Is Mended Artistic Director
"think but this and all is mended,
that you have but slumbered here,
while these visions did appear"
Puck, A Midsummer Night's Dream
See allismended.co.uk and
facebook/allismended for more.