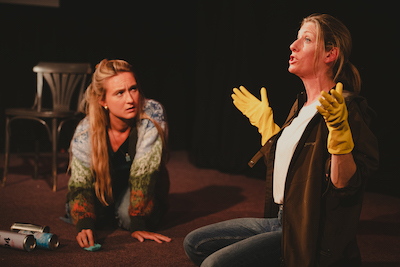 Date/Time
Sunday 14 May 2023
7:00 pm - 9:30 pm
Categories Performances, shows, and events
Book here now: £15 full price • £11 or £7 if you prefer – please pay what you can*
The cost of living is higher than ever and the divide between rural and urban communities is stark. Heather, Holly and their mum Angela, a close-knit family from Devon struggle to run a rural petrol station. And when Holly finally returns home from the city, she discovers a shattered version of the village she left behind…
Kindle is a captivating piece of new writing exploring the idea of duty, modern rural community, climate change, and the impacts of the ever rising cost of living.
The play began life as a 2019 seed commission from Theatre Royal Plymouth. It has since been supported by Exeter Northcott Theatre, before receiving a National Lottery Project Grant from Arts Council England. This grant will fund a studio and rural tour in 2023, as well as creative workshops, oral history collection and the making of a short illustrated film, all inspired by the themes of the play.
FREE Creative Workshop (optional)
After the show, you're welcome to join us for an informal writing workshop based on the themes of the play (even if you've never had a go at creative writing before). What you create could form part of a short illustrated film later in the year that will be screened later in the year.
We'll also be joined by a community energy representative to hear a bit about what they do. So grab a drink, nibbles, and come have a scribble for an hour!
Doors and bar open 6.30pm
* See Access, Tickets & Finding Us for more about why there are three ticket prices, plus other useful info about coming to events at Ashburton Arts Centre.