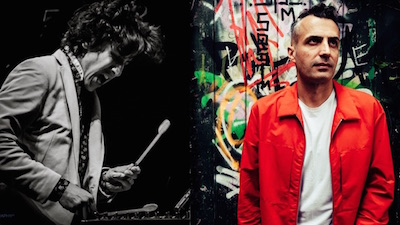 Date/Time
Sunday 28 November 2021
7:30 pm - 10:00 pm
Categories Music
Book tickets £14 or £10 or £7 here now
Update Sun 28 Nov: Katie Whitehouse (no relation to Dan) is touring with them and wrote this morning: "I've compiled some footage from Birmingham, Manchester and London. It's been incredible watching the development of this musical and human relationship in real time in front of the audience's eyes in each place. The way these two listen to and respect each other has been magical to witness." Watch her couple minutes minutes of video here:
Ten Steps "is both extraordinary and beautiful. I strongly recommend you try and see this tour if you can, it will be one of a kind." Folk Radio UK
"Ten Steps and these two artists are enough to swell your soul and soothe your ears. As they say, 'let the rhythm guide you'." Arts Culture Mag
"Force of nature", from the USA, Brooklyn's Max ZT, is an innovator of his instrument. His unorthodox playing and bold experimental style have led him to be described as the "Jimi Hendrix of hammered dulcimer" (NPR). This, his first solo UK tour, sees him pushing the boundaries even further as he embraces the spoken word, soulful singing, and "lyrics that avert your gaze to the sky" (BBC Radio 6) of award-winning Black Country singer-songwriter Dan Whitehouse.
Both artists were selected to represent their countries in the international Global Music Match project back in May, when Dan found himself in lockdown in Japan. The pair collaborated online – interweaving poetry and song with music which fuses multi-cultural roots and traditions – to create a truly compelling and innovative sound.
Dan and Max and step out together from behind the glass in November for a series of special shows in a selection of the UK's finest acoustic environments. 
Alongside compositions from a joint EP release (available only at the live gigs on this tour) both artists will also perform solo material – Dan from latest release Dreamland Tomorrow (Reveal Records) and Max ZT from his forthcoming debut solo album Daybreak (Six Degrees Records).  
Socials: 
Max – @maxzt 
Dan – FB @danwhitehousemusic 
Twitter @dan_whitehouse
Insta @whitehousedan
Pandemic policies. This information will be updated as things change.
Update: April 2022
Face masks: In the Main Hall, on the ground floor, these are recommended at all times, but are optional. Anyone who sits upstairs in the balcony MUST wear a face mask – with NO exceptions (not even those who are exempt). This is to allow people who are clinically vulnerable to have a place to sit where seats are naturally separated, so: (a) to provide a place for people who want to be as distanced as possible from others, and with anyone nearby wearing a mask; (b) as virus particles when airborne are generally heavier than air, this helps to mitigate the risk of transmission from people sitting in the balcony to audience members below.
The windows and doors of the venue will be open, allowing fresh air to be constantly moving through. Although we have heating, this might mean that the ambient temperature is a little cooler than some might like, and audience members should dress accordingly.
Please, if you can, take a Lateral Flow test before coming to the Arts Centre, and if this is positive, don't come. These tests aim to pick up anyone who is infectious at the moment of testing, so please take the test as late as possible on the same day before coming to the Arts Centre. If you test positive, a refund or transfer of your ticket to another event can be arranged, if you let us know before the start of the event, by emailing boxoffice@ashburtonarts.org.uk.