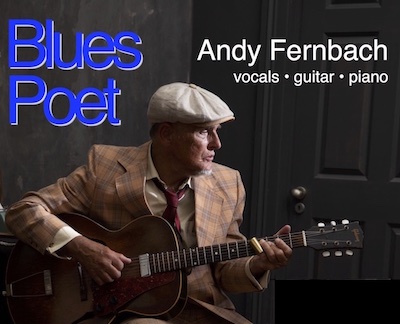 Date/Time
Sunday 19 November 2023
3:00 pm - 5:00 pm
Categories Jazz
Book here now: £13 full price • £10 or £7 if you prefer – please pay what you can*
Here's Andy Fernbach's story in his own words. He's had quite a life!
"Andy's great uncle, Bruno Walter – celebrated composer, pianist conductor of New York Philharmonic Orchestra and mentor of Leonard Bernstein (West Side Story etc) was always held up as a role model by his parents, and he was encouraged to commence classical piano age of 5. It was in the early sixties when he heard Leadbelly and Thelonius Monk vinyl imports that his appetite was whetted to develop his own slant on folk blues and jazz experimentations through much live playing.
"His first touring was with his mod R&b combo Stovepipe no 4 who had a massive no 1 hit EP in Eastern Europe in 64 and did exhaustive touring including the Olympic 20,000 seater Budapest Stadium . Back in UK he reverted to his solo playing and in 68 at 20 years old was signed to major US label United Artists with bedfellows Captain Beefheart, Johnny Winters, Canned Heat etc. He developed a name as an individual sylist on finger style slide guitar, piano, and songwriting alongside the likes of Nick Drake, John Martyn Jo-Ann Kelly playing the Marquee, Troubador, Les Cousins and numerous radio shows with Bob Harris, John Peel, etc plus sharing stages with John Lee Hooker, Canned Heat, Free, Skip James. Hear excepts and video clips from these on his website bluespoet.com
"Simultaneously he was studying at a London music school with jazz pioneer/pianist Stan Tracey, and a mix of classical and avant garde players. Eventually disillusioned with his musical experiments not being recognised as he hoped, he started to develop in parallel what became the internationally-renowned Jacobs Studios producing Stevie Wonder, and Pavorotti's biggest records. Others who recorded there included David Bowie, Radiohead, The Smiths, Paul Weller, Ian Brown, Primal Scream, The Cure, Sigur Ros… This lasted 30 years until Andy and his partner decided to move to Cornwall to set up the Boathouse studio."
Andy Fernbach: vocals, piano, slide guitar, harmonicas
Chris Dodds: double Bass
Andy Tween: drums, percussion
* See Access, Tickets & Finding Us for more about why there are three ticket prices, plus other useful info about coming to events at Ashburton Arts Centre.