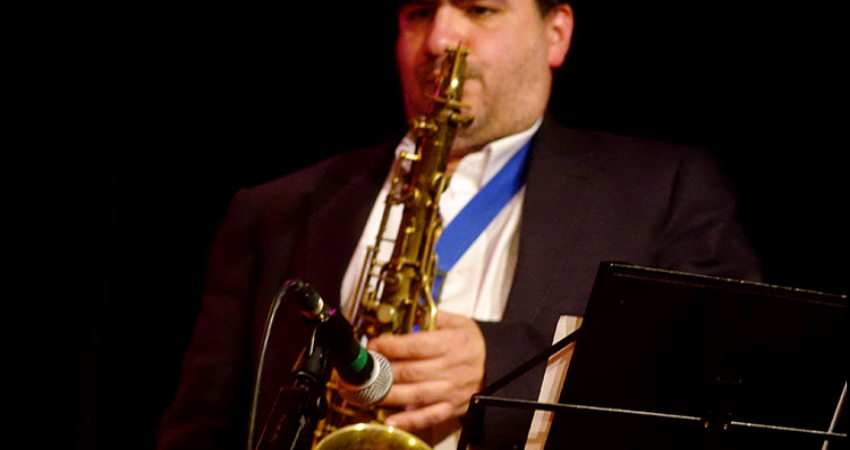 Date/Time
Monday 22 November 2021
7:30 pm - 10:00 pm
Categories Jazz
One of the UK's top sax and flute players joins pianist Tom Ball, Kevin Sanders on Bass and Coach York on drums for a night of great jazz.
Andy Panayi is an exceptionally gifted jazz musician, skilled in performance, composition and arranging. He plays all the flutes and all the saxophones and currently leads his own groups, both jazz and classical.
Andy has performed and recorded with many singers such as; Shirley Bassey, Jessye Norman, Paul McCartney, Seth MacFarlane, Elaine Paige, Salena Jones, Elvis Costello, Georgie Fame, Peter Skellern, Zoot Money, Irene Reed, Elaine Delmar, Helen Shapiro, Madeline Bell & Patty Austin to name a few.
He's also worked alongside or supported Abdulla Ibrahim (Dollar Brand), Freddie Hubbard, Phil Woods, Wynton Marsalis and the Lincoln Centre Jazz Orchestra, Joe Lovano, Roy Hargrove, Louie Bellson Octet & Big Band, Ed Thigpen, Jiggs Whigham, Billy Cobham, Indo-Jazz Fusions run by Johnny Mayer, Vale of Glamorgan Contemporary Music Festival, RPO, BBC Concert Orchestra, LSSO, The Moscow City Ballet, Ronnie Scott & his Side-men, Scott Hamilton, Ken Peplowski, Pepper Adams, Kenny Baker, Ted Heath/ Don Lusher Big Band, BBC Radio Big Band, Bert Kaemphert Orchestra, Stan Tracey Big Band -Septet – Octet, John Dankworth & Cleo Laine, The John & Alec Dankworth Generation Big Band, Humphrey Lyttelton and many more.
Pandemic policies. This information will be updated as things change.
Thu 14 October: some minor changes below to make clearer, and adding a request to take a Lateral Flow Test before coming to an event at the Arts Centre
Mon 19 July: We will continue with everything listed below, which have been in place since 17 May. We have added a new protocol for sitting in the balcony, making face masks compulsory there:
As levels of Covid infections are increasing again in this area (on 14 October), we request that everyone take a Lateral Flow test before coming to the Arts Centre, and that you don't come if this is positive. In this case, a refund or transfer of your ticket to another event can be arranged, if you let us know before the end of the event, by emailing boxoffice@ashburtonarts.org.uk.
The windows and doors of the venue will be open, allowing fresh air to be constantly moving through. This may mean that the ambient temperature is similar to outdoors, and audience members should dress accordingly. From October, when necessary, we are switching on the electric heaters in the main hall, even though the windows are open. This makes the central part of the hall warmer. The seats at the sides under the balcony don't get as much benefit from this.
We recommend wearing face masks whenever inside the building. We particularly ask everyone to wear a mask when in the bar area, unless medically exempt; and…
Anyone who sits in the balcony MUST wear a face mask – with no exceptions. This is: (a) to provide a place for people who want to be as distanced as possible from others, and with anyone nearby wearing a mask – the seats in the balcony are naturally separated; and (b) as virus particles when airborne are generally heavier than air, this helps to mitigate the risk of transmission from people sitting in the balcony to audience members below.
Hand sanitiser will be available as well as soap and water in the toilets; please use these frequently.
Bar service at the Arts Centre is carried out by volunteers. If enough are available, they will take orders at your seat, and bring drinks to you. Otherwise, you can order drinks at the bar, one person at each end of the bar at a time, and take them immediately to your seat.
All members of the audience should wear a facemask while indoors, except if medically exempt, or when eating or drinking. Our experience is that this is one of the things most important for making some (perhaps more vulnerable) members of the audience feel safe to attend concerts. Whatever your opinion of the efficacy of facemasks in preventing the spread of the virus, please help to reassure others, and showing that you're thinking of them, by complying with this.
There are posters inside the building showing the QR code that's connected to the NHS Track and Trace app – please use this. We will also keep a record of all ticket buyers for the required period, and pass this on to the NHS or Devon Public Health if requested.