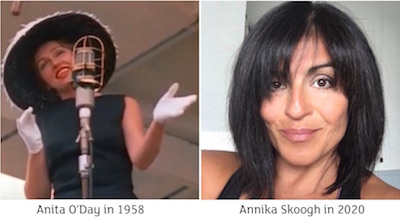 Date/Time
Saturday 5 September 2020
6:00 pm
Categories Jazz
Annika Skoogh Sings Anita O'Day – Anita O'Day, an american jazz singer widely admired for her sense of rhythm, improvisation and dynamics, presented herself as a hip jazz musician. Described in The Penguin Guide to Jazz Recordings as 'the toughest, most dramatic and most fiercely swinging of all jazz singers' Anita O'Day is probably best remembered for her performance at the 1958 Newport Jazz Festival in the States when she wore a spectacular black dress, white gloves and large hat, an event which was captured in the Jazz On a Summer's Day documentary (1960) which made her an international superstar.
Annika has put together a fine band with some of the best musicians in the South West to authentically reproduce Anita O'Day recordings. They focus mostly on recordings from Anita's collaboration with The Oscar Peterson Quartet 'Anita Sings The Most' but also O'Day classics such as Sweet Georgia Brown. The band features Annika Skoogh on vocals, Craig Milverton on keys – UK's best Oscar Peterson interpreter (British Jazz Awards winner in 2010), Steve Dow on guitar, Jim Rintoul on double bass and Gary Evans on drums. This promises to be a great evening, don't miss it!
This is an outdoor event in a beautiful space, 10-15 minutes walk from Ashburton Arts Centre. Arrive at the Arts Centre from 4pm to be taken there. Bring a picnic. Licensed bar at the venue. Live music begins at 6pm.
£15 or £12.50 or £10 – please pay what you can.
Update 29 Aug: The start time has been changed from 7.30pm to 6pm, as the forecast is for a cool evening. So the music will be happening during daylight before the chill sets in.
About The Venue
In order to put on some events for a live audience during the Covid-10 pandemic, the Arts Centre has partnered with one of our supporters who owns a beautiful field nearby. It's about 10-15 minutes walk from Ashburton Arts Centre, along a footpath, and up a hill. After wet weather, the ground can be damp and the path a bit muddy.
At the venue, the performance and bar area are under cover; the audience is not. Chairs are provided for the audience to sit in the area close to the stage, in groups separated by ~1.5m. There's another larger area behind this, on a small hill, with a good view of the stage, where audience members can also sit, dance, have a picnic, etc – bring your own chairs, rugs, etc.
There's a single compost loo on the site. (Wild weeing is encouraged).
There is some electric light on the site, but none on the footpath, so bring torches to see the way home clearly.
Instructions for how to get to the venue will be sent to people when they book tickets. All audience members who are able, are asked to walk to and from it.
There's limited access to vehicles. Anyone with mobility issues who'd like to come, please email boxoffice@ashburtonarts.org.uk (and include a phone number).