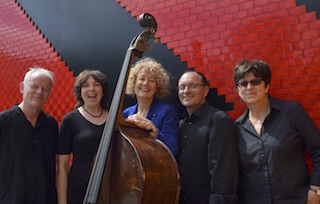 Date/Time
Monday 30 September 2019
7:30 pm - 10:30 pm
Categories Jazz
£13 or £10 or £6 – you choose! Book Now
(All the same unreserved seats; pay what you can or what it's worth to you).
Described by London Jazz News as 'a celebration of life itself' ARQ's music is 'inventive, vibrantly colourful and unfailingly melodic, possessed of a strong sense of narrative and cinematic quality, frequently inspired by personal experiences' (thejazzmann.com). A combination of richly nuanced compositions with folk-infused grooves, skilful musicianship and a love of improvisation, creates a compelling and coherent whole. ARQ plays 'songs without words' and is known for vibrant, communicative performances.
★ Winners: Ensemble of the Year 2018 Parliamentary Jazz Awards
★ Shortlisted: Best Small Group 2018 British Jazz Awards
★ Alison Rayner Runner-up: Best Double Bass 2018 British Jazz Awards
2018 was a great year for ARQ, with UK festival and club dates, successful tours of Germany and Scotland and winning 'Ensemble of the Year' in the prestigious 2018 All-Party Parliamentary Jazz Awards.
Individually, the group's track record includes work with such international artists as Carla Bley, Andy Sheppard, George Russell, John Harle, The Guest Stars, Marjorie Whylie, Sharon Freeman, Jayne Cortez, Tal Farlow and BBC TV's Rockschool series, broadcast in both the UK and USA.
Reviews:
'Inspired by real-world ideas, people and situations but infused with the kind of heady imagination that transforms their resonances into a series of vivacious musical adventures' ★★★★★ BBC Music Magazine
'Purposeful, full-toned and melodic…a beautifully integrated band' ★★★★ The Observer
'Unified musical dexterity, not a note wasted and with sound as story — clear and undisguised, deeply affecting and unashamedly open'  The Morning Star
'A gorgeous album synthesising mood, melody and the interplay between musicians totally at home with each other' ★★★★ Jazzwise
'If the first rule of life is to do what makes you happy… this album tumbles and flows with such a spirit, performed by a quintet whose musicality and heart enables it; a celebration of life itself' London Jazz News
'Spirited, eloquent and graceful' ★★★ The Guardian
'Full of energy, wonderful melodies, grooving rhythms and a musical togetherness
that make it a true celebration'  Melodiva, Hamburg
'The playing, both individually and collectively was superb throughout and Rayner's bass playing was always at the heart of the music… in many ways the quintet IS her instrument. Rayner's late blooming into a composer of some stature is one of the most satisfying stories of British jazz in recent years'  thejazzmann.com
Recent Press Interviews:
London Jazz News, Nov 2018
London Jazz News, Jan 2018
Videos:
Short Stories preview 2019
The Trunk Call 2016
Croajingalong Bushwalk 2018
Mayday live at Pizza Express 2017
More information: alisonrayner.com
Albums:
A Magic Life
August