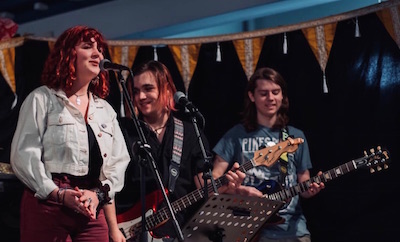 Date/Time
Friday 30 October 2020
7:30 am
Categories Music
Free Tickets available to book in advance at wegottickets.com/ashburtonarts
A second chance to see this new exhibition of Art by Eva, Amy, Maisie and Issy – all A level Art Students at South Dartmoor Community College, plus a performance by a superb young band featuring one of the artists.
Doors open at 7pm, with a chance to walk around and look at the art.
Then take your seats, suitably distanced, and enjoy the music – some classic rock and pop covers performed by The Spicie Takes:
Kieran Pike – Guitar
Callan Teare – Bass
Josh Rose – Drums
Sam Hodgson – Keys
Maisie Waterhouse – vocals
'Art between the Windows' is a project that Ashburton Arts Centre offered to the 6th form A level art students at South Dartmoor Community College, Ashburton, prompted by Jill Hopkins, a former teacher living nearby. Her idea was to produce site-specific work to display between the windows of the arts centre's performance space. The artists Amy, Issy, Maisie and Eva collaborated during the initial stages and decided their shared passion for fighting against the destruction and damage to the environment should be the core theme. Each student has produced personal artwork which aims to highlight environmental issues.