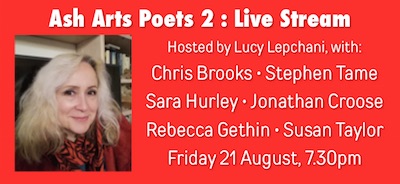 Date/Time
Friday 21 August 2020
7:30 pm - 9:00 pm
Categories Performances, shows, and events
After last month's wonderful first 'Ash Arts Poets' session, Lucy Lepchani has brought together another six of the best local poets. To book your place, email: boxoffice@ashburtonarts.org.uk and you'll receive details for payment and joining via Zoom or Youtube.
Pay £9 or £6 or £3 or £0, as you can afford.
The poets this time are, in no particular order:
Susan Taylor – a nationally renowned poet and Dartmoor dweller, bringing words from the wild, and the heritage of living closely with land.
Chris Brooks – an upbeat poet, storyteller and comic performer, who explores the absurd and the profound.
Jon Croose – topical political, satirical and pastoral verse, in which the good end well, the bad end badly, and nature rules supreme.
Stephen Tame – is a poet and therapist, bringing poems he has dreamed and then written on waking… and more!
Sara Hurley – a sublime storyteller with an international profile, whose telling draws listeners close, bestowing all manner of treasures.
Rebecca Gethin – another Dartmoor dwelling, multi-prizewinning poet and author, reading from her most recent collection 'Vanishings'.
Join us on Zoom in our virtual bar from 7.15pm – meet the rest of the audience if you like,  or don't use a camera and remain enigmatic. Alternatively, you can just watch the proeedings on Youtube. Email: boxoffice@ashburtonarts.org.uk and you'll be sent the links you need. The poetry begins at 7.30 – so don't be late.