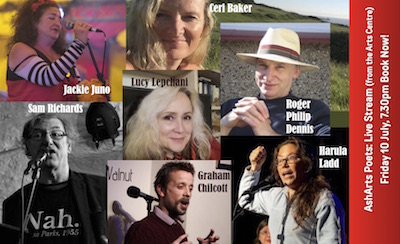 Date/Time
Friday 10 July 2020
7:30 pm - 9:00 pm
Categories Performances, shows, and events
For the second live-streamed performance from the Arts Centre, Lucy Lepchani has brought together six of the best local poets. Five of them will be there in the flesh, one joining us from where he's holed up for self-protection.
To book your place, email: boxoffice@ashburtonarts.org.uk and you'll receive details for payment and joining via Zoom or Youtube.
Pay £9 or £6 or £3 or £0, as you can afford.
Jackie Juno
Slam queen and poetry goddess, returning to the stage after her acclaimed 'Lockdown World Tour.' Wit, warmth, and brilliance.
Roger Philip Dennis
An award-winning literary poet, whose words paint evocative images in the mind's eye.
Graham Chilcott
Slick delivery and rhythmic lyrics from this popular Devon performance poet.
Sam Richards
An erudite and accomplished wordsmith, speaking truth to power and sometimes playing the wild card of jazz.
Ceri Baker
A new, emerging voice in the world of performance poetry, Ceri's words connect and run deep.
Harula Ladd
Harula's poems are sublime, tenderly powerful, insightful and fabulous. Listen with your heart.
Join us in our virtual bar from 7.15pm – meet the rest of the audience if you like, or don't use a camera and remain enigmatic. The poetry begins at 7.30 – so don't be late.