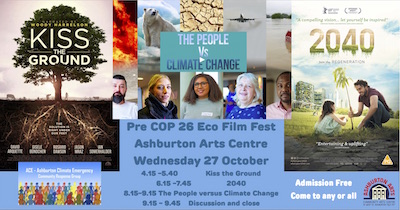 Date/Time
Wednesday 27 October 2021
4:00 pm - 9:45 pm
Categories Community Event
This event is free. You can book FREE tickets for each film here.  If you're definitely coming, please do book for each film that you want to see. You can also just turn up on the day, and assuming there's space, you'll be very welcome.  Optional donations to help cover the costs  of the event can be made when booking tickets online, or on the day (cash or card). It's being organised by the ACE (Ashburton Climate Emergency) group and Platform Cinema in the lead up to the COP26 conference in Glasgow which runs from 31 October – 12 November 2021.
Climate crisis… COP26 Conference… Uncertain future…
Don't worry – be inspired instead!  Come along to our Pop Up Eco-Film Fest
These three great films will inform and amaze you. Come to one – or any two – or all three!
The schedule on the day is:
4.15 -5.40 Kiss the Ground
6.15 -7.45 2040
8.15-9.15 The People versus Climate Change (BBC film)
9.15 – 9.45 Discussion and close
Refreshments  available and the bar will be open

Kiss the Ground (I hr 24mins)

https://kissthegroundmovie.com
Trailer: https://www.youtube.com/watch?v=K3-V1j-zMZw
'This film has huge relevance for the massive environmental and health problems we face today. Although mostly looking at American agriculture, it includes inspiring examples from Africa, China and Haiti. However, it also has universal relevance, as the damaging intensive agricultural practices developed in the US are used around the globe, and, consequently, regenerative solutions are widely applicable.
This is a lovingly created plea of great substance, by dedicated and caring individuals, showing why and how food systems globally must change'.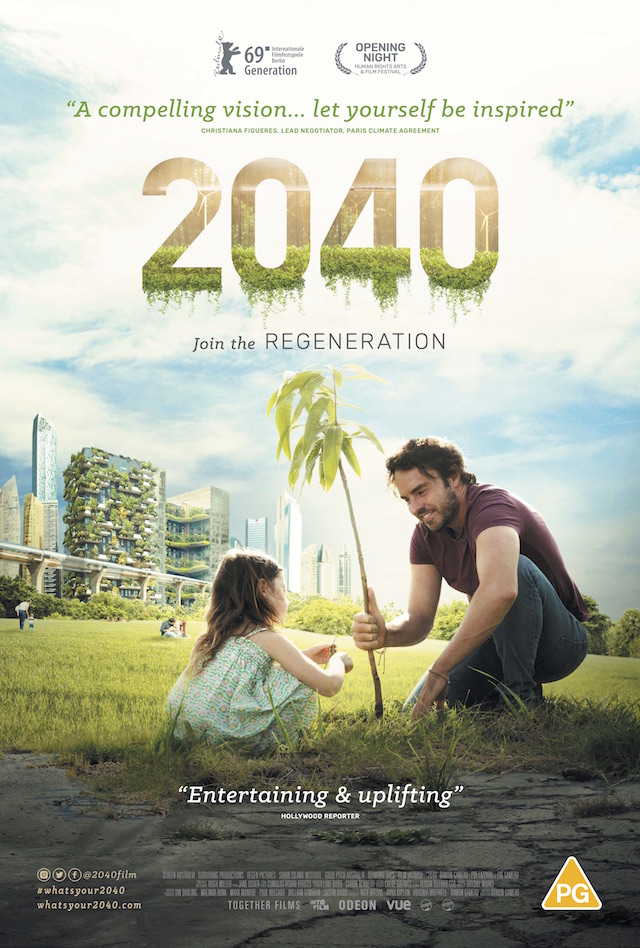 2040 (1hr 32 mins)

https://togetherfilms.org/2040-home/
Trailer: https://www.youtube.com/watch?v=p-rTQ443akE
'The biggest risk in fighting climate change is an overwhelming sense of helplessness. "2040" points a practical, achievable path toward solutions, but its most important contribution is a sense that change is possible. The director, Gameau, says that he wants "to create a vision of a different future" with "an exercise in fact-based dreaming." This film does not scold us; it is hopeful.' – Neil Minow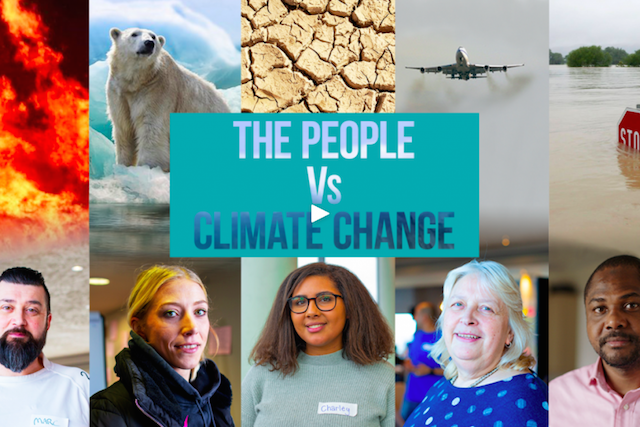 The People versus Climate Change ( BBC 63 mins)
Trailer: https://www.bbc.co.uk/programmes/p09h8cp2
Britain has made big promises about reducing our impact on the planet, but getting there means huge changes to our everyday lives. In this surprising and funny documentary, we follow members of the UK's first ever Citizens Assembly on climate change, where 108 ordinary Brits were tasked in 2019 by 6 Select Committees of the House of Commons with deciding what we should do to meet our climate change goals.
Organised by Parliament, this historic event saw members of the public grapple with big questions about our future during 2020, at first meeting in person, and then via Zoom. As the Assembly members learn the science of climate change from experts and hear Sir David Attenborough thank them for giving up their time to this task, they began to realise the huge significance of the decisions they must make.
The film follows seven Assembly members from all over the UK, who each bring their own perspective to the climate change debate. Sue, an ex-fishmonger from Bath, is shocked to learn the science of climate change and when floods hit the UK – and the South West in particular – she begins to understand how close to home these issues can be and resolves to make personal changes. British Gas employee Marc, from Newcastle, is enthusiastic about taking part in the Assembly, but is worried about losing his job in the transition to green energy, while 27-year-old postal-worker Amy is unsettled when she learns the environmental impact of the coal fire she heats her home with. We also meet retired printer and ardent Brexiteer Richard, who is sceptical about climate change and reluctant to accept many of the proposals put forward in the Assembly. But when his own health deteriorates, he is forced to re-examine the impact of dirty air on all our lives.
Through this cast of warm, funny Brits, we understand the challenge we all face in the effort to reduce climate change, and start to see what the future might look like in a greener world.
Presented by ACE (Ashburton Climate Emergency) in association with Platform Cinema
For any queries please call 07814 18676