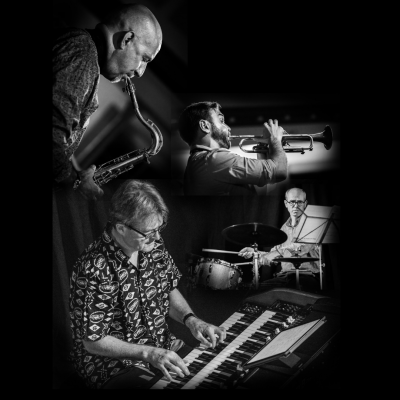 Date/Time
Wednesday 29 June 2022
7:30 pm - 10:00 pm
Categories Jazz
Book here now: £14 full price, £10 or £7 if you prefer*
ATLANTICUS is a unique British-American musical partnership bringing together two "powerfully distinct musical personalities", US saxophonist Peter Fraize and UK organist Terry Seabrook, to explore their common interest in the rich transatlantic heritage of jazz.
Peter and Terry first teamed up  with trumpeter Jack Kendon and drummer Milo Fell for a short UK tour in 2016 and then for a longer one in 2018 culminating in a head-turning performance at the Love Supreme festival.  They are now touring to promote their new album "Blue Haven"-  featuring nine original compositions and arrangements of two classic standards.
Steeped in Tradition, looking Forward ATLANTICUS draws from the storied tradition of the great Hammond organ groups with a postmodern sound, echoing the ground-breaking organ quartet of Larry Young's Unity album.
* See Access, Tickets & Finding Us for more about why there are three ticket prices, plus other useful info about coming to events at Ashburton Arts Centre.