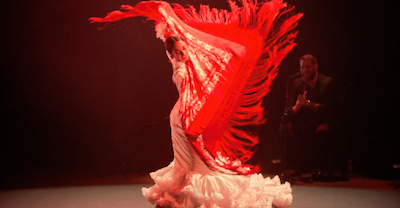 Date/Time
Thursday 22 June 2023
7:30 pm
Categories Dance
Book here now: £15 full price • £11 or £7 if you prefer – please pay what you can*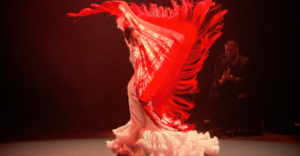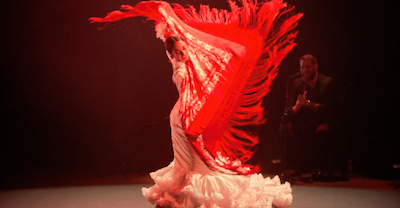 Rebeca Ortega dance
Natalia Marín singer
Ramón Ruiz guitar
"From the deepest roots of flamenco, this theatrically spun dance show is born, shaped by the luminosity of the alegrías, the depth of the taranto, the rhythms of the tangos and bulerías and the jondura of the soleá and the farruca.
Like the newly germinated seed that is nourished by the dewdrops, this work is the sensorial path that blossoms like azahar from the lament of the traces of the past towards the uncertain and graceful future.
Strength and elegance work in harmony with the tradition of flamenco culture… Where the flight of hands, sensuality, and taconeo induce passion."
Rebeca's studies over many years include Flamenco, Classical Spanish Dance, Ballet and contemporary dance at "Carmen Amaya Flamenco cultural academy", the world-renowned "Centro de Arte Flamenco y Danza Española Amor de Dios" in Madrid, and later at "Escuela Mayor de Danza", at Andalousian Centre of Dance, at Úrsula and Tamara López "Flamenco Danza" school and at Professional Dance Conservatory in Seville. Her most influential masters are La Tati, Merche Esmeralda, El Güito, Javier Latorre, Carmela Greco, Belén Fernández, La Truco, Alejandro Granados, Miguel Cañas, Adela Campallo among others.
At the age of 19 years old, she started her professional career. For 4 years she performed and taught the art of flamenco in the UK while completing her university studies, which led her to create, direct and choreograph the "Nottingham Flamenquitas" group, as well as collaborate in different dance styles such as tap, contemporary and bollywood dance.
Her dance comprises a vast repertoire including dance instruments: bata de cola, mantón, bastón, fan and castagnets, and personal fusion skills with circus and theatre.
As part of the flamenco company "Teatro Flamenco La Tati", Rebeca performed in the production "A mi manera" under the direction of the internationally celebrated flamenco dancer and choreographer, La Tati, at Madrid's Conde Duque Theatre in 2015.
She was the soloist flamenco dancer in the company of the Ambassador International with travelling flamenco guitarist, Ricardo García at the C-venue Theatres as part of the 2016 and 2017 Edinburgh Fringe Festival. She was part of four productions: "Flamenco Flamenco", "Flamenco Global Connect", which received prestigious reviews; "Flamenco Escocia", and "Flamenco for Kids" which was announced and televised as one of the three best kids shows of that year's Edinburgh Fringe Festival.
In 2017, she went for the first time in Copenhagen, Denmark, to the Himmelstorm Festival and VendersKulturCentret, together with Yolanda Almodóvar Quartet and in a duo with the circus artist Villads Bugge Bang, performing an original piece that plays with flamenco dance, body percussion, circus and physical theatre.
She toured the UK for the first time with "Callejondo" 4 years ago. In the pandemic, her project "FlamenCaravana" was famously televised in Spain.
Last year after being part of Madrid's most important flamenco festivals: Suma Flamenca Joven, at the Canal Theatres, she released in Seville her first solo bigger format production called "RAÍCES" which reached 3rd finalist in the Madroño Dance Young Creators competition, was chosen in The catalog of Flamenco Comes from The South, aecid International catalog and toured in the summer in England. She also danced with the band PATAX where she created a fusion of Michael Jackson's moves with flamenco and danced at London's Jazz Café as part of guitarist, Ramón Ruiz's company.
She has her base in Seville where she performs at the renowned tablao Los Gallos, Tablao Flamenco de Sevilla and Sevillian peñas flamencas: Torres Macarena, Curro de Utrera and El Laurel. She teaches flamenco dance classes, while combining her frequent touring to England, Scotland, Wales, France, Belgium, Germany, Norway, Denmark and Switzerland to give performances, conferences and workshops.
REVIEWS:
"…El palpitante cosmos del flamenco añade una estrella emergente con Rebeca Ortega, conocida por su originalidad y excelencia… El amplio sentir, el cuerpo y extremidades forjadas al baile y su estampa goyesca visten su rabiosa juventud. Todo conduce a pronosticar que el futuro pertenece a una bailaora llamada a romper moldes. Su presente es palpable… El vuelo del traje, los manos vibrando y moviéndose con libertad y la elegancia del taconeo derivan en Ortega libertad, un sello y originalidad. Todo lo que baila nos recuerda relativamente a la mejor Sara Baras, pero con estilo más ágil… La estética goyesca le da, inclusive, empaque a una dama del baile que, adivinamos, dará que hablar." 
– Diario 16. 24th May 2022, Theatre La Fundición, Seville.
"…No se echa en falta ningún bailarín que la acompañe porque ella sola llena todos los centímetros de las tablas. Rebeca es capaz de emocionar, entretener y hacerte vibrar en la butaca:
no solo baila con exquisitez, es que además interpreta y recita con todo el corazón y eso llega como un sutil embrujo que se apodera de todo tu cuerpo. Su cara nos hipnotiza, nos atrapa desde el primer zapateado, no permitiéndonos dejar de observarla. La miras y no te recuerda a nadie, pero sus expresiones faciales infinitas te transportan a películas en blanco y negro, color y tres dimensiones… Da gusto escucharla recitar, palabras que salen de lo más profundo de sus RAÍCES cerrando un tercer acto elegante, desgarrador y fino, enfundada en un sobrio mono negro, donde
lo único que puedes, es apreciar su arte." 
– La Zentralita. 19th May 2022, Theatre La Fundición, Seville.
"…Lo tiene todo: Belleza, un cuerpo estilizado y flexible, elegancia, finura, carisma, sentido rítmico que imprime una forma de bailar con identidad propia. El baile de Rebeca Ortega, la define….Rebeca, con este sentir y atuendo, crea una estampa goyesca tan clara, que Goya la habría firmado sin dudarlo." 
– Aquí Madrid. 28th of September 2021, Festival Suma Flamenca Joven.
"…she is the imperious, dancing focal point, her steps beating furious, intricate tattoos under a long train that she swishes, lifts and manoeuvres with marvellous dexterity and no little significance…"
– The Herald newspaper. 11th of August 2016, Edinburgh Fringe Festival.
"…la bata de cola y el mantón que no son cargas en esta mujer, a la que sí se adivina más poderío que búsqueda obsesiva por la estética. Y eso que las estampas con la guitarra de fondo de Jesús de Rosario las firmaba cualquiera de las grandes. Y por grandes queremos decir, mayores…" 
– Redacción Chalaura, Madrid. 29th of September 2021, Festival Suma Flamenca Joven.
Doors open at 7pm
* See Access, Tickets & Finding Us for more about why there are three ticket prices, plus other useful info about coming to events at Ashburton Arts Centre.