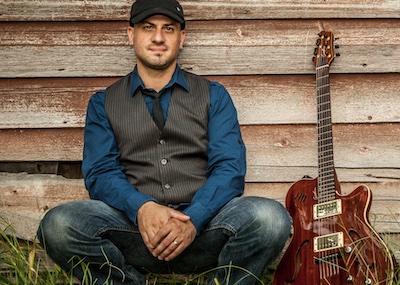 Date/Time
Monday 3 July 2023
7:30 pm - 10:00 pm
Categories Blues
Book here now: £15 full price • £10 or £7 if you prefer – please pay what you can*
We are in for a huge treat on a Monday night here. Have a listen here on bandcamp while perusing the write up below…
"Mix together the styles of Pat Metheny, Mike Stern, and Grant Green and you have the recipe for jazz guitarist/composer B.D. Lenz. The New Jersey native has played guitar since his early teens, is a graduate of Musicians Institute in Los Angeles, and has studied with such masters as Mike Stern, Vic Juris, and Charlie Banacos along the way.
B.D. Lenz – guitar
James Rosocha – bass
Joe Falcey – drums
"Lenz has released 13 highly-acclaimed recordings as a leader featuring greats such as Mike Stern, Randy Brecker, Will Lee, Joel Rosenblatt, & Mark Egan and his music has been featured in hundreds of TV shows globally including "Breaking Bad" (AMC), "Catfish" (MTV), and "Anthony Bourdain's No Reservations" (Travel Channel) to name a few. This Godin-endorsed guitarist has performed 1,000 shows internationally, keeping the audience on their feet whether playing jazz, fusion, or jam. "
His music has been featured in hundreds of TV shows globally including "Breaking Bad","Catfish", and "Young Sheldon".…
Some reviews, and links to articles:
"…Part of the reason for his accessibility is that he not only fuses jazz and rock, he complements it with warm chords of funk, soul, and rhythm and blues…"  New York Times read article
Interview with B.D. in  London Jazz News
"Bottom Line: Lenz is a real embodiment of a guitar hero…But just like jaguars are born to run, Lenz is born to play…leaving the listener breathless in their musical journey with him. He is a big sound, a big talent…powerfully impressive taken all in all." Jazz Inside Magazine – read article
"Lenz transitions from fleet and nimble to heavy and funky, maintaining interest throughout with an interesting sonic palette." Jazziz Magazine – read article
"While doing a live album, with such a diverse repertoire, poses risk, Lenz rises to the occasion, releasing an entertaining and engaging album that is sure to be included on this year's 'Best of' lists for jazz guitar." Guitar International – read article
"…Lenz's music portrays his deep attachment to groove and rhythm as well as an uncanny ability to craft interesting and memorable melodies…" AllAboutJazz.com – read article
"…he has released six CDs, he has logged untold hours onstage and his music has been licensed for use in more than 100 TV shows. Even so, Lenz says his latest release, Hit It and Quit It, represents a big step for him…"  BMI.com – read article
Cover story about B.D. Lenz and Apria Records by JazzImprov NY – read article (PDF)
"Contemporary jazz guitarist B.D. Lenz's quartet lays down a funky, jamming vibe…integrating catchy good time grooves with moodier, blues-inflicted pieces"  JazzTimes – read article
"…[Straight Up] is so there, so ideal, so darn near perfect that it makes a listener want to head straight up there in a pilgrimage to quality…" JazzImprov Magazine read article (PDF)
"…a solid guitarist and composer… [Straight Up] features a distinctive contemporary style…"  Newark Star-Ledger read article
"Lenz has mastered his instrument and his confidence overflows everywhere…" All About Jazz
* See Access, Tickets & Finding Us for more about why there are three ticket prices, plus other useful info about coming to events at Ashburton Arts Centre.