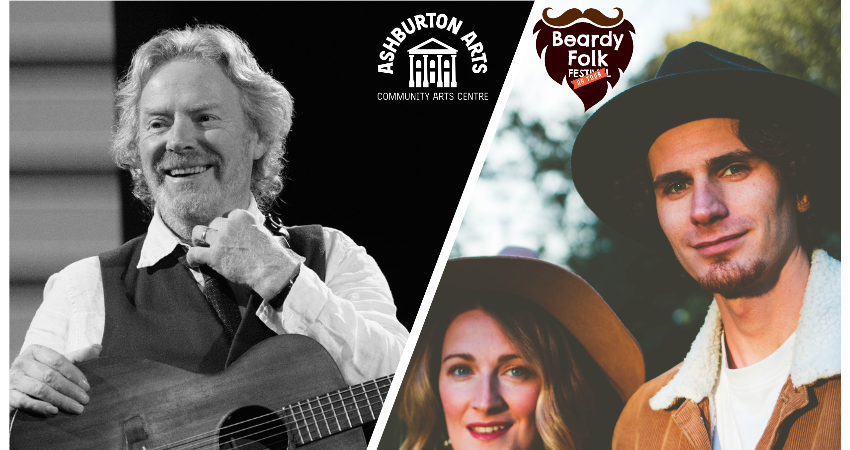 Date/Time
Sunday 27 February 2022
7:30 pm - 9:30 pm
Categories Music
Book here now  £14 or £11 or £7– please pay what you can
We're delighted to hook up with the Beardy Folk Festival for this gig, part of Beardy Folk On Tour which features artists appearing at Beardy Folk Festival in Shropshire in June. See beardyfolkfestival.co.uk for more info.
Reg Meuross
Reg Meuross has the gift of being able to touch people through his songs and performance, painting pictures that remain with the listener long after the song has been sung. Masterfully accompanying himself on his '44 Martin six-string guitar, harmonica, banjo and dulcimer he captivates audiences with his beautiful tenor voice. Witnessing a Reg Meuross performance is to experience a journey into the heart, soul and songs of one of England's finest writers.
Our Atlantic Roots
Our Atlantic Roots (Mac and Laura Johnston) bring an uplifting blend of American & British alt-folk, with harmonies that are rich, dynamic and unite beautifully. Their sound isn't something you could squeeze into one genre 'box'; certain songs have a clear connection with the country/bluegrass sound, whereas others are delicately stripped back; acoustic alt-folk style tracks. After meeting each other in North Carolina, the duo married and relocated to the UK. Their second EP 'Little Bird', has had over 690,000 streams on Spotify.
Pandemic policies. This information will be updated as things change.
Update: April 2022
Face masks: In the Main Hall, on the ground floor, these are recommended at all times, but are optional. Anyone who sits upstairs in the balcony MUST wear a face mask – with NO exceptions (not even those who are exempt). This is to allow people who are clinically vulnerable to have a place to sit where seats are naturally separated, so: (a) to provide a place for people who want to be as distanced as possible from others, and with anyone nearby wearing a mask; (b) as virus particles when airborne are generally heavier than air, this helps to mitigate the risk of transmission from people sitting in the balcony to audience members below.
The windows and doors of the venue will be open, allowing fresh air to be constantly moving through. Although we have heating, this might mean that the ambient temperature is a little cooler than some might like, and audience members should dress accordingly.
Please, if you can, take a Lateral Flow test before coming to the Arts Centre, and if this is positive, don't come. These tests aim to pick up anyone who is infectious at the moment of testing, so please take the test as late as possible on the same day before coming to the Arts Centre. If you test positive, a refund or transfer of your ticket to another event can be arranged, if you let us know before the start of the event, by emailing boxoffice@ashburtonarts.org.uk.