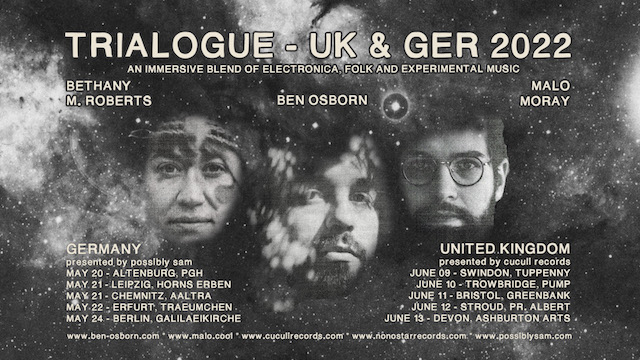 Date/Time
Monday 13 June 2022
7:30 pm - 10:00 pm
Categories Music
Book here now: £14 Full Price • £10 or £7 if you prefer*
Melodic alt-folk meets glitchy chamber pop and deep ambient improv in this experimental three-way conversation between sonic adventurers Ben Osborn (Berlin), Bethany M. Roberts (Bristol) and Malo Moray (Leipzig). Check out their music at ben-osborn.com, malo.cool and soundcloud.com/bethanymroberts
See https://youtu.be/FVyp1kSEexw for all three together playing live earlier in this tour. And https://youtu.be/0oa2xzR-3Is or https://youtu.be/istF1i5Pqhk for some solo work. You could get lost in all this for some time – some really lovely, intriguing, original music here.
Here's a bit more of what they have to say for themselves:
"Berlin-based British songwriter and composer Ben Osborn has brought together two of his longterm collaborators, Bethany Roberts (Bristol) and Malo (Leipzig), to form a unique trio of built of three distinctive compositional and musical voices. Oscillating between folk-inspired poetic songwriting, minimal groove-filled electronica and experiments in multilayered, textured ambience, the trio morphs from collaborative creations to reinterpreted songs and pieces from each individual artist. The trio plays a selection of chosen venues around Europe in 2022.
Coming from a poetic folk song tradition, Ben Osborn's work draws also from electronica and classical music to create a space in which highly personal and deeply political stories can be told. Ethereal string sections rise and fade, complex electronic beats skitter, dreamlike piano chords drift into view: in less capable hands it might sound miscellaneous, but he weaves his disparate influences into textural tapestries that sound like nobody but him. Ben co-founded and co-runs Berlin's Open Music Lab, a free music production school for people from marginalised backgrounds.
ben-osborn.com
Bethany M. Roberts is a songwriter, vocalist and multi-instrumentalist. Her voice carries elements of folksong honesty and choral clarity as she weaves melody lines over intricate fingerpicked banjo & guitar patterns. She sings and plays with alt-folk band Hands of the Heron, co-writes original music with multi-instrumentalist Rowan Elliott (Solana), and produces soundscapes with poet Beth Calverley for their duo project House of Figs, among many other collaborations. She is the co-founder of Bristol's Cuculi Records. cuculirecords.com
Leipzig based upright bassist, multi-instrumentalist and concept artist Martin "Malo" Riebel works in a spacious search for immersion through atmospheric, complex free improvisation inspired by the cosmos, nature and obsolete sounds. The artist's sound is characterised by his virtuosic upright bass playing through live electronics and diverse materials, including the enigmatic use of tapes, loops and recorders – supported in its sonic irregularity by numerous self-designed synths, circuit-bent electronics and self-made instruments.
www.malo.cool 
* See Access, Tickets & Finding Us for more about why there are three ticket prices, plus other useful info about coming to events at Ashburton Arts Centre.