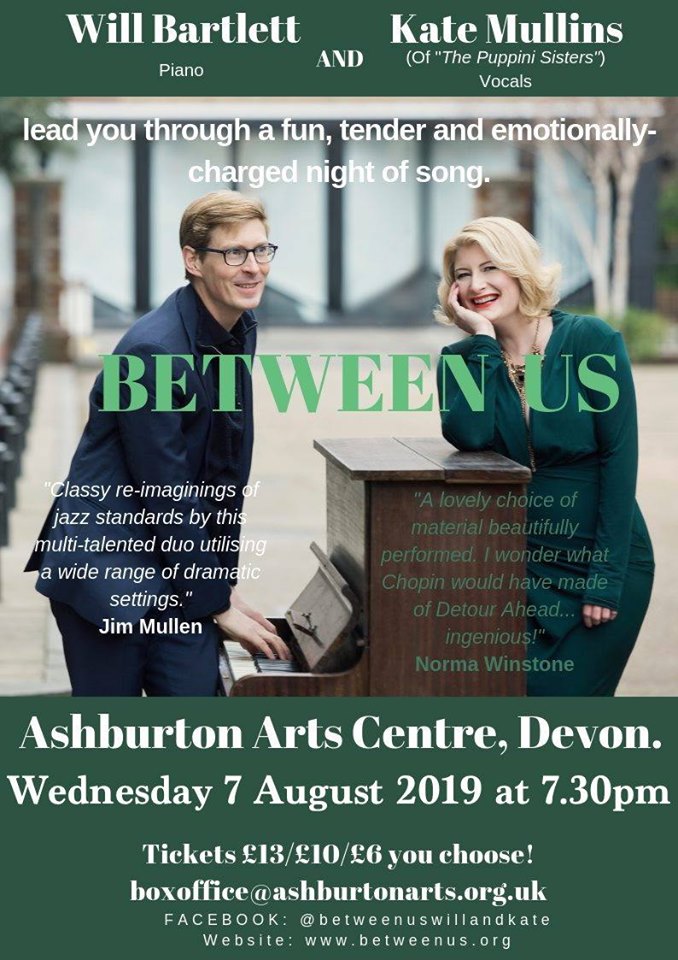 Date/Time
Wednesday 7 August 2019
7:30 pm - 10:15 pm
Categories Jazz
"Between Us" is a new project from pianist Will Bartlett and vocalist Kate Mullins (of "The Puppini Sisters") and they're hitting the road this summer for a short exclusive UK West Country tour!
The duo invites audiences into an intimate two-way musical conversation, delivering favourite music in a way that is designed to open up both themselves and their public to the power of musical connection.
Concert goers will be given the opportunity to submit their favourite song choice, along with the story that accompanies it, to Will and Kate in advance of the concert who will then deliver a few of these suggestions at random on the night. Each bespoke arrangement takes into account the personal narrative behind each audience song choice and aims to deliver their faithful take on people's most cherished songs.
Their live shows have won rave reviews and a devoted audience for their unique sounds and style, and their debut album "Between Us" was released on 1st December 2018.
"A lovely choice of material beautifully performed. I wonder what Chopin would have made of Detour Ahead… ingenious!" Norma Winstone
"Classy re-imaginings of standards by this multi-talented duo utilising a wide range of dramatic settings." Jim Mullen
"Soulful in a quiet and understated way, with beautifully crafted arrangements and a real empathy between the two players — very absorbing music." Kit Downes
"Kate Mullins' enchantingly intimate smoky tones are beautifully cushioned and coaxed by Will Bartlett through standards that are anything but standard. A fine example of two accomplished musicians working in harmony." Matt Ford (John Wilson Orchestra)
Doors and bar open at 7pm – show starts at 7.30pm
Advance sales online or from Rafikis or the Ashburton Information Centre. Or reserve by emailing boxoffice@ashburtonarts.org.uk.