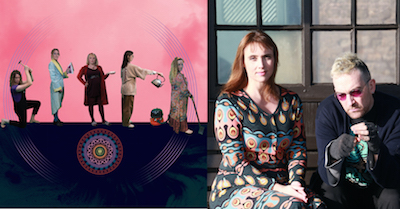 Date/Time
Saturday 11 February 2023
7:30 pm - 10:00 pm
Categories Music
Book here now: £14 full price • £10 or £7 if you prefer – please pay what you can*
"…a scintillating blend of mythic prog with jazz and pop."
Born in lockdown, The Temple of Shibboleth started life when Billie Bottle ran away from Gifford's Circus in 2020, and started caring for a wise woman in deepest Devon. Here, she was taught the ancient art of traditional housekeeping – it eventually became this melodic, deep and gently humorous music.
billiebottle.co.uk
Solarference
Singers and sound artists Nick Janaway & Sarah Owen perform a genre-defying mix of live electronics and traditional folk. With voice and harmony at the heart of the music, Solarference meets audiences with an intense live energy.
After a couple of years peeling back the layers of electronics to explore a new collection of original & traditional songs, Solarference returns with a fresh approach to their homemade live-sampling setup.
"Arresting, atmospheric and thrilling…Solarference is one of the most original acts playing English folk music"   fRoots Magazine
* See Access, Tickets & Finding Us for more about why there are three ticket prices, plus other useful info about coming to events at Ashburton Arts Centre.