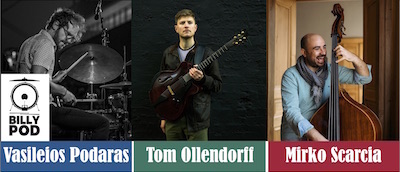 Date/Time
Sunday 16 October 2022
7:30 pm - 10:00 pm
Categories Jazz
Book Here now: £14 full price • £10 or £7 if you prefer*
Billy Pod is a Greek jazz drummer/musician based in London. His album "Drums to Heal Society", released in 2019 has not just given Vasileios Podaras (aka Billy Pod) a prominent position among the new generation of drummers internationally, but has also demonstrated his compelling skills as a composer and music ensemble director.
Τom Ollendorff – Guitar
Mirko Scarcia – Bass
Billy Pod – Drums
Here's another featuring guitarist Tom Ollendorff:
After attaining a well-rounded music education with BA and MA in jazz performance, he has been working internationally for more than ten years performing festivals and touring around Europe, USA and Asia. He has recorded more than 20 albums as a sideman and he has a long list of performances with acclaimed artists from award winning saxophonist Tivon Pennicott, New York acclaimed vocalist Jd Walter, to Greek music legend Dionisis Savopoulos.
He has been added in the list of 'Top 10 new and upcoming drummers' by French 'Βatterie' Μagazine and he has performed at the Tribeca Performing Arts Centre in New York as a finalist of the Made In New York International Jazz Competition.
Ηe left Athens to relocate in London in 2020 and since then, he has already worked with a number of leading jazz artist in the UK Jazz Scene, including Jim Mullen (album recording in London), Rob Luft, Vasilis Xenopoulos, Gilad Atzmon and Dave O'Higgins, among others.
"Billy is an accomplished composer and arranger with both a great command of his instrument and the sensitivity to create authentic music with others''
Tivon Pennicott, Grammy Winning Saxophonist with Gregory Porter & Esperanza Spalding
"A musical vision that is mindful of every voice, makes for a promising debut album"
— Friedrich Kunzmann , All about Jazz, USA
Billy's second official album release "Quintessence", due for release in November, is a reflection on the intellectual nature of humanity in the modern society. Dynamic and lyrical contemporary jazz with haunting melodies and rich, complex moods.
* See Access, Tickets & Finding Us for more about why there are three ticket prices, plus other useful info about coming to events at Ashburton Arts Centre.