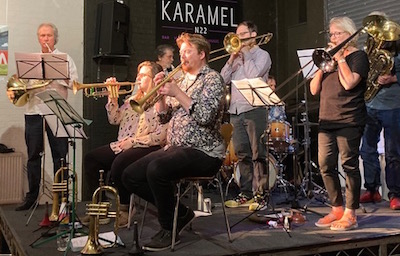 Date/Time
Monday 13 September 2021
7:30 pm - 9:30 pm
Categories Jazz
Book here now – Tickets £13 or £10 or £7
The Brass Monkeys are an eclectic improvising wild bunch influenced by jazz, blues, reggae, country, free improvisation, soul, folk… Performing an exciting mix of original material and unusual classics The Brass Monkeys offer a reverent but iconoclastic take on the history of musical improvisation.
The repertoire is half original and a range of material from all kinds of sources including tunes by Herbie Nicols, Bill Frisell, Lillian Hardin-Armstrong, Archie Shepp, Jonas Gwangwa, Lester Bowie, Taj Mahal, Thelonious Monk, Dudu Pukwana……… The key element in all our music is the opportunity for interplay between the musicians which is at the organic heart of this band. This is achieved in part by a combination of improvising contexts; solos, duos, trios and full ensemble interactions stimulate the essential spontaneity.
Go to 8brassmonkeys.co.uk for more info, music and photos.
"Really enjoyable show from @8brassmonkeys… I loved the contrast between ensemble polyphony and the sparse drums and tuba backing for featured soloist/duet/trio on material encompassing originals, Monk, Frisell, Nichols, folk, klezmer and more."
"A fun evening with @8BrassMonkeys… moving from unruly polyphony to heartfelt chorale via Nichols, Monk, Lil Hardin, Lester Bowie, Shepp and more."  John Sharpe @JazzSnipe
Tuba player Ben Higham writes, "We have put together a great line-up that embraces an exciting mix of youth and experience."
The musicians making up Brass Monkeys are:
Trumpets/flugels  
Chris Dowding (Natural Causes, Rude 2.0)
Charlotte Keeffe (Space Painters, The Anthropology Band)
French horn
Jim Rattigan (Pavilion, Haden/Bley Liberation Music Orchestra)
Trombones 
Annie Whitehead (Rude 2.0, Penguin Café Orchestra)
Kieran McLeod (New World, Julian Argüelles Septet)
Saxes/clarinets
Paul Jolly (The People Band, Loverly)
Tuba/leader 
Ben Higham (Monk Inc., Arthur, Loverly)
Drums 
Olly Blackman (Hackney Colliery Band, Quadracerotops)
Pandemic policies. This information will be updated as things change.
Update: April 2022
Face masks: In the Main Hall, on the ground floor, these are recommended at all times, but are optional. Anyone who sits upstairs in the balcony MUST wear a face mask – with NO exceptions (not even those who are exempt). This is to allow people who are clinically vulnerable to have a place to sit where seats are naturally separated, so: (a) to provide a place for people who want to be as distanced as possible from others, and with anyone nearby wearing a mask; (b) as virus particles when airborne are generally heavier than air, this helps to mitigate the risk of transmission from people sitting in the balcony to audience members below.
The windows and doors of the venue will be open, allowing fresh air to be constantly moving through. Although we have heating, this might mean that the ambient temperature is a little cooler than some might like, and audience members should dress accordingly.
Please, if you can, take a Lateral Flow test before coming to the Arts Centre, and if this is positive, don't come. These tests aim to pick up anyone who is infectious at the moment of testing, so please take the test as late as possible on the same day before coming to the Arts Centre. If you test positive, a refund or transfer of your ticket to another event can be arranged, if you let us know before the start of the event, by emailing boxoffice@ashburtonarts.org.uk.