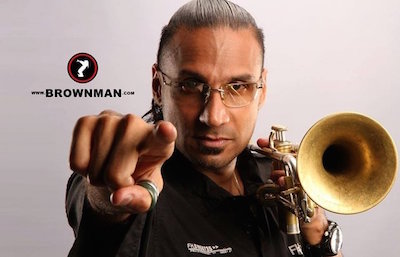 Date/Time
Saturday 15 February 2020
7:30 pm - 10:00 pm
Categories Music
Tickets: £13 or £10 or £6 – buy here now, or see below for more options. Pay what you can afford – all the same unreserved seats.

This Canadian quartet is on tour in Europe, and passing through Ashburton, of course!
Brownman Ali – trumpet  • brownman.com
Nick Maclean – piano / compositions • nicholasmaclean.com
Jesse Dietschi – bass
Tyler Goertzen – drums
This looks like being a real humdinger of a gig – perhaps one of the best this year – just what you need in these grey winter days to bring a bit of light in. Just have a listen to this…
The short version: Brownman Ali is one of the finest jazz trumpet players anywhere, and has played with and been praised by jazz legends, critics and audience alike. Just come – you won't be disappointed. For the longer version, see below.
Also in the band, pianist Nick Maclean is a truly stunning player – as you'll know if you watched the video above. This is an all star gig not to be missed.
Scott McLaren, host of "THE JAZZ JOURNEY" on CHRY radio writes:
"Born on the small Caribbean island of Trinidad, schooled in New York and now based in Toronto, Brownman is one of the most in demand, young jazz studio trumpet players in Canada today. At the age of 25, he is also an accomplished composer/arranger and the recipient of the 2002 Canadian National Jazz Award (NJA) for "Jazz Composer of the Year", also clocking in as first runner-up for "Jazz Trumpet Player of the Year"; his highly acclaimed latin-jazz group CRUZAO was also nominated at the NJAs in 2002, 2003 & 2004 for "Electric Jazz Group of the Year". 2001 saw him win the coveted Montreal Jazz Festival's "General Motors Grand Prix Du Jazz Award" which led to his being signed to the prestigious Justin Time Records label. He was also the recipient of the 2001 CBC Galaxie Rising Star Award". 2004 would bring CRUZAO a nomination at the Canadian Independant Music Awards for "Alternative Latin Artist of the Year" and his 10-man salsa outit – MARRÓN MATIZADO – would be honoured with the Silver Medal by SalsaSPOT.com for "Toronto's Favourite Salsa Band".
Brownman is one of the first calls for not only jazz and urban recording sessions (having affiliations at both SONY & UNIVERSAL Recording Studios), but also appears in the horn sections of countless latin groups. His recording credits sit at just under 200 CDs (many nominated for Junos) and he is currently composing and arranging actively for 6 groups of his own, all of which have gained critical acclaim in their own diverse idioms – the multi-award-winning latin-jazz unit CRUZAO, jazz-hip-hop group GRUVASYLUM, mainstream NYC style hard-swinging trio & quartet The BROWNMAN AKOUSTIC TRIO / QUARTET / QUINTET respectively, the eclectic and electrified modern improvising trio in the spirit Miles Davis' electric period BROWNMAN ELECTRYC TRIO, the 10-piece Salsa powerhouse MARRÓN MATIZADO, and the 15-man latin-jazz-urban orchestra CRUZAO GRUPO MONSTRUOSO.
Testimony to his extreme versatility, his just over 300 CD studio recording credits are in styles ranging from Be-bop to Acid-jazz to Hip-hop to Brazilian Samba to Cuban Salsa as well as performing on a number of major motion picture soundtracks, music videos and live television broadcasts. His sound has been called Freddie Hubbard meets Randy Brecker & Clifford Brown with hints of Woody Shaw and is quickly becoming familiar to jazz, latin & urban music fans in Toronto and across the country as recordings he's appeared on spread. His movie credits also include a cameo appearance in the Jennifer Lopez movie "Angel Eyes" and the 2002 CBC pilot "In A Jam"
Amongst a long list of mentors, Brownman has studied (and performed) with multi-Grammy-winning recording legend Randy Brecker (of The Brecker Brothers) in New York City, Brazilian samba master Claudio Roditi, Canadian flugelhorn great Guido Basso and with British jazz icon Kenny Wheeler while attending the prestigious Banff Center For The Arts 1995 International Jazz Workshop (one of only 3 trumpet players selected from world-wide auditions).
Brownman has performed (or recorded) with the likes of John Scofield, Kenny Wheeler, Randy Brecker, Wayne Shorter, Charlie Hunter, Gary Bartz, Danilo Perez, Gary Thomas, Hugh Fraser, Norman Marshall Villeneuve, Don Thompson, Kirk Macdonald, Pat Labarbera, Kelly Jefferson, Mike Murley, Marc Rogers, Daniel Barnes, William Carn, Shelly Berger, Rita Di Ghent, Gord Webster, Stich Wynston, The Philosopher Kings, Grüvoria, John Blackwell (drummer for Prince), GURU (of Gangstarr fame), KRS-1, DJ Kool Herc, Big Daddy Kane, Fito Blanko, Divine Earth Essence, The Pocket Dwellers, Juke Joint, Jason Wilson & Tabarruk, Chucho Valdes & Irakere, Dominicanada, Maninho Costa, Cruzao, Banda Bella, Energia Latina, Bestial, Ricky Franco, Cimarron, Macondo, Pacande, Dominicanada & far too many more to list here.
As both sideman and leader, this fiery young musician has played every major Jazz Festival and Latin venue in Canada, touring both this country and the U.S. extensively, has represented Canada at the Havana Jazz Festival, Cuba multiple times and is quickly becoming a known and sought after entity in Europe. One of the hottest names in Canada today. Watch for him!"
Scott McLaren,
host of "THE JAZZ JOURNEY",
CHRY radio (105.5FM)
" One of the next voices in the new generation of jazz improvisors"
– Randy Brecker, multi-Grammy winning jazz trumpet legend
" Remarkable writing and burning energy coming out of this young trumpet player"
– John Scofield, multi-Grammy winning jazz guitar icon
" … a truly gifted improviser with an original creative voice…"
– Gary Bartz, saxophonist with Miles Davis
" … uniquely creative and fearless – like a young Miles Davis"
– Guru, legendary hip-hop icon from Gangstarr/Jazzmatazz fame
" Energy is never in short supply in Brownman Ali's world. This Toronto/Trinidadian trumpeter loves skipping from style to style almost as much as he digs mixing it up with the jazz elite"
– NOW magazine, Toronto (cover story)
" Canada's preeminent jazz trumpeter"
– Village Voice, New York City
" … a warm, personable soloist displaying an engaging mix or quirks and lyricism."
– Mark Miller, Globe and Mail
" Brownman… Ali… Marrón… this dynamic young trumpet player has as many names as he has skills"
– Picante Xpress Latin Magazine
" … deliciously quirky & invigorating… CRUZAO seethes with energy, particularly showing off the skills of trumpeter Ali and his brother Marcus on alto sax."
– Geoff Chapman, Toronto Star
" Brownman & CRUZAO… the finest latin-jazz group Canada's ever produced"
– latinjazznet.com
"CRUZAO breaks down the boundaries between latin, jazz and funk in the most innovative way I've seen yet"
– New York University faculty member and Latin-jazz icon Memo Acevedo
Tickets: £13/£10/£6
Different prices are all for the same unreserved seats – please pay what you can.
Tickets in advance from wegottickets.com/ashburtonarts (10% booking fee added) or in person from Rafikis (next door to the Arts Centre), Ashburton Information Centre and (usually) on the door.
To reserve a ticket, email boxoffice@ashburtonarts.org.uk
Doors and bar open 30 minutes before the advertised start time.
Accessibility: Venue has flat access from street. PA tickets available on request.
Wheelchair users, please get in touch with the box office in advance if possible.
Free parking after 6pm and all day Sunday in the Town Car Park behind the Town Hall, and in the Grey Matter compound on Chuley Road. More information and map.