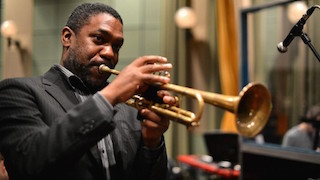 Date/Time
Wednesday 21 August 2019
7:30 pm - 10:00 pm
Categories Jazz
£13 or £10 or £6 – you choose. Book now
Byron Wallen, Trumpet
Craig Milverton, Piano
Al Swainger, Double Bass
Coach York, Drums
The last time Bryon graced the Arts Centre stage was as part of the Jean Toussaint Quintet last December, where he was, as ever, amazing – almost the star of the show!
This time he is the star of the show, albeit in the stellar company of the South West's rhythm section par excellence. This is likely to be another of those gigs where you have to pinch yourself and ask, "am I really in deepest Devon, and not in Ronnie Scott's in London or the Blue Note club in New York?"
Byron Wallen – biog
Byron Wallen was born July 1969 in London, England while the Apollo 11 crew were on their way to the moon.
Raised in a musical family, as a small child Byron studied classical piano. He also played euphonium but then switched to trumpet, studying with Peter Ruderforth in London and with Jimmy Owens, Donald Byrd and Jon Faddis in New York in the mid to late 80s. In 1992, Wallen graduated from Sussex University with a degree in psychology, philosophy and mathematics.
He played trumpet in various contexts and through into the early 00s was heard with jazz and pop artists, sometimes on record. Among these artists and bands are George Benson, Charles Earland, Chaka Khan, Ingrid Laubrock, Ronnie Laws, Hugh Masekela, Courtney Pine, Lonnie Liston Smith, Style Council, Jean Toussaint, and Cleveland Watkiss. In 1992, Wallen formed Sound Advice touring the UK and playing in Syria in 1996 and the Czech Republic in 1997. The band also appeared at the North Sea Jazz Festival, gaining critical and audience acclaim.
His compositions include Live, with Sheron Wray's dance company, Langston Hughes Suite, The Trumpet Kings, and Tarot Suite, an extended work of 22 movements, written for a 10-piece band. In 2003, Wallen won the BBC's Innovation In Jazz award for his third album Indigo.
In 1995 Wallen played in South Africa, recording with Airto Moreira and Moses Moseleku. A documentary film, Travelling, traces his 1998 trip to Uganda. In 2001 he appeared at the Harare Jazz festival in Zimbabwe and at South Africa's ARTS Alive Earth Summit festival in 2002.
He has also visited East Africa, Morocco, Nigeria, Indonesia and Belize (his parents' homeland). On tour Wallen works with local musicians, developing new ideas for his performances and compositions.
In the UK and during his overseas tours, Wallen has taught in schools; he also lectures and gives private lessons at London's Trinity College and Royal Academy. Wallen's performing, composing and teaching skills combine to make him a leading figure among the new wave of creative jazz musicians centred upon London.