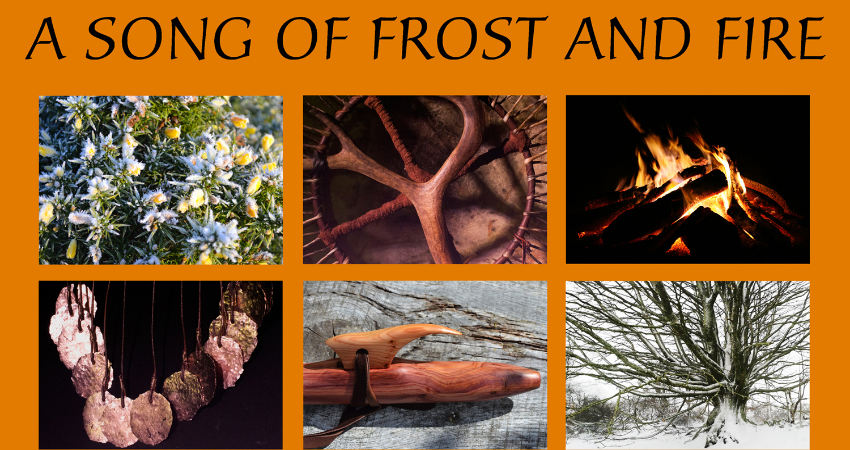 Date/Time
Saturday 18 December 2021
7:30 pm - 10:00 pm
Categories Music
Unfortunately, this concert has been cancelled. Anyone who already bought a ticket should by now have received a refund.
Another concert in the same series was recorded and live streamed – if you'd like to be sent the link, please email boxoffice@ashburtonarts.org.uk.
Music to catch the warmth of autumn's gold, the taste of winter's edge 
and the deep resonance of our hearth fires during the cold months.
 A magical infusion of hand-crafted forest flutes and wild drums, 
soul-filled melodies, songs of sacred land and ancestral spirit, 
vibrant rhythms and some mythic tales laced with ivy spells.
Carolyn and Nigel will be performing from recent albums 
(Nine Prayers North, Flow, Bones and Winter Folded Everything Inside a Shawl of Feathers) 
and newly created work, including songs in the ancient proto-Celtic Bronze Age language 
and some lively tunes to tweak your dancing toes.
You are warmly welcome to join them for this celebration of the season 
and honouring of our shared journey towards midwinter.
Pandemic policies. This information will be updated as things change.
Update: April 2022
Face masks: In the Main Hall, on the ground floor, these are recommended at all times, but are optional. Anyone who sits upstairs in the balcony MUST wear a face mask – with NO exceptions (not even those who are exempt). This is to allow people who are clinically vulnerable to have a place to sit where seats are naturally separated, so: (a) to provide a place for people who want to be as distanced as possible from others, and with anyone nearby wearing a mask; (b) as virus particles when airborne are generally heavier than air, this helps to mitigate the risk of transmission from people sitting in the balcony to audience members below.
The windows and doors of the venue will be open, allowing fresh air to be constantly moving through. Although we have heating, this might mean that the ambient temperature is a little cooler than some might like, and audience members should dress accordingly.
Please, if you can, take a Lateral Flow test before coming to the Arts Centre, and if this is positive, don't come. These tests aim to pick up anyone who is infectious at the moment of testing, so please take the test as late as possible on the same day before coming to the Arts Centre. If you test positive, a refund or transfer of your ticket to another event can be arranged, if you let us know before the start of the event, by emailing boxoffice@ashburtonarts.org.uk.