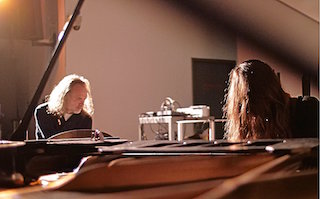 Date/Time
Sunday 18 October 2020
7:30 pm - 10:00 pm
Categories Jazz
Paul May (drums) and Carolyn Hume (piano, keys) have been playing and recording together for over 20 years. They have released 6 critically-acclaimed albums on Leo Records and have a new duo album ready for release in early 2021.
Hume and May are a piano/keys and drums duo. Their music moves from minimalist romanticism to unsettling and remote landscapes.
"…the pianist Hume and the drummer May create a beguiling soundscape whose delicate shifts of mood and texture are simple but extraordinarily effective. …"
Phil Johnson, The Independent
"intriguing and often haunting"
Andy Hamilton, Jazz Review
 It starts in the interval – live music comes in just after 6 minutes.