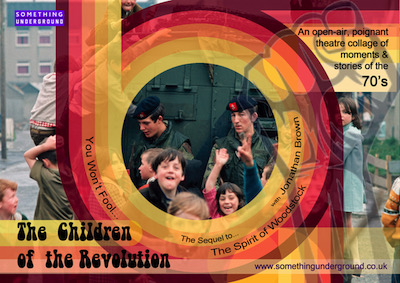 Date/Time
Saturday 27 August 2022
7:00 pm - 9:00 pm
Categories Performances, shows, and events
This is the second of 2 shows from Something Underground on the 27th August:
Spirit of Woodstock 3pm (as performed here in 2021 – an amazing show!)
and the sequel:
Children of the Revolution 7pm (takes us into the 1970s
Book here now: £14 full price • £10 or £7 if you prefer for either show –
Or make an event of it! Bring a picnic – see BOTH shows for £24 full price • £18 or £12 if you need it cheaper. Please pay what you can.
Children of the Revolution
Welcome… to Tomorrow's World.
The Children of the '70s saw life change radically. Now you can too.
From the creator of
The Spirit of Woodstock
The next chapter…
From Space Invaders to Star Wars, glam rock to punk, flares to safety pins, Wilson to Thatcher, Apollo to Skylab & The Shuttle, OPEC to queues at petrol stations.
From Bloody Sunday to Power Sharing, power cuts to 3 day weeks,
disco… to the winter of discontent.
From mainframes to Apples, post strikes to email. 
Old money to decimal, past VAT, into the EU & up the butter mountains.
From The Cold War to the Cod Wars to The Godfather and more… with music, soundscapes & platform shoes to remind you of good times, & bad.
A highly dynamic & energetic theatre collage of the stories, the time, the people, the music.
A romp through the 1970s.
Bring a picnic. Bar available. There'll be chairs, but feel free to bring your own.
The venue is a secret field in Ashburton – it's a beautiful place, with great views. Directions will be provided. It's a 10-15 minute walk, uphill, from Ashburton Arts Centre. There is limited parking close to the stage available for those with mobility limitations – please email boxoffice@ashburtonarts.org.uk to arrange this.
If bad weather is forecast, the shows will be moved inside. You'll receive emails from tickets@wegottickets.com and/or boxoffice@ashburtonarts.org.uk to let you know about this on the morning of 27 August – please make sure these addresses won't be treated as spam.