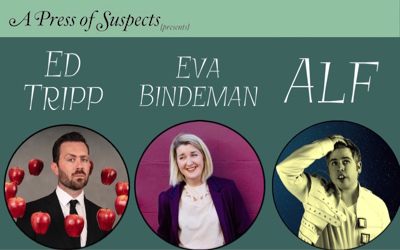 Date/Time
Thursday 3 March 2022
7:30 pm - 9:30 pm
Categories Comedy
Featuring:
Edward Tripp
ALF
Eva Bindeman
Christian Russell-Pollock
Last August's Comedy Soirée was a rip roaring success with plenty of bums-on-seats and laugh-out-louds! So successful in fact, that it's happening again. With a cracking line up of comics booked in, this fun filled evening promises to be a real lift in these uncertain times. Featuring the cream (before the jam) of Devon comics and a return headline set from the mysterious Ed Tripp. All hosted by the anarchic Willtordian Ballorian Edwardian.
Ed Tripp: A stand-up poet, writer and visual artist, living in Devon. Edward has previously brought his unique brand of spoken-word to nights and festivals such as Spork! Poetic License and WOMAD. (Edward may be known to some by his previous pseudonym, 'Roisin's Brother')
"Strange, surreal and side-splittingly funny" – Razz Magazine
"Dave Allen meets David Lynch" – The Spoils Collective
"…he's been known to cover himself in yeast and wield papier mache effigies of his mum's head, whilst delivering profound and universal truths…" – Spork!
ALF: A gloriously silly and hilarious one-liner prop comic. A multitude of achievements under his belt including: 'So You Think You're Funny' finals in Edinburgh, "Standup for Cider" competition winner. In 2018 he auditioned for Britains Got Talent at the London Palladium and received a Standing Ovation from the Judges and the Audience and in 2019 he was a finalist in the UK Pun Championships and the World One Liner Championships. Unmissable.
Eva Bindeman: Another star of the Bristol comedy circuit, Eva has begun headlining nights in and around the South West and you will soon be paying big money to see her!
Christian Russell-Pollock: A Legend of the Plymouth Comedy scene: smooth, charming and with an arsenal of great material. CRP also founded and runs the Plymouth Comedy Walking Tours.
Tickets are £13, £10 or £6 – you decide, any of those choices are an incredible price for this line-up.
In a time where we are all looking for a little escape, this show is a great way to have a giggle and actually meet up with friends in real life.
Hosted by 'The Soirée Crew'
Doors and bar open at 7pm
Show starts 7.30pm
Pandemic policies. This information will be updated as things change.
Update: April 2022
Face masks: In the Main Hall, on the ground floor, these are recommended at all times, but are optional. Anyone who sits upstairs in the balcony MUST wear a face mask – with NO exceptions (not even those who are exempt). This is to allow people who are clinically vulnerable to have a place to sit where seats are naturally separated, so: (a) to provide a place for people who want to be as distanced as possible from others, and with anyone nearby wearing a mask; (b) as virus particles when airborne are generally heavier than air, this helps to mitigate the risk of transmission from people sitting in the balcony to audience members below.
The windows and doors of the venue will be open, allowing fresh air to be constantly moving through. Although we have heating, this might mean that the ambient temperature is a little cooler than some might like, and audience members should dress accordingly.
Please, if you can, take a Lateral Flow test before coming to the Arts Centre, and if this is positive, don't come. These tests aim to pick up anyone who is infectious at the moment of testing, so please take the test as late as possible on the same day before coming to the Arts Centre. If you test positive, a refund or transfer of your ticket to another event can be arranged, if you let us know before the start of the event, by emailing boxoffice@ashburtonarts.org.uk.