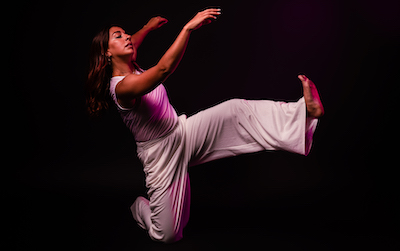 Date/Time
Sunday 22 October 2023
7:30 pm - 9:00 pm
Categories Dance
Book here now: £12 full price • £10 or £6 if you prefer – please pay what you can*
CROWN//تاج combines classical Persian dance, contemporary dance, and Sufi movement to tell a story of displacement, identity, and body sovereignty to an original soundtrack of live classical music and electronica.
Maria Tarokh created and directs this production on its inaugural tour. The cast features brilliant contemporary and classical dancers and virtuoso classical Persian musicians. Altogether it's a moving, exhilarating, and energetic experience.
Maria writes: "CROWN//تاج is a manifestation of female strength; it is an opportunity to reclaim what we lose through displacement. Using Persian miniatures, lived experience and the poetry of Forough Farrokhzad, the 3 lead dancers take the audience on a journey from determination through struggle to release. Finding courage, resilience, and joy along the way. It encourages audiences to rethink and re-imagine how they see displaced female bodies.
"There is a focus on the Iranian diaspora as the piece uses genres culturally specific to Iran, which are currently banned and illegal in the Islamic Republic. We breathe life into dance forms to help keep them alive and bring them to new audiences. CROWN is not made by women currently involved in the revolution in Iran, and it does not attempt to depict this. It is made in solidarity with the people of Iran, and it explores themes relevant to the situation."
Co-produced by Dartington Arts and commissioned by Counterpoints Arts. Supported with funding from Arts Council England.
About the creator/director: Maria Tarokh
Maria  is a British-Iranian dancer, choreographer & director. Trained in ballet, contemporary and classical Persian dance, she has performed and taught at shows, festivals and events across the UK and Europe for the past 14 years. A second-generation immigrant to the UK, she has worked extensively with refugees and asylum seekers and fully believes in the power of the arts to transform and empower people and places.
She founded Company Scheherazade to tell stories of the diaspora and bring a new perspective to the portrayal of displacement. Crown is Company Scheherazade's flagship production, Over three years in the making, she created the company to tell stories of the diaspora and bring a new perspective to the portrayal of displacement. She brings her wealth of experience in performing arts in the UK to create and lead the production to tour.
Currently based in Devon, she is the creative producer of NDP Circus and Totnes Festival of Arts and Culture, working with theatre, circus, and dance and combining site-specific workshops, residencies, and performances at heritage sites across the UK & Europe.
* See Access, Tickets & Finding Us for more about why there are three ticket prices, plus other useful info about coming to events at Ashburton Arts Centre.