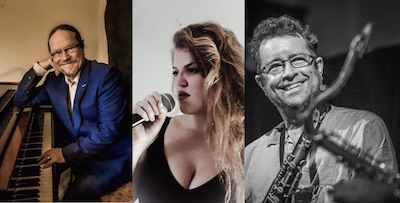 Date/Time
Saturday 10 October 2020
7:30 pm - 10:00 pm
Categories Jazz
Book Here Now – £13 or £10 or £6 – please pay what you can
Pianist Craig Milverton has been described as:
"Britain's nearest to Oscar Peterson"  Digby Fairweather
"A master of whatever he chooses to perform, a truly great British Trio" Humphrey Lyttleton
"An extravagantly gifted pianist with an unrivalled swing" Dave Gelly, The Observer
"A hard swinging pianist whose chops certainly bring to mind, the great Oscar Peterson" Cadence magazine, USA
"Surely one of the most gifted British pianists with technique and Imagination in abundance" Le Jazz Hot, France
"World class solos… such a gifted all-rounder should be cherished by the entire jazz fraternity" Jazz Journal
Craig Milverton is one of Britain's finest Jazz Pianists and this was recognised in 2010 by winning Best Jazz Pianist in the British Jazz Awards and 12 Awards with Digby Fairweather and his Half Dozen in the Best Small Group Category.  Some of his projects include: Trichotism alongside the brilliant award-winning guitarist Nigel Price based loosely on The Oscar Peterson drumless Trios; his Tribute To Oscar Peterson Show, with gifted young Ray Brown-inspired bassist Sandy Suchodolski and the great swinging drummer Nick Millward; The Clarinet Maestros featuring 2 of The world's top Players, American Ken Peplowski and Julian Stringle who have recorded 2 acclaimed CDs and tour the UK annually. His trio has backed a host of top names at clubs and festivals across the UK and Europe including Stacey Kent, Jacqui Dankworth and Scott Hamilton.
He works regularly with Digby Fairweather and his Half Dozen and was accompanist to Blues Singer George Melly with whom he recorded 3 CDs one of which featured Van Morrison. He plays regularly at Ronnie Scott's, and has toured and performed at top venues and festivals across the globe.
Eleisha May, Vocals
At only 22, she has already performed at many jazz venues and festivals including Brecon, Pershore, Upton, Bude, Lyme Regis, Teignmouth, Beaminster and Dartmouth. She also performed in The USA at an conference in San Diego alongside her Dad and Brother and with 10 piece soul/funk outift Kick Ass Brass at The Lyme Regis Jazz Festival both to spellbound audiences. Blessed with a smokey jazz voice she's received much praise from Tina May, Digby Fairweather and Maggie Reeday.
Andy Williamson, saxophone
Tickets £13 or £10 or £6 – please pay what you can.