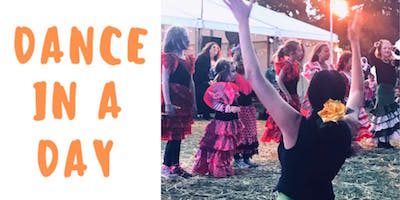 Date/Time
Tuesday 22 October 2019
10:00 am - 4:00 pm
Categories Community Event
This event has been cancelled by the organisers, Dance in Devon, as there were not enough bookings to run it.
Join Dance in Devon and Professional Dance Artist Karina Gracia for a day of fun and inclusive dance workshops working towards creating a 'Dance in a Day' to share with each other, parents and friends, in partnership with Ashburton Arts Centre.
Participants will form a dance company for one day, facing an intensive challenge where they will learn new creative skills and will work together to be ready to perform their piece at the end of the day!
Karina will deliver an exciting day of dance for the children, taking them on a fun trip around the world trying out different dance styles. Children will be guided through a variety of movements and steps and encouraged to explore their own creativity and ideas. Through working as a whole, and working individually and in small groups, a unique piece of dance will be formed and performed at the end of the session. The emphasis will be on new dance experiences in a fun, inspiring and safe environment.
This Dance in a Day session is for 9 – 13 year olds and will be tailored to suit the ability of the young people taking part.
The day will be all about working together to explore and create a new dance piece, come with tonnes of experience or none at all!
Participants from previous Dance in a Day workshops said:
It is a fun way to learn dances, have fun and make friends.
It lets you be free!
Dance in a day inspires you. 
—————————————————————
About the Dance Artist:
Karina Gracia's Spanish origin and passion for dance led her to flamenco, studying with renowned teachers in Andalucía & Madrid including La Truco, Raquel Villegas, Lorena Franco, Felipe de Algeciras & Cecelia Gomez.
Karina dances with passion and grace, and has performed at many festivals and numerous venues in the South West and Midlands; highlights for Karina include lead dancer in New Devon Opera's tour of 'Carmen', performing at Glastonbury Festival and leading a dance project in India in 2013 on a dance scholarship.
Flamenco then led her to Bollywood dance, followed by many other world dance forms.  A confident and inspiring dance professional, Karina also loves to teach and offers weekly classes & monthly workshops throughout the South West, teaches PE dance & runs dance clubs each week in primary schools and works in various other community settings including residential homes and specialist schools.
—————————————————————-
Date: Tuesday 22nd October
Times: 10am – 4pm.
Cost: £30
—————————————————————