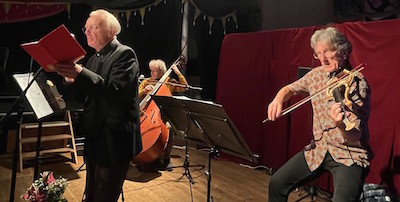 Date/Time
Friday 18 March 2022
7:30 pm
Categories Music
Steve Day, words, percussion;
Peter Evans, 5-string electric violin, loops;
Julian Dale, double bass, bowed bowls, voice;
plus:
Mark Langford, tenor saxophone, bass clarinet, piano;
Andy Williamson, tenor & soprano saxophone, piano;
Roger Hall, gongs, percussion, double bass.
with special guest, Jennie Osborne, words.
Last October, here at Ashburton Arts Centre, the Day Evans Dale trio played a stunning evening of integrated music & words. One audience member declared: "I was totally zapped, we really got something exceptional."
For this performance, more musicians are added to form a larger ensemble. We will have, as Steve Day writes, "the massive, yet subtle gong choir of Roger Hall from Dartington, balanced against the reeds & piano of UK maestro musician Mark Langford and the maverick marvel that is Andy Williamson, both swapping their keys & reeds roles throughout.
"Julian Dale on bass is partnered with violin supremo, Peter Evans who has been described as "beguiling", "awesome", "incredibly unique". Amnesty International called poet/percussionist Steve Day "one of the best performance poets in the UK". Tonight most of the material will be from his new collection of poetry Diamonds In Streams.
"Special guest is vibrant and hard-hitting poet, Jennie Osborne, for the first time performing her own work within the Day Evans Dale Ensemble."