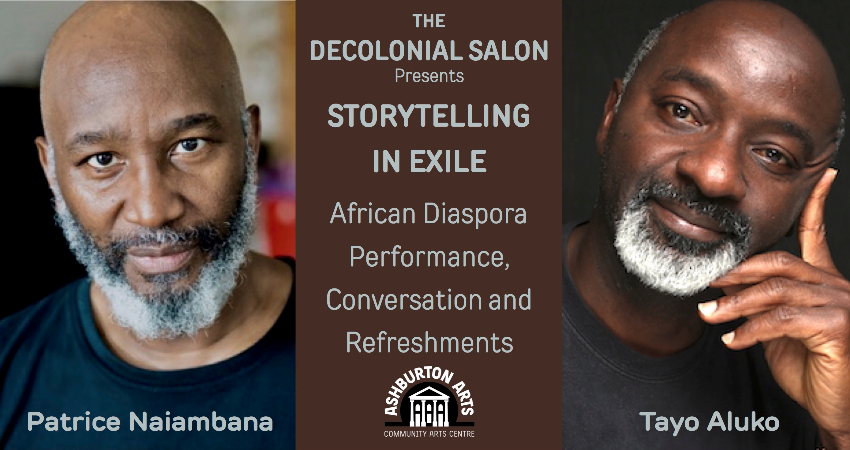 Date/Time
Tuesday 22 March 2022
7:30 pm - 9:30 pm
Categories Performances, shows, and events
Email to book  £5 or £3 or £0– please pay what you can
THE DECOLONIAL SALON
Presents
STORY-TELLING IN EXILE
African Diaspora Performance, Conversation and Refreshments
African diaspora artists Patrice Naiambana and Tayo Aluko perform extracts from their solo shows and share experiences and thoughts on art, resistance and social transformation.
The Works
The Man Who Committed Thought. Created by Patrice Naiambana and collaborator Ian Leonard.
In postcolonial Lion Mountain, a determined peasant seeks justice after his cow is eaten by a greedy dictator. An initially indifferent African lawyer, much given to quoting Shakespeare and the Western canon, is forced to commit thought about his own responsibility for the state of his country. Is it all in vain?
Edinburgh Fringe First Winner 1999
Call Mr. Robeson. Written by Tayo Aluko.
This roller-coaster journey through Paul Robeson's remarkable life highlights how his pioneering and heroic political activism led many to describe him as the forerunner of the civil rights movement. It features some famous songs (including a dramatic rendition of Ol' Man River), speeches, and a spectacularly defiant testimony to the Senate House Un-American Activities Committee.
Winner, Best Solo Show, Stratford-upon-Avon Fringe, June 2013
The Artists.
Patrice Naiambana apprenticed under African Theatre Masters Dele Charley and Yulisa Amadu Maddy in Sierra Leone and Leeds. He gained valuable experience with leading directors Steven Berkoff, Adrian Noble, Michael Boyd, Kathryn Hunter (RSC) and leading decolonial thinkers, Rolando Vasquez and Walter Mignolo.  An Animateur /African Performing Artist, he has been facilitating creativity and story making for ensembles in community and informal spaces since 1991. Screen works include It's A Sin, The Larkins, Bible Mini-series, Tinga Tinga Tales.
Tayo Aluko is a playwright and performer born in Nigeria, and living in Liverpool. Call Mr. Robeson was premiered in 2007, and has traversed the globe from the North West Territories of Canada and Australia and New Zealand, and to New York's Carnegie Hall. He continues to write drama and poetry which demonstrates how Black History is everybody's history, every day of every year, and is a history of resistance, resilience and triumph.