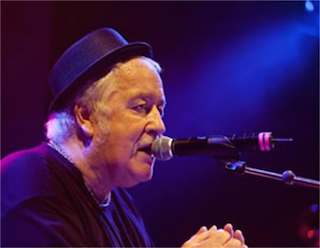 Date/Time
Thursday 13 January 2022
7:30 pm - 10:30 pm
Categories Music
Book here now  £14 or £10 or £7 – please pay what you can
Diz Watson was here at the Arts Centre last summer, along with a few friends. He had everyone in the palm of his hand, and earned a standing ovation at the end of the night. His music is right out of the good times tradition of New Orleans, and if there were ever a time when we need it, it's now!
Once again, Diz will be sharing the stage with a crew of great musicians who also appreciate that same tradition:
Mama Tokus – vocals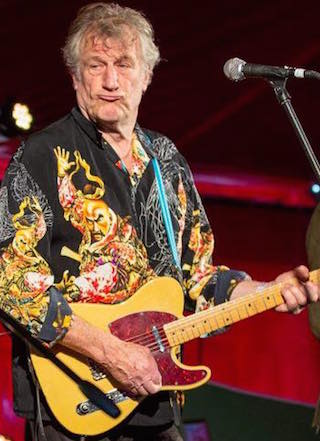 Rick Worthy – guitar and vocals – Check out Rick's new album, SUITABLE here on Spotify. (Pic right captured live by Don D the Lazy Photographer).
plus: Dick Jude – drums, Dave Hatfield – upright bass, Pete Beresford – piano and Andy Williamson – saxophones
Ace Records Artist Diz 'Honeybear' Watson, piano player, singer and entertainer, is a quintessential exponent of New Orleans style piano, and exuberant mix of Barrelhouse, Rhythm and Blues, Rock n Roll, and Boogie Woogie. He recorded the classic 'Bluecoat Man' for Ace Records in 1981, featuring the legendary Lee Allen on saxophone, and in 1995 cut 'Tonky Honk' with Big Jay McNeely. Diz has worked and opened for the likes of Chas and Dave, Clarence 'Frogman' Henry, Alexis Korner, Axel Swingenburger, Dr. John and the Rolling Stones.
Charlie Hart (Producer of Bluecoat Man) comments : "Diz is a phenomenon, definitely the coolest of Yorkshiremen and a connoisseur of the exotic, his influences are Champion Jack Dupree, all the way to Abdullah Ibrahim. Diz gets the essentially multi-cultural nature of music better than anyone, having absorbed the blues from the inside."
As Gaz Mayall says "Be there or be somewhere else, especially if you need proof that the spirit of Professor Longhair lives on."
Errol Linton: "Diz is the Man, bad to the bone."
Irish Times: "A left hand like a chorus line on speed."
Ian Stewart (Stones): "Bloody marvellous piano player."
======
Pandemic policies. This information will be updated as things change.
Update: April 2022
Face masks: In the Main Hall, on the ground floor, these are recommended at all times, but are optional. Anyone who sits upstairs in the balcony MUST wear a face mask – with NO exceptions (not even those who are exempt). This is to allow people who are clinically vulnerable to have a place to sit where seats are naturally separated, so: (a) to provide a place for people who want to be as distanced as possible from others, and with anyone nearby wearing a mask; (b) as virus particles when airborne are generally heavier than air, this helps to mitigate the risk of transmission from people sitting in the balcony to audience members below.
The windows and doors of the venue will be open, allowing fresh air to be constantly moving through. Although we have heating, this might mean that the ambient temperature is a little cooler than some might like, and audience members should dress accordingly.
Please, if you can, take a Lateral Flow test before coming to the Arts Centre, and if this is positive, don't come. These tests aim to pick up anyone who is infectious at the moment of testing, so please take the test as late as possible on the same day before coming to the Arts Centre. If you test positive, a refund or transfer of your ticket to another event can be arranged, if you let us know before the start of the event, by emailing boxoffice@ashburtonarts.org.uk.