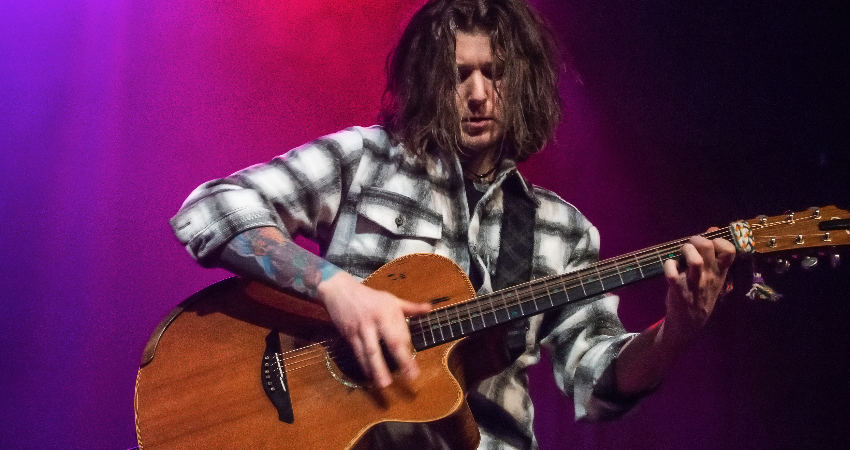 Date/Time
Tuesday 5 October 2021 - Friday 8 October 2021
7:30 pm - 10:00 pm
Categories Music
Dom Martin (30) is a Belfast born multi award winning singer/songwriter, inspired but not constrained by the blues. In 2019 he burst onto the UK and European music scene with a unique guitar style and voice, captivating audiences everywhere. His main musical influences are Rory Gallagher, Tom Waits, John Martyn, Jimi Hendrix, Bob Dylan, Howlin' Wolf and Muddy Waters.
With five BBC Radio live sessions prior to a first album release, Dom impressed with his 2018 debut original EP "Easy Way Out" with BBC presenter Cerys Matthews describing his work as "absolutely wonderful stuff." His debut album "Spain to Italy" was fully released on 4th December 2019 to critical acclaim and was an IBBA "Pick Of The Month" gaining airplay on around 100 stations globally. The album has had over 176k Spotify Streams to date (June 2021).
bluespowr.com – 'Spain to Italy is not just one of the best debut releases we've heard in some time but among the best albums we've heard from any artist this year'
makingascene.org – 'The likes of Dom's talent only comes around once in a lifetime' Fatea Records – 'A musician of unbridled talent and a future that is assured'

After his debut sell out "Spring '19 UK Tour", Blues in Britain Magazine said – "Now and again you stumble across a rare talent of such sheer genius that you actually wonder whether what you have witnessed can possibly be for real. Dom Martin is one such talent"
• Acoustic Blues Act of The Year – 2021 UK Blues Awards
• Nominated in Blues Instrumentalist of The Year and Emerging Artist of The Year
2021 UK Blues Awards
• Acoustic Blues Act of The Year – 2020 UK Blues Awards
• Nominated in Blues Artist of The Year and Emerging Artist of The Year 2020 UK Blues Awards
• Best Solo/Acoustic Act – European Blues Awards 2019
Pandemic policies. This information will be updated as things change.
Update: April 2022
Face masks: In the Main Hall, on the ground floor, these are recommended at all times, but are optional. Anyone who sits upstairs in the balcony MUST wear a face mask – with NO exceptions (not even those who are exempt). This is to allow people who are clinically vulnerable to have a place to sit where seats are naturally separated, so: (a) to provide a place for people who want to be as distanced as possible from others, and with anyone nearby wearing a mask; (b) as virus particles when airborne are generally heavier than air, this helps to mitigate the risk of transmission from people sitting in the balcony to audience members below.
The windows and doors of the venue will be open, allowing fresh air to be constantly moving through. Although we have heating, this might mean that the ambient temperature is a little cooler than some might like, and audience members should dress accordingly.
Please, if you can, take a Lateral Flow test before coming to the Arts Centre, and if this is positive, don't come. These tests aim to pick up anyone who is infectious at the moment of testing, so please take the test as late as possible on the same day before coming to the Arts Centre. If you test positive, a refund or transfer of your ticket to another event can be arranged, if you let us know before the start of the event, by emailing boxoffice@ashburtonarts.org.uk.