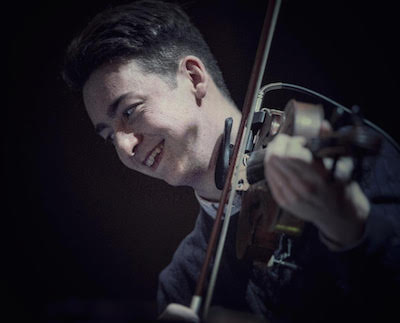 Date/Time
Thursday 29 July 2021
7:30 pm - 10:00 pm
Categories Music
Dominic Ingham is a violinist, singer and composer who seeks to combine violin techniques from his folk and classical background, in order to create a unique way of playing jazz violin. His compositions are influenced by those of Pat Metheny, Ambrose Akinmusire, Vince Mendoza, as well as classical composers such as Ravel and Debussy. Dominic's quartet features Jonny Mansfield (2018 Kenny Wheeler Jazz Prize winner) on vibraphone,
 Will Sach on Bass and Luca Caruso on drums. They explore new musical spaces through this unusual line up as well as performing "modern day lullabies".
Dominic has performed in a broad range of musical contexts, most notably with Bonsai – 'one of the most talked about and critically acclaimed young bands on the UK scene'. He's also performed with Jonny Mansfield's Elftet, Camila Meza's Nectar Orchestra and indie rock band Blaenavon. Dominic has toured extensively across the UK and Europe in venues such as Ronnie Scotts, Love Supreme, The Royal Albert Hall, EFG London Jazz Festival, The Barbican, Heaven and Band on the Wall. Most recently Dominic was a semifinalist in the Seifert International Jazz Violin Competition, where he performed compositions from his debut album 'Role Models' (2020).
'Role Models pays homage to the people that have encouraged and inspired me to complete this work', explains Dominic. 'I would never have had the confidence or the drive to create something of my own if it hadn't have been for the love and encouragement given to me some truly incredibly people'.
Quotes –
"Role Models propels Ingham into the ranks, writing an exciting chapter in contemporary UK jazz history"
All About Jazz
"Arresting suite of his lucidly crafted and characterful pieces"
Jazz Journal 
"Elegent originals"
BBC Music Magazine 
"Dynamic playing all round with intelligent and richly varied writing"
'A rare treat…should be heard live whenever possible'
Pandemic policies. This information will be updated as things change.
Update: April 2022
Face masks: In the Main Hall, on the ground floor, these are recommended at all times, but are optional. Anyone who sits upstairs in the balcony MUST wear a face mask – with NO exceptions (not even those who are exempt). This is to allow people who are clinically vulnerable to have a place to sit where seats are naturally separated, so: (a) to provide a place for people who want to be as distanced as possible from others, and with anyone nearby wearing a mask; (b) as virus particles when airborne are generally heavier than air, this helps to mitigate the risk of transmission from people sitting in the balcony to audience members below.
The windows and doors of the venue will be open, allowing fresh air to be constantly moving through. Although we have heating, this might mean that the ambient temperature is a little cooler than some might like, and audience members should dress accordingly.
Please, if you can, take a Lateral Flow test before coming to the Arts Centre, and if this is positive, don't come. These tests aim to pick up anyone who is infectious at the moment of testing, so please take the test as late as possible on the same day before coming to the Arts Centre. If you test positive, a refund or transfer of your ticket to another event can be arranged, if you let us know before the start of the event, by emailing boxoffice@ashburtonarts.org.uk.