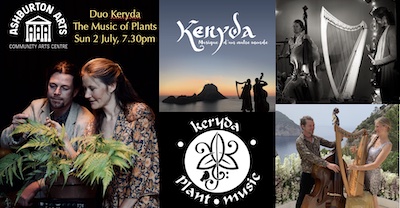 Date/Time
Sunday 2 July 2023
7:30 pm - 10:00 pm
Categories Music
Book here now: £13 full price • £10 or £6 if you prefer – please pay what you can*
Sara Evans: Celtic harp, voice.
Damien Papin: double bass, mandolin, Irish bouzouki, bodhran, percussion and voice.
This looks like being a beautiful night of music, some of which involves music generated from plants (by sensors on the plant, which detects electrical activity in the plant). But here's what the musicians, who are based in France, say about themselves and their music:
"We are musicians (harpist and double bassist) and play live with the music of plants. We use the device U1 which translates electric activity from the plant into audible notes of music. We have a performance in which we explain the process and listen to the different sounds according to different species, and also hear the interaction the plant has with its direct environment."
"We made a teaser interview in a flower garden,

This video is the one that really shows the subject of the music of plants!
The whole improvisation, live with the plant Mina Lobata:

"Keryda is an original meeting, an unusual duo, a surprising blend:
 the cristalline notes meet the grounded sound of the bass, opposites come together in harmony. Their music is inspired from traditional and contemporary tunes around Europe and it links into their original compositions. Notes from the Atlantic to the Mediterranean sea come together to offer a relaxing and enchanted musical journey with a lot of groove and funky feel!
"
Facebook: facebook.com/pages/Keryda/1581443128776181
Official video clip:
Video in a forest:
Live video:
* See Access, Tickets & Finding Us for more about why there are three ticket prices, plus other useful info about coming to events at Ashburton Arts Centre.