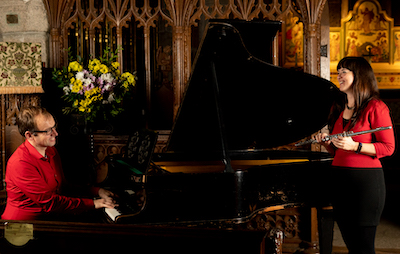 Date/Time
Saturday 24 June 2023
2:00 pm - 3:00 pm
Categories Classical
Book here now: £13 full price • £10 or £6 if you prefer – please pay what you can*
Duo Tutti: Dances and Dreams
Ruth Molins, flutes with Alex Wilson, piano
Music by John Rutter, J. S. Bach, Amanda J Fox and Valerie Coleman
Duo Tutti combines well known classical tunes, unusual sounds and new music to create unique concerts that are accessible to all. Ruth Molins writes: We are inspired by old music and new music, creating sound worlds you might not expect to hear from a flute/piano duo. You will meet the big bass flute and the tiny piccolo, with music from all over the world that spans 400 years of classical music making.
In 2022 Duo Tutti became part of the roster of Live Music Now artists.
Alex Wilson is a versatile pianist with interests ranging from cutting edge new music to fascinating repertoire by forgotten composers.  Alex is a former British Contemporary Piano Competition finalist, Park Lane Group Young Artist and performer of new music across Britain and Europe as soloist, accompanist and chamber musician.  His self-curated tour of music by the lost composers of World War One has achieved large audiences and received critical praise.  Alex's debut solo CD – a recording of works by WW1 composer F.S.Kelly – was released in spring 2020 to critical acclaim with a launch performance in Southwark Cathedral.   Alex believes strongly in taking professional, ambitious music projects out of the big cities and loves working with musicians from across his locality, South West of England.  Alex teaches piano at Colyton Grammar School.
Ruth Molins is a founding member of Flute Cake, Marsyas Quartet, Zephyr Duo, Volo Trio and part of the collective A Quiet Night In.  She has performed as a soloist with Exeter Symphony Orchestra (Rutter, Suite Antique and Mozart, Concerto for Flute and Harp) and has been featured on Phonic FM,  Soundart Radio, BBC Radio Devon and BBC Radio 3. In 2019 she conceived and performed the Flute@37 concerts, a series of intimate performances given from her own music studio. During the 2020 lockdown, she gave live-streamed performances of Les Chants de Nectaire by Charles Koechlin, connecting weekly with listeners world-wide. Her immersive performance piece, Make Room, has been performed at Waterstones, The Glorious Art House, Studio 36, and as part of the 'From Devon with Love' festival curated by Villages in Action. Ruth teaches flute at Exeter School and privately. In 2021, Ruth was invited by Pearl flutes artist Elizabeth Walker, to record a performance video with practice tips, as part of the Furstenau Challenge project.
* See Access, Tickets & Finding Us for more about why there are three ticket prices, plus other useful info about coming to events at Ashburton Arts Centre.