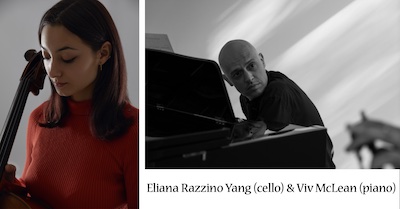 Date/Time
Saturday 18 November 2023
7:30 pm - 9:30 pm
Categories Classical
Book here now: £15 full price • £10 or £7 if you prefer – please pay what you can*
Mendelssohn Song Without Words Op. 109
Beethoven Sonata in D Major Op. 102 No. 2
Tom Vignieri When the Dream
Brahms F Major Sonata No. 2in F Major Op. 99
Piazzolla Oblivion and Libertango
Eliana Razzino Yang
A native of Philadelphia, cellist Eliana Razzino Yang has performed solo recitals in London, Paris, Rome, Brussels, Frankfurt, New York, Helsinki, Boston, and Philadelphia and concertos with orchestras Italy, across the US, and England. She has also performed as part of Harrisburg's Market Square rising star series and the Taos Chamber Music Group, and has received top prizes in the Adelphi Orchestra, All City Orchestra, YCVT, Caprio, Charleston, and Vivace competitions. Eliana has collaborated with members of the Emerson, Tokyo, Borromeo, Vermeer, Audubon, Aizuri, and Momenta string quartets, Ensemble Epomeo, Chamber Music Society of Lincoln Center, and the International Contemporary Ensemble (ICE). Recital partners include pianists Ieva Jokubaviciute, Amy Yang, and Clare Hammond. In 2015 she traveled to Budapest, Hungary, to play for composer György Kurtág and cellist Miklós Perényi and in 2016 she played for composer George Crumb. Eliana will be a fellow at the Colorado Music Festival string quartet program and a participant at Thy Chamber Music Festival during the summer of 2023. Past programs include IMS Prussia Cove, Yale's Norfolk Music Festival, Kneisel Hall, Perlman Music Program, Sarasota Music Festival, Heifetz Institute, Castleman Quartet Program, Meadowmount School of Music, and Carnegie Hall's New York String Orchestra Seminar. Eliana plays on a Joseph Panormo cello from 1810 on generous loan from Mr. Harold and Holly Glass of Philadelphia, PA. Eliana received her bachelor's degree from Juilliard in May 2022 under the tutelage of Natasha Brofsky and Richard Aaron, and will continue for her master's degree in the fall of 2023 with Clara Minhye Kim.
Viv McLean Piano
Described by Le Monde as "possessing the genius one finds in those who know how to forget themselves", since winning First Prize at the Maria Canals Piano Competition in Barcelona, British pianist Viv McLean has performed in all the major venues in the UK as well as throughout Europe, Japan, Australia and the USA. Viv's concerto work includes appearances with the RPO, Philharmonia Orchestra, LPO, Halle Orchestra, English Chamber Orchestra, BBC Concert Orchestra, Sinfonia Viva, Orchestra of the Swan, Orchestra of St John's, Northern Chamber Orchestra, Scottish Concert Orchestra and the National Symphony Orchestra under the baton of such conductors as Daniel Harding, Wayne Marshall, John Lubbock, Philip Hesketh, Christopher Warren-Green, Owain Arwell Hughes, Carl Davis, Rebecca Miller, Chloe Van Soeterstede and Marvin Hamlisch.
Viv plays regularly with the Adderbury Ensemble and has also performed with other leading chamber groups such as the Ysaye String Quartet, the Sacconi String Quartet, members of the Elias, Allegri, Carducci, Tippett String Quartets, Leonore Piano Trio, Ensemble 360 and the Leopold String Trio. He has collaborated with musicians such as Natalie Clein, Marianne Thorsen, Daniel Hope, Adrian Brendel, Lawrence Power, Mary Bevan, David Le Page, Guy Johnston and many others. He has performed at numerous festivals including the Cheltenham International Festival, Buxton Festival, Music in the Round Festival, Glossop Festival and Harrogate International Festival in the UK, the International Beethoven Festival, the Mecklenburg Festival and the Kultur Kreis Festival in Germany, the Festival International de Musique Classique d'Aigues-Mortes, the Melle Festival and Festival de Saintes in France, the Vinterfestspill i Bergstaden in Norway and the Musik vid Kattegatt Festival in Sweden.
Viv studied from an early age with Ruth Nye and, after attending Chetham's School of Music, he went on to study at the Royal Academy of Music with Hamish Milne. Whilst studying at the Academy he was the winner of the piano competition at the Royal Overseas-League Music Competition, was selected as one of the winners of the National Federation of Music Societies' Young Artists Competition and made his Wigmore Hall debut through winning the RAM Wigmore Award.
Viv made his BBC Radio 3 recital debut through the BBC Radio 3 Young Artists Forum scheme and has also recorded for Classic FM, WDR Radio in Germany, Radio France, ABC Radio in Australia, NRK Radio in Norway and for the Sky Arts television channel. His commercial releases have included recordings for Sony, Signum Classics, Naxos, Nimbus, Lyrita, RPO Records, ICSM Records and his most recent albums are a Chopin recital and a selection of live recordings for Stone Records.
* See Access, Tickets & Finding Us for more about why there are three ticket prices, plus other useful info about coming to events at Ashburton Arts Centre.